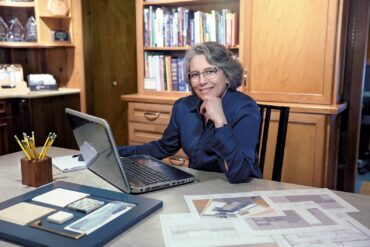 A meeting with Molly McCabe is an encounter with a force of nature tucked into an energetic woman, dressed in jeans and comfy shoes and trailed by Miss Mara, her English spaniel. The clarity of her thought is like the renewal of a cold dive into a mountain pond. It knocks out the cluttering nonsense of random thoughts. As a straightforward, factual thinker, McCabe would probably laugh at that description of herself; however, her enthusiasm and openness to the unexpected is as much a part of her drive as her clarity.
Yogi Berra, the unintentional American wit, advised that when you get to a fork in the road, take it. It takes a beat to get the conundrum here: Take one fork. Leave the other. McCabe has reached that proverbial fork and made a choice. Rest assured that her decision was as well thought out as any design-build projects undertaken by her company, A Kitchen That Works.
McCabe exudes an essential practicality that informs her entire life and benefits her work in the building industry. As a conscious human living at a break point in our planet's wellbeing, she walks the ecological path looking for deeper solutions both upstream and downstream. Her eagle eye scans for opportunities to further green design.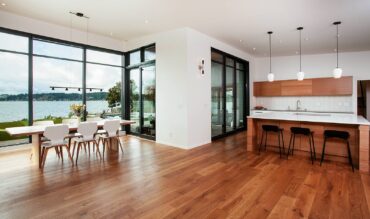 Little did McCabe know when she was acquiring degrees in business and finance that she would spend her life in the kitchen, so to speak. Many, many kitchens and just as many bathrooms.
The seeds of A Kitchen That Works (AKTW) began when McCabe's children went to school. She was a bit older than the other moms who were part of the "latch key generation," when both parents worked, leaving little time to learn how to cook. When these younger moms discovered McCabe had been a caterer, they peppered her with basic food and cooking questions.
McCabe had no idea her cooking and catering skills were a commodity. But when, on a whim, she assembled a fundraising basket with an offer to organize a kitchen for the winning bidder, a new world opened. The basket was bought, she went off to organize the kitchen for the lucky family and came home with a bona fide offer in hand to design a new kitchen.
As a businesswoman, McCabe recognized a niche market when she landed in one. A Kitchen That Works went from 0 to 60 miles an hour in a relative short amount of time. Her husband, Clive Pardy, who had worked in banking, joined AKTW to grow the business from a design-only to a design-build company. The business has been an active part of Kitsap builders community — and beyond — while winning countless awards for its designs, construction services and sustainable business practices.
McCabe is a firm believer in giving back to her community. Today, she's a volunteer with Zero Waste, a division of Sustainable Bainbridge; and the National Kitchen + Bath Association (NKBA), which she co-founded in Kitsap County; and an adviser to manufacturers in the kitchen and bath industries.
She also serves on Beko USA's Healthy Kitchen Council with 11 other design- and food-related experts. Beko states that the council is the first to explore the kitchen as the intersection of personal and planetary health in the home. Council members give Beko feedback on appliance features, consumer trends and unfulfilled needs in the marketplace.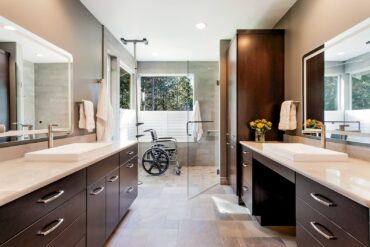 McCabe and Pardy have family in Europe, so they have direct experience with European innovations. Efficiency and ecological impact have been duly addressed in Europe, and the resulting products provide McCabe with design inspiration and the hope that advances she sees there will make it to this side of the pond.
She returns to Europe as one of 25 NKBA members selected to participate in the 2023 Küchenmeile tour in Frankfurt, Germany, this September. These designers receive enhanced access to  manufacturers of the leading-edge of kitchen and bath products. McCabe looks forward to sharing these innovations with clients upon her return.
Maintaining a continuous quest for knowledge, she makes herself an invaluable resource by generously sharing that knowledge with the Kitsap building industry. Builders and contractors wait impatiently for a McCabe article to come out in WestSound Magazine and other publications. Filled with government and industry research and thoroughly analyzed with an eye toward current trends, these articles help direct the future of the builders' businesses.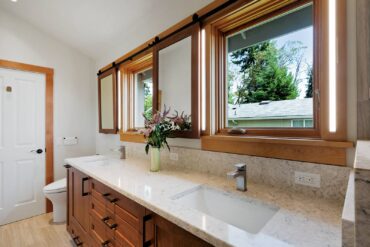 The fact that those articles exist is a bit of a miracle. McCabe says she had dyslexia before it was recognized and did not learn how to read words at her grade level until she was 12 years old. She could not write a sentence until she was 17. Or a paragraph until she was 21. But writing is an efficient way to pass on her experience and information. So, she embraced the challenge and learned. That's McCabe to the core.
Research for one article, "How to Have a Successful Remodel in 2022/2023," confirms that the pool of skilled tradespeople has diminished and is not likely to bounce back in the near future. Having taken on more hands-on construction tasks herself, she incurred several job-related maladies and decided to listen to her body. In no way is McCabe ready to retire. She is inspired every day to create good designs, but bottom line, McCabe is hanging up her tool belt and closing A Kitchen That Works.
The closure makes way for a new company. McCabe by Design, a full-service residential design and specification service, will continue her work in turning out beautiful, functional spaces that embrace accessible and sustainable design.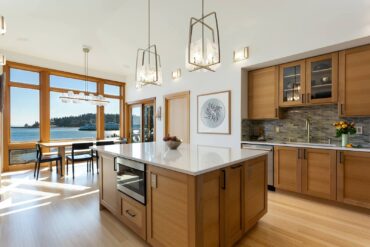 The tightened focus of McCabe by Design gives her time to help more homeowners who recognize that a remodel is more than a financial investment. It's an investment in their family's health, wellbeing and quality of life when specifications explore issues of air, water, sound and harsh lighting in the home environment. Properly addressed, these design considerations can create an oasis, offering rest and restoration from the fast pace of life.
After studying sustainability and accessibility, McCabe is clear that these two issues lie at the root of health and wellness. Accessibility looks at the home as a living laboratory and designs it to keep up with life changes like the arrival of babies, the occasional broken bone or emergent chronic illness, multigenerational households and the ability to age in place.
McCabe believes all people deserve good designs aimed at improving lives. As she puts it, "Function has its own beauty." People who are committed to solving issues of the daily functionality of their home and realize that their home design and material choices feed into planetary issues of sustainability will find McCabe by Design an invaluable resource.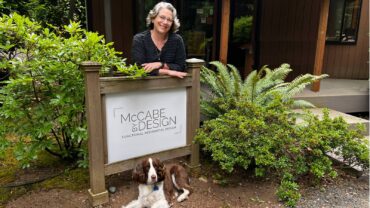 Since "home sweet home" is not built with toxic materials, McCabe — who built and lives in a BuiltGreen home with her husband — is a stickler on that point. She is taking an even harder look at her recommendations these days. This single application of McCabe's knowledge alone is an incredible reassurance for any homeowner in a remodel. Add in her experience in design and the building industry, and a remodel she guides is bound to be aesthetically pleasing while meeting functional challenges.
When it comes time for bids on a project, homeowners will delight to discover that nothing gets a busy builder's attention faster than a completed set of detailed drawings and specification list. Thus, McCabe comes full circle in continued support of her building industry colleagues.
As McCabe marches down her fork in the road with Miss Mara at her side, another Yogi Berra quote comes to mind: "It ain't over until it's over." In launching McCabe by Design, she seems to agree and is invigorated by the decision. After all, innovative designs continue to evolve — and it's what she does so well.