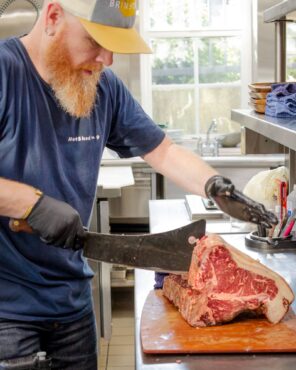 Crowning the scenic waterfront beauty of Gig Harbor is the casual, fine dining restaurant Brix 25°. The restaurant's Pacific Northwest menu offers seafood and meats with the finest provenance, creatively paired with locally sourced vegetables. Brix 25° offers a sharp, seasonally freshened menu and an imaginative cocktail list. The exceptional wine list features wines from exclusively from the Pacific Northwest.
How long has Brix 25° been open?
We purchased Brix 25° in spring of '09, just when the economy was crashing. There were times when we weren't sure if we were going to be able to make it, and our unwillingness to fail is what kept us going. We've been in this location a little over five years. The people in this community know it's a neighborhood restaurant where you come in and feel welcome. Many times, somebody might have just come in off their boat and that's great — they're here enjoying what the harbor has to offer, so if they come in wearing flip-flops and board shorts, we welcome them!
Tell me about your background and how you got here.
Sometimes you're on a path you don't really realize it. I didn't know that I was going toward this direction as a career or a trade early on in my life. I look back at it and there were some signs. I bought my first cookbook when I was 7 or 8 years old. Living in western Montana on a ranch was a hard life; even with good jobs, it's difficult to scrape by. We hunted, fished and gathered wild asparagus in the spring, things like that. Not because it was cool, but because that's how we fed ourselves. We were "food stamp poor." I remember going to the grocery store when Mom would have to put food back because we didn't have enough food stamps and money. So, if you were lucky enough to get an elk, get enough ducks while hunting to go into the freezer, you were eating them and that was a good feeling.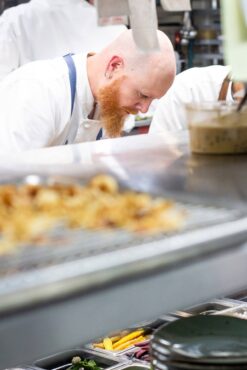 When we moved to Alaska, things became much more flush for us. We didn't have to hunt and fish anymore, but it was great recreation and we appreciated it. The best meals of my life were salmon roasted on the beach or my little sister's first fish that we filleted on the boat and made into fish and chips — and I've eaten at some decent restaurants. That shift allowed us to better appreciate food.
In Montana, we cooked steak in a broiler; it was so tough that I would sit at the table for an hour chewing those last tough bites. We could now afford a rib-eye, so Dad learned to cook on the grill. Or we would catch king crab, salmon and halibut that would get smoked or frozen and we'd have that available all year long.
We ended up in Spokane, where I joined a high school culinary arts program. I did that program in the morning and academics in the afternoon. I worked at night in a restaurant and was making money. There were cool, Hollywood-type people in the restaurant, so I was like, "Sign me up, I love this!" So I attended the University of Alaska culinary program.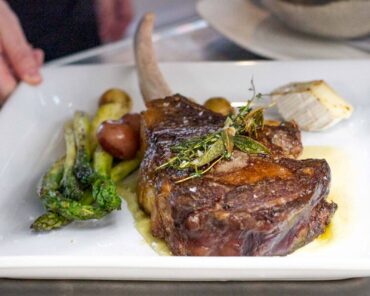 I worked there five more years and then moved down to Stanley's Seafood in Tacoma. That's where I met my wife, Katie. She was a bar manager and I was the sous chef, and we clicked right away. We worked there for a year and then transferred to the San Francisco Bay Area. After four or five years, the company where she worked approached us to be partners in a Napa Valley restaurant. We were a stone's throw from Michelin star restaurants; it was just an amazing place to be. And you couldn't phone it in — you had to bring your "A game" every single day. What we did there is very similar to what we do here.
In addition to Brix 25°, you operate NetShed No. 9 (casual breakfast and lunch), Brimstone (barbecue) and Iscreamery (ice cream) in Gig Harbor; what's the most challenging part of that?
You can't be everywhere all the time, even though all four of our businesses are within a quarter mile of each other. You need to have people who know how to do their jobs and then trust them to do that. They know that they get to make the call and you're going to back them up. I spend more time at Brix 25° only to make sure that the legacy that this restaurant has become is maintained.
Do you have a favorite seasonal Pacific Northwest ingredient?
I love to forage stuff in the spring. Right now, we have one of my favorite mushrooms, morels, on two dishes including salmon. I love foraged things like sea beans and fiddleheads. We have sea beans on two different things in the restaurant right now, on a burger and even pickled in a cocktail. In spring, you just want something bright and crunchy after a winter of braises and rich sauces.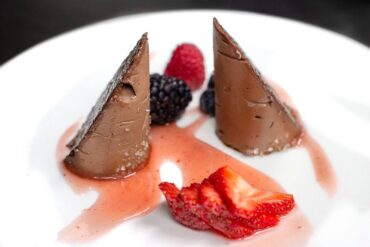 Talking about morels, we know the season's over soon, so we're already discussing what's going to replace that. As soon as the morels are gone, the salmon is gone, and we'll replace it with the halibut, whatever season is next.
In 15 years, there's been only a half dozen times we've ever repeated a dish. We always try to keep the menu moving; that's how we evolve and that's what makes this so fun for our kitchen teams. It evolves quickly, not seasonally but micro seasonally based on ingredients. For example, if we have a dish with fiddleheads and they are no longer available, we do not substitute the ingredient — we move on because it would fundamentally change the dish.
What food trends in the future are appealing to you?
I desperately hope that we can move away from food that's manipulated before we even touch it — the GMOs, the pesticides, the monocrop farming. If we can get to the point where people are going back to locally sourced, truly regional food products that are seasonally driven, we know those are healthier for you. It's much better for you than eating a Chilean avocado in December. I can't change that; all I can do is change the things that are on our menus and the way we source them.
Is there a food that you tasted and said, "I didn't know that anything could taste this good?"
Asparagus. When I was young, we would pick wild asparagus. It would get blanched, put in bags and frozen. Frozen asparagus, in my opinion, is disgusting; it's everything that you should never do to a vegetable. The first time I realized that asparagus was delicious, I was probably 24. It was lightly seasoned with olive oil, salt and pepper and thrown on an oak grill, so it got a little char on it and that was, at that time, the most delicious food. I didn't have it on my menus before, because I didn't like it — and now I have it as much as I can.
Who cooks at home?
My wife, Katie, likes to cook. I love to cook and I'll cook anytime for anyone, but I'll also gladly let somebody cook for me. I have a blue-collar palette; I can enjoy anything that someone has prepared for me. I don't have to be the guy who's looking at the technical details.
I can't finish without saying you win the prize for having foie gras on the dessert menu!
It's a really good dish. We have a lot of diversity in our guests, one of them an older French chef who said, "I love what you're doing here; why don't you try that foie with a scoop of vanilla ice cream?" And I thought: All those flavors work, why not?