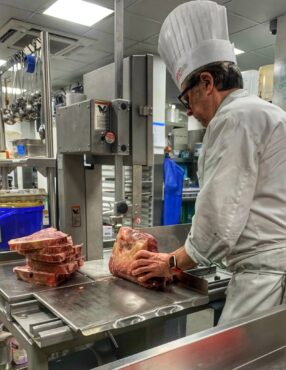 Crabtree Kitchen + Bar in Poulsbo is freshening the overused term "farm to table." The restaurant has shortened the distance from field to dining room for most of its beef and pork to 14 miles. That's the distance from the Crabtree family ranch in Eglon to their kitchen in Poulsbo.
The family are longtime Kitsap ranchers. They also source the very best ingredients from local partners like Fat Turnip Farms, also in Eglon. The restaurant is warm, casual and stylish. The cocktail list is creative and the wine list efficiently complements the menu.
The inspired menu is brought together by Chef Tamas Ronyai and his stalwart team — a team he loves training daily to deliver not just honest and appealing food, but an enjoyable experience.
How did you get your start as a chef?
I was very blessed coming from Hungary. Hungary and other European countries do high school differently — they enroll you at a young age to learn a profession. But you can earn money while you build your skill so you can study further. My mom told me when I was 14 years old, "You are going to the culinary school three-year apprenticeship program," and I said, "Okay, ma'am." She found the best hotel, signed me up and took me there the first day.
After high school, I went to an international culinary school for two years and then a hotel restaurant management school. I did my apprenticeship at a 5-star, 120-year-old hotel with much history. I learned so much about high-end service and details like proper table setting, always checking the water, proper temperatures, etc. Then I had the opportunity to work with the British embassy and became a chef for the Norwegian ambassador for four years. So, I was exposed to very good quality food at an early age. After that experience, I moved to Canada to the Fairmont Chateau in Ottawa, where I met my wife, Fiona, as she was director of catering. I was probably 22. Then to the Sheraton in Quebec, and later the Four Seasons in Toronto, before Vancouver and then here.
How did you get to the Seattle area from Canada?
I got a call from a friend who I worked with in the Okanogan valley who told me Safeco Field's caterer, Center Plate, was looking for a chef for its Diamond Club. I said, "Why you are calling me about this? I don't want to do burgers and hot dogs!" I had my restaurant in Toronto and was teaching in a college, but I didn't know anything about feeding 50,000 people. I didn't realize that it was the stadium's private club. I was competing with other two chefs, one from Wolfgang Puck catering, and one from Tom Douglas' catering company in Seattle, and my ego kicked in. I thought this was a good challenge. I did the interview and was offered the job. I was doing 900 covers in two hours — it's crazy. I learned so much about leading a large team.
Why Bainbridge?
We had two young children when we moved from Canada and were looking for a good school system. My wife researched and found that Bainbridge had great schools. I said, "An island? That's crazy!" But it was actually really good because it was a 10-minute walk to the ferry and the other side to the stadium it's another 15-minute walk.
Any early food memories to share?
I had my first burger in Paris when I was 25 years old. It was 1980, and I was traveling in Paris with my friends when we came upon a block's long line — the first McDonald's in France. I got in the line and received the beautiful red box with the stripe, which I took home and stuck on the wall in my room. Proof that you can learn everywhere — I learned from McDonald's how to proportion a burger to a bun. If the burger patty is not the right size for the bun, it can become a mess, and you cannot focus on the flavor.
Why Crabtree Kitchen?
I enjoy it here because they trust me and they give me freedom; they know that I have the business experience. It's very difficult to make money in a restaurant these days, and they trust me to do that here. The whole family is amazing! I met (CEO) Peter (Crabtree) when we were both making fine chocolates at a symposium in 2007. I had opened a Belgian waffle and chocolate shop with my current assistant on Bainbridge.
If your 15-year-old child came to you and said, "I want to be a chef," what would you say?
"My son, no!" I say that, but both of our children are in the industry. One is working for Facebook, running five or six different food operations, and the other is working in Colorado for Meati, a company that produces mushroom-based meat.
If you could sit and have a glass of good wine with any one chef, who would that be?
Chef Paul Bocuse, who passed in 2018. I have a picture of us together at culinary school in my office.
What would your mother say today?
She always cooked because that's the way we grew up. We only ever went to a restaurant when someone got married or died. I think she would admire what I have achieved.
When you are home, do you cook, does someone else cook or do you go out?
At home, Fiona says, "I'm going to go shopping; we don't have any food" so I check the refrigerator and say, "I can do this dish and I can do that dish with what we have." She's always impressed, wondering how I come up with these ideas.
What do you see as emerging food trends?
Oh, definitely North African flavors are coming. Strong spices and flavors. I'm making an Ethiopian spice mixture with 16 ingredients. I love Persian and Moroccan cooking. I love that the Germans and French focus on techniques. I'm still getting two kinds of magazine from France to keep up with any new trends. Swiss chefs are also incredible, and I think Latino and South American food are very good.
If you were not a chef, what do you think you would be doing?
I don't know; I have never done anything else. Food is in my mind all the time. I just love to match food and wine together. I've been offered a general management position at a fine dining restaurant in Toronto, but that's not me. I like to be in the kitchen. I love to keep learning and I love to train people. I recall so many chefs who would never give you their recipes. They would say, "If you want this recipe, first finish your shift, then on your own time you're going to stay with me and watch me put this dish together and then you write it down." Here, I give recipes to anybody who asks. I have no secrets.
Looking at your menu, let's talk about a few dishes. Tell us what makes the Pan Seared Chicken special.
The breast comes from Mary's, a high-quality product. We switched from rotisserie to pan seared when I got here, because rotisserie chicken is cooked and then kept warm until ordered, resulting in not so crispy skin. When I pan fry it in a very hot pan, the skin is crispy and the chicken perfect. It's simple, but delicious with my complementing sauce.
What about your Peach-Chipotle BBQ Glazed Meatloaf?
I believe that you can't make great meatloaf with all beef. My meatloaf is my grandmother's recipe. I use the classic Austrian-German style here because we're promoting Peter Crabtree's pork and beef ranch; we use half and half.
How about dessert?
We focus strongly on dessert because I believe that when you have a bottle of wine with your wife, maybe you don't remember the appetizer or main course, but you will always remember the last thing put in front of you. So dessert has to be perfect.
If you were dining casually at Crabtree Kitchen, what would you order?
Penn Cove Mussels, New York Strip Steak and Frites, and Apple Galette.