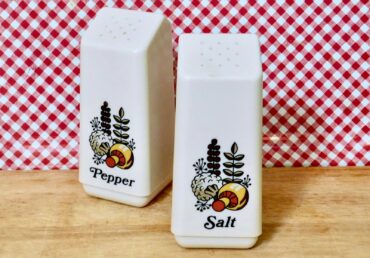 Hate to admit I was wrong. I was wrong and want to apologize to all the salt and pepper shaker collectors out there.
It started a few months ago at the Hub Faith in Action thrift store in Belfair when I spotted super fancy antique diner plates and made a comment, being surprised they hadn't been grabbed up. Then it happened. Someone said, "Fancy dinner plates are about as popular as old owl salt and pepper shakers. No one wants them."
I'm not new to thrifting and am fully aware of what's hot and what's not, but this really threw me, because I don't think I've ever given salt and pepper shakers a second thought — or even a thought at all, until now.
The next week, I went shaker-hunting at Silverdale's Goodwill and talked to manager Jessica Hartley, who was excited to share the news that they would be doing some major remodeling. She said electronics were the big sellers and kitchen items have a steady popularity, but was not aware of the salt and paper shakers subject. She walked me over to the sorrowful salt and pepper section — maybe a half dozen odd pieces.
Kind of embarrassing, even stopping strangers to ask, "Do you have or collect salt and pepper shakers?" Men whom you'd expect to be avoidance-shy didn't hesitate talking about their collection. I am totally shocked with this subject; the magnitude of ownership and enthusiasm was unexpected.
To broaden the spectrum, I wanted to explore an antique thrift mall and went to New to You in Port Orchard. I told my husband they may be hard to find, when he immediately said, "Bears." Oh my, there were more than bears — from red wild hogs to work boots, you name it.
Salt and pepper shakers were inconspicuously everywhere, but sometimes it took really close looking. Like the tiny rooster and hen. The clue that they were salt and pepper shakers was a bitty bottom cork and the hole in the beaks.
The subject, salt and pepper shakers, started out as kind of a joke, then erupted into excitement. Most of the sweet oddities were souvenirs, which explains the sentimental attachment. Most are small, so easily displayed or stored.
Table salt use not seen as much these days, but a good smile always needed, so bring on the salt and pepper shakers. And all you guys out there with salt and pepper collections — I apologize for doubting your collecting discretion.