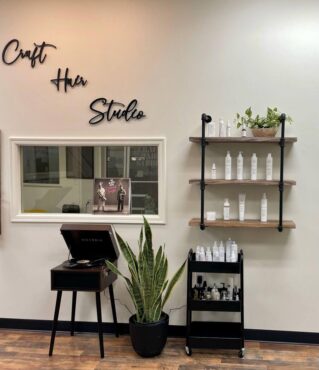 CS: What sparked your idea?
Eddy: I saw a need in Kitsap for a salon that not only specializes in hair extensions and clean beauty, but also offers price transparency and inclusivity.
CS: What is your design style?
Eddy: Craft Hair Studio is all about laid back luxury. We offer luxury hair sessions in a welcoming, inclusive environment where all clients can be comfortable. I believe salons can still have a luxury vibe without having a chandelier, barista or DJ. Having neutral earthy tones and timeless textures allows for the client's hair to be the main event.
CS: Who or what inspires you?
Eddy: I am inspired by anyone, regardless of what industry they work in, who takes risks and is willing to do things differently.
CS: Current style or influencer obsession?
Eddy: I really respect anyone who spends time honing their craft and really putting their all into being the best at what they love to do. I recently took a virtual class from a celebrity extension artist who goes by Alex Pardashion. He not only helped me fall back in love with an extension method I had previously avoided, but also had great celeb extensions stories.
CS: How do you stay on top of trends and why you feel your concepts are on trend but out of the box? What makes you progressive?
Eddy: Social media is absolutely important in the salon industry. It's a great way to keep up with trends that change so quickly in real time. The looks that clients are going for now have so much more to them than they did 10 or 15 years ago. Charging hourly is really the only pricing structure that makes sense for the modern trends clients are wanting now. I believe it is so much easier for a client to show me the look they want, and I can say, "To achieve this look, we are going to need this many hours" instead of trying to mix and match a bunch of ala cart services to get where they want.
CS: What do you feel is unique about what you are doing and the path you are charting?
Eddy: Hair salons have been operating the same way for a very long time and I just don't think it makes sense anymore. Craft Hair Studio offers inclusive hourly pricing that is gratuity-free. Instead of thinking of hairstylists as "service providers," we should be thought of as hair artists who are being paid for our time.
CS: This is such an inspiration for so many, be it the journey or the destination. Do you have an adventure or travel story that shaped the direction of your current journey?
Eddy: I went to a color class in London in 2018 at a salon called "Not Another Salon." This was the first salon I had ever seen that had a gender-free service menu, such as "women's haircut" and "men's haircut." This inspired me so much that I immediately changed the way I priced my services when I got home.
CS: Your favorite day doing what you are doing?
Eddy: My ideal day in the salon would be spent with one client all day doing a big hair extension and color project.