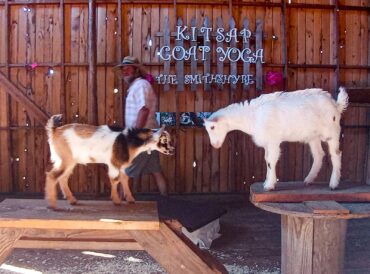 While farming is no longer the common occupation of America, it's far from obsolete. Run by Roni and Erin Smith, The Smithshyre in Poulsbo is a farm whose presence brings attention to the traditional relationship between people and livestock.
Erin Smith believes that every person, without even realizing it, has a deep and innate desire "to hang out with livestock." And until recently, it was not unusual for people to be closely connected to animals. "About a hundred years ago, we were all still living with animals," Roni Smith explains.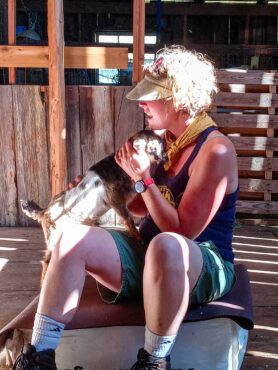 The Smiths are still living a life that is closely aligned with nature. "We breed goats and sheep, as well as turkeys and laying hens," says Erin Smith.
In addition, they provide farm tours, baby goat cuddling sessions and baby goat yoga. This allows them to share their connection with farm animals, which they believe is important for people to experience.
"The socialization is so important for the animals," Roni Smith says. "And it's good for people to connect with animals… It's good for both parties."
When animals interact with people, it makes them friendlier and better adjusted to human beings. Similarly, animals can be a great destressor for people.
"It's kind of therapeutic," Erin Smith explains. The baby goats' amusing antics are especially fun to be around and the goats are quite adorable.
The Smithshyre property is historically a homestead. "We just got really lucky and found this old homestead," Erin Smith says. "We were looking for an old farming kind of a thing."
The property was full of plants, tools and even an old barn that they still use. "We saved this old barn from 1925," Smith adds.
The barn is constantly utilized for the young goats, also called kids. When discussing the barn, Roni Smith says, "I think it's a great place. We've got six birthing pads in there, then we have a large playroom back there for the kids." After standing for nearly a hundred years, The Smithshyre barn is a vibrant and critical part of the property's farm.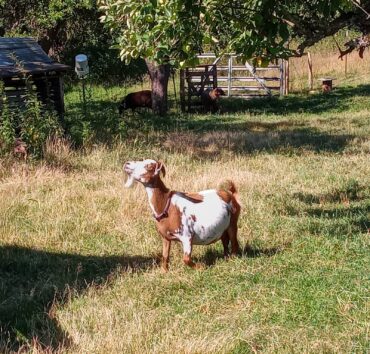 Roni and Erin Smith became homesteaders because of their passion for "clean food." "We were frustrated with how the industrialized food system doesn't make nutritious food or healthy animals," Erin explains. "Conventional agriculture is really bad on the environment. We know there's better ways to do it… It's kind of like, be the change you seek." Therefore, the Smiths became farmers in order to benefit the agricultural system.
However, it isn't all fun and games. The life of farming is a challenge. "There's just not enough time to get everything done," Roni Smith says, "because we also grow food, in addition to taking care of the animals. And then, there's always mowing and cleaning to do." Farming is a full-time job.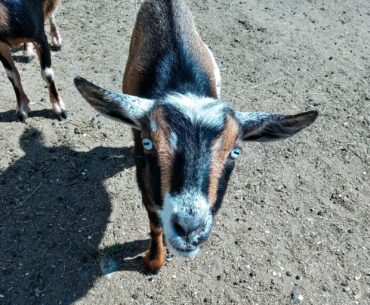 Yet, they love their work. "It is fun for us to share the farm," Erin says. Roni agrees that "it's worth it for us to share this with people."
They love bringing others into contact with their animals. Apparently, the animals enjoy it, too. "Goats just really love interacting with people," Roni Smith explains.
Clients of The Smithshyre seem to love interacting with the animals as well. "You can hear laughter from the house" during goat yoga, Roni Smith says.
"The goat yoga sells out about half the time," Erin Smith adds. "It's pretty popular. This is pretty fun and unique, just to be in here with the cute, little goats." It's a blast for everyone involved, from the animals to the customers to the owners.
The Smithshyre is a special place, full of fun, laughter and animals. It offers people a chance to reconnect with animals and see a glimpse of life as it used to be, when humans lived in community with livestock.