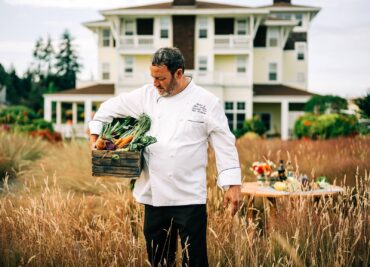 The Fireside Restaurant is located in the beautiful Port Ludlow Resort across the Hood Canal Bridge in bucolic Port Ludlow — a mere 45 minutes from Bremerton. Fireside chef Daniel Ratigan offers the bounty of local farms, along with artisan meats and cheeses, with a menu that celebrates the best the local area and the Pacific Northwest have to offer. The restaurant has built a very well-curated, fairly priced wine list that has been recognized with the Wine Spectator Best of Award of Excellence since 2012. The property includes a a 37-room boutique inn, along with a 300-slip marina that offers boaters a lovely weekend destination.
How would you define the Fireside Restaurant's food style?
I would say it's Northwest themed and locally driven. We take great pride in the relationships we have built with local farms in the nearly 15 years that I have been here. My very first relationship with local farms was Karen Williams at Red Dog Farm just down the road. My first year here, I started driving through the area to get an idea of what was around, and it seemed like everywhere I turned, there was another small farm or artisan.
I worked with the local community, reaching out to probably a dozen farms that first year in the hope we would get all these amazing products that summer. What I learned is that farmers are busier than chefs and were unable to immediately supply the restaurant's needs. So I started meeting with the farmers just after the season and they would bring their crop books saying, "What can we grow that you're not getting?" It was a game-changer for us. It's great to tell customers, "Do you realize that those carrots were in the ground yesterday?"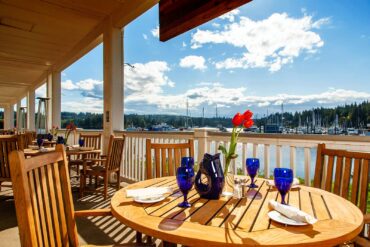 What was your start as a chef and your progression?
I grew up in Seattle and worked for some big hotels, McCormick and Schmick's, and was a chef at the Salmon House on Lake Union, among others. I had a couple of young kids at the time and decided that for my family, it made more sense to be over here on the peninsula. I took the ferry for about a year to work in Seattle, then found a little restaurant in Port Orchard to work at. When a supplier told me the chef at the Port Ludlow resort was leaving, I'm like, "Where's that?" She said, "Just over the Hood Canal bridge." I said I couldn't do that because it felt so far away. But I drove out here and realized how much I wanted that job.
Being in the city, I always had the passion for locally driven products, but in Seattle, "locally driven" meant products from farms in Eastern Washington. You can imagine my excitement when I get over here, where "local" is an old pickup truck right down the road with boxes of greens in the back.
Looking back on my early career, I feel I was like a mercenary. I would never stay anywhere more than a year and I felt I would get in there and enjoy it so much that I gobble up every lesson that I could learn.
Do you have a person of culinary inspiration?
Culinary-wise, my mother. She was not a gourmet cook, but I was always amazed at her ability to take inexpensive products and turn them into meals that we still have in our rotation today.
What does she say about your success?
She's a big supporter and attended my cooking classes that we've done here over the years. I don't know that I'm teaching her anything, but she takes a great amount of pride, bringing her friends here. I don't know how many of them I have fed over the years.
At age 15, if one of your children came to you and said they want to be a chef, would you encourage or discourage?
I would have encouraged the interest. But I would worry that the dedication for success is a double-edged sword. To get to that goal, it's going to affect how much time you get to spend with your family and what you do on the weekends, etc.
What do you say to a friend who comes to you and says, "I've got a great idea for restaurant; should I do it?"
I love the passion, but restaurant margins are not a great investment. You know the rates of a CD right now are probably better — and you're just sitting there.
If you weren't a chef, what do you think you would do?
I went to school to be an airplane mechanic and my friends are still in the business, having grown into successful leadership roles. I think if I didn't get that spark at 17 years old, I would have kept on that path.
What are some food trends you think are ahead of us?
I don't know if it's a necessarily a new trend, but I think we are going to have another big boost in locally driven products. The interesting thing is, I've been paying these high prices for eggs, tomatoes, carrots, etc. for years, so when the grocery store prices go up, they're sort of more in competition with what we're getting from local farms. The prices at the local farmers market still go up, but not at the same rate. You can transition from getting your produce at the grocery store to a farmstand and now it's not even going to cost you more. Not only does it taste better, but it's also fresher longer and it supports the local economy much better — and now it's the same price.
When you're off work, do you go out, does someone else cook or are you all in off-work as well?
I am all in off-work as well! I can make whatever you buy prepackaged or preboxed at a store and bring home. I can cook you something with the same basic ingredients from scratch in about the same amount of time.
Do you watch any cooking shows?
"Diners, Drive-Ins and Dives."
Do you have a favorite Pacific Northwest restaurant?
Besides ours? I really enjoyed the Palace Kitchen in Seattle. The service was always impeccable and the food was always good. (Palace Kitchen closed in spring 2020, but restaurateur Thomas Douglas is planning a reopening.)
Do you have a favorite seasonal ingredient?
It depends on what time of the season you ask me that, but I would say one of the things that I get excited for is kale rabe and broccoli rabe. When the late winter/early spring sun comes out and the soil starts to heat up, the rabe is the first thing that comes out of the ground. It's the most flavorful and sweetest ingredient that we get all year long. You've got to go to the farmers market to get it because there's just not enough of it for grocery stores. Produce-wise, I think that is probably my favorite.