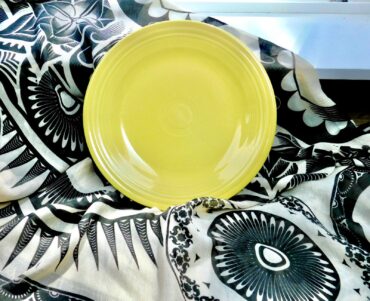 How does that go, "Best laid plans…"
Contemporary thrifting had reached a wrong turn, the unexpected dilemma. One would think, a dinner plate — piece of cake, so to speak.
It started one day at the Goodwill in East Bremerton. Down one side of a long isle were shelves of dinner plates, floor to ceiling, it seemed. More than usual, and I wondered why. It was at that moment I decided to explore local thrift stores and pick one dinner plate as my contemporary thrifting item. I gave myself two months to explore and analyze plates in secondhand stores in Bremerton, Silverdale and Port Orchard. I wanted to analyze quantity availability, colors and patterns, along with when and where made and any common threads.
Some stores had a lot, some didn't. The plates were every color and design imaginable. The only common thread being that most were heavy and made in China. I asked managers if they noticed any plate commonality and most just shrugged.
Debra Wilson with St. Vincent de Paul on Callow Avenue in Bremerton said they put out all the plates that come in and they sell. White plates are still popular. People pick up items in their theme colors and there is a big resurgence of collecting and using Corelle dishware. There was little rhyme or reason and I almost scrapped the dinner plate idea.
I couldn't figure out what to do, so picked a cute plate made in Japan, another bright beauty made in Portugal and a small chipped antique number. During this venture, I discovered and bought a 32-piece set of yellow patterned Chinese Mun Shou dishes, and ended up redesigning my kitchen to accommodate. Why am I sharing that? It's because soon the crazy story would make sense.
I stopped at the Sidney Art Gallery in Port Orchard. They were having a rummage sale, and by the entry door were five pale-yellow plates that would be yummy with new dishes. Turning one over, I read "Fiesta U.S." and "lead free." Everyone has heard of Fiesta dishware. My grandmother, Sofia, had them. The lead-free labeling piqued my curiosity. I bought the plates, brought them home and began the research. This would be "the" plate.
Fiesta was introduced by Homer Laughlin in 1936, based in Newell, West Virginia. Recommendations from the U.S. Environmental Agency are that you should not eat off vintage red Fiesta dishes because they contain uranium. Made in the '50s, the color was called by some "radioactive red," but it was actually orange. The business was stopped for a while. In 1986 Fiesta was reintroduced lead-free and can be purchased new today.
So all turned out great. I found my feature plate, the color matches my new kitchen theme, they'll fit in well with my newfound dishes — and the yellow plates are not radioactive.