In a world where products are predominately cookie-cutter and mass-produced in factories, creative individuals offer fresh perspective, artistic lenses and a sense of beauty. Gary Barber of Octopus Studios is one of those individuals. He uses his creativity in his stained glass work to provide beautiful and original pieces to his customers.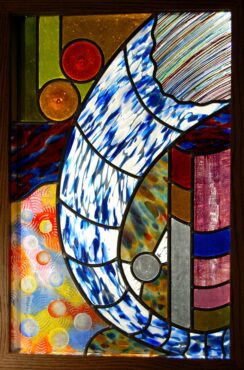 "I've got a creative streak in me that just can't be crushed," he says.
Barber accidentally discovered his love of stained glass in college.
"On a lark, I took a six-week stained glass class at the local community college in Bremerton at night, just for fun, and liked it so much that I simply never stopped doing it," he explains.
He had been interested in art even before that. In high school, Barber pursued photography. However, stained glass was a whole new level of artistic love for him.
He eventually started Octopus Studios in Belfair, where he does commission work out of his home studio.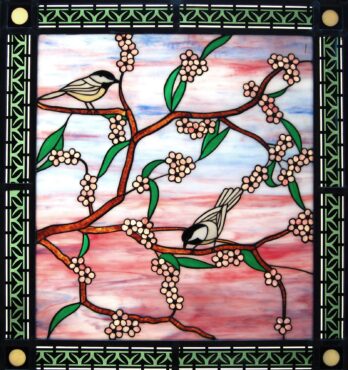 "I'm always working for someone who wants something, for sure, and each client wants something different," he says. "So, I'm always creating. I'm always in the mode of coming up with something new and interesting for a new client, and that's always exciting. I always had a great deal of enjoyment being able to do something fresh with each new client. That has been very satisfying."
Barber tends to work on larger pieces for his commissions. "It's almost always larger panels for windows, side lights by a front door or a whole entryway," he says.
When doing a commission like a window for a client, Barber goes through a set process to design and create the piece. The first thing he does after receiving the request is to make an appointment to see the home.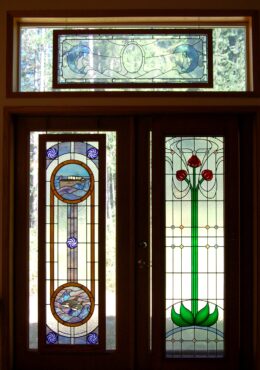 Barber discusses with the clients what they would like for the design. Then, he takes a small deposit and begins designing. Once he has completed a design, he solicits the client's opinion. Most clients like the first design that he proposes, Barber says. "Usually, it's like, 'Wow, we really like that,'" he says.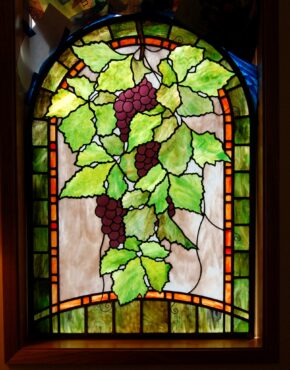 Once the client approves the design, the creation process begins. Colors are the first step, and in stained glass, light is the key factor for choosing colors.
"If it's a real bright window, I can use deeper colors," he explains. "If it's a little more hidden, like they've got a lot of trees or something like that, I can use more transparent colors, so that we get the maximum benefit of a design in their window."
Next, Barber begins cutting the glass. This is a nuanced process, as not all glass is totally flat. In fact, it can be better for there to be "movement" in the glass, especially if the design needs texture.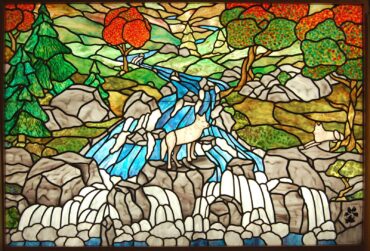 "So, it's not just cutting out glass haphazardly. I'm making real art," Barber says. "I'm painting with light, basically, to be able to create something that's truly stunning."
After the glass has been cut, it must be constructed into its end design. This can be done in two ways. One method is called copper foiling and the other is leaded. The copper foiling technique utilizes copper foil tape, which is wrapped around the edge of each piece of glass. The leaded technique, on the other hand, places the glass pieces in a metal channel.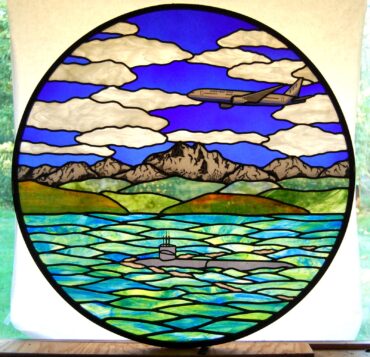 Once the glass pieces are copper-foiled or leaded, they are soldered together. That completes the piece unless Barber decides to add a frame around it.
Barber finds the most challenging part of this process to be the design.
"The design work is probably the most challenging thing because that's where the most creative portion is," he explains. "The actual design is where you're trying to accommodate, not only form and function, but the client's ultimate desire. You want to make sure that what you're designing really fits what they see in their mind and how it fits their application."
While the creative necessity of the design process is difficult, that creativity is also one of Barber's favorite parts of stained glass.
"I'm really excited about doing more highly creative work when a client gives me free rein to create from within my heart," he says. "Then I'm able to do extraordinary art."