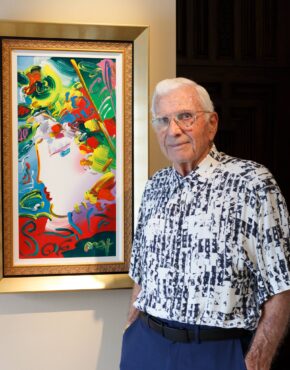 Confucius once said, "If you want happiness for a year, inherit a fortune. If you want happiness for a lifetime, help someone else."
Charity is the gift that keeps on giving, and there are many ways to give generously. Dr. Paul McCullough has recently donated $500,000 in artwork to the Kitsap Community Foundation.
"The Kitsap Community Foundation is a catalyst for the greater good," says interim president and CEO of the organization, Stephanie George. "By partnering with donors and others to invest in the nonprofit sector, the foundation works to vitalize more vibrant communities to benefit all who call the Kitsap Peninsula 'home.'" The foundation works with donors to help them give money to causes that they care about and resonate for them.
"Dr. McCullough is a retired orthopedic surgeon who was among the early founders of the specialty care line here in Bremerton at what was then called Harrison Memorial Hospital," George says.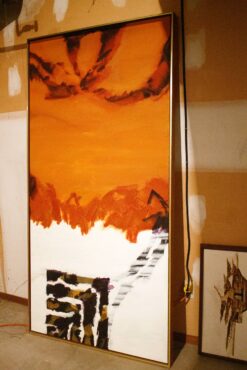 McCullough explains that he was drawn to Bremerton because "there were two areas that had particular needs and one of them was Bremerton." Liking the Puget Sound area, he went there.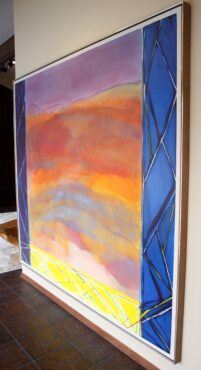 Even before his art donation, McCullough wanted to give to the community and help people. During his time at Harrison Memorial Hospital, he performed hip and knee replacements. He also worked as a spinal surgeon before retiring in 2000. McCullough found the work to be "fulfilling and rewarding," he says.
Besides his work as a doctor, McCullough also supported charitable work, especially with the Salvation Army. "I give significantly to the (Salvation) Army and have for years and years now," he says.
Early in his life, he watched people take their loved ones to the Salvation Army for medical aid because they couldn't get them into hospitals. Many of those people felt that "if you want something done, go to the Salvation Army. This "colored my donating," he says, adding that he was also compelled to become a Salvation Army donor.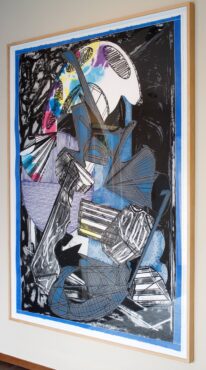 Recently, though, McCullough has decided to try a new donation path with the Kitsap Community Foundation. George says that McCullough has given the foundation a large "portion of his personal art collection, 65 pieces appraised at a fair market value of $500,000." The art will be sold and "100 percent of the net proceeds resulting from the sale of the art will fund a named legacy endowment, the McCullough Foundation."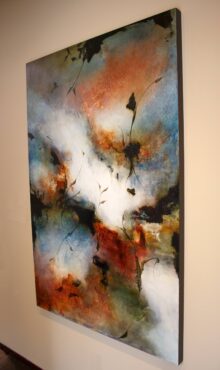 McCullough explains that his donation is a "combination of wall-hanging art and sculptures, indoor and outdoor." Most of it is abstract art. The donation includes "Score" by L.V. Miller, "New Lilly" by Joseph Raffael, "Recognition" by Catherine Newell, "The Crab" by Jeffry Uitto, "The Funeral (Dome)" and "Ginfa e la Berretta Rossa" by Frank Stella and "The Danville Girls" by Gary Mauro. There are also untitled pieces by Nancy Mee, Dale Chihuli and Lisa Stirrett. However, this is just a small piece of the donation.
Among his donated artwork, McCullough names "The Funeral (Dome)" by Frank Stella his favorite. It's a hanging, relief-printed etching — an abstract piece from 1992 belonging to Stella's Moby Dick Domes series. "This is a rare print," McCullough says, "because it's three dimensional." The print's center pushes outward.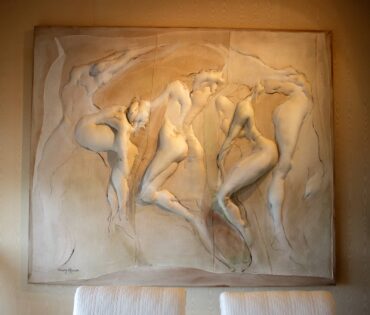 McCullough shares that Stella "was expressing concern about the changing whale population" in this piece. "If you look at the blue above, that's a living whale; and if you look at the black below, that's a dying whale," he says. "I guess, in a way, it's my favorite because there is so much there that can be interpreted and I like the way Stella uses his colors."
McCullough decided to donate these art pieces because he and his wife are both 88 and "are thinking now about the future — and not so much our future, but the future of the assets and the family," he says. Donating their artwork to the Kitsap Community Foundation seemed like a good way to benefit others, as the art will be sold and the proceeds benefit future generations through gifts from the established endowment.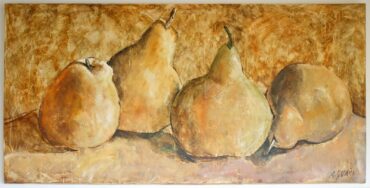 George appreciates McCullough's take on charitable donations. "What's interesting about his choice … is his example," she says. "I think what's important about the context of this story is that often people's wealth … gets accumulated across your lifetime and it's literally in what we would call noncash assets. It's the value of your home. It's the value of your art. It's in your retirement account. It's in your stock portfolio and those assets have often a great amount of value."
People can find unique ways to give to others, whether it be through time, land or artwork. There is more to life than money and more to give than cash.
Interested in purchasing any of McCullough's donated art or want more information? Contact Kitsap Community Foundation below.