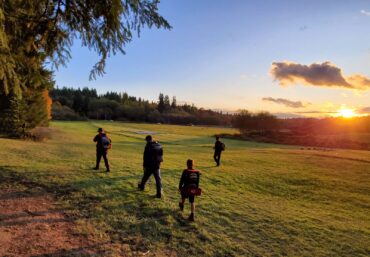 Disc golf, which got its start in Southern California back in the early 1970s, used to be considered something of a "hippie" sport because of its deep roots connected to the throwing of Frisbees and the wearing of tie-dyed shirts and so on.
But today, nothing could be farther from the truth. Disc golf is legit, with thousands of players across the country, if not the world, and a true professional circuit.
And West Puget Sound is right in the thick of it. Last year, the region was ranked by Disc Golf Magazine the 10th best place in the country to play the sport. That's no surprise when you consider there are more than 400 active members of the West Sound Disc Golf Association (WSDGA) and six active courses, from Bainbridge Island's Battle Point Park to Horseshoe Lake in Port Orchard.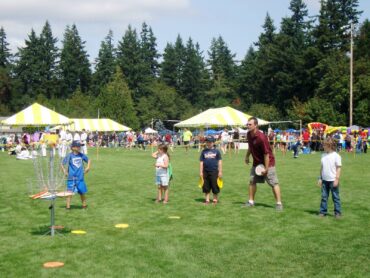 "It's a sport you can play by yourself or with your friends and family," says Scott Mabbutt, current president of WSDGA and co-owner with his older brother, Nick Mabbutt, of Mabbutt Plumbing in Kingston. "I play quite a bit with my wife, who's a ranked professional."
Unlike traditional golf, which requires players to use a variety of clubs and dimpled balls and is played on courses marked off by yardage, disc golf players use Frisbee-shaped discs that are tossed toward a metal basket situated feet — not yards — from a designed tee box, usually a concrete slab or a dirt patch.
There are no greens to shoot at — as in "ball golf" — but disc golf players must aim their flying spheres over ponds and hills, around trees and under branches to reach their target.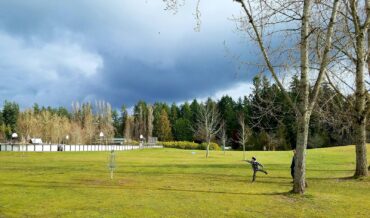 Like the game played by Tiger Woods and millions of amateurs across the globe, disc golf courses also have "holes" with different lengths and separate pars for each distance. If a particular hole, for example, is 265 feet, it's deemed a par 3 in disc golf. Longer holes, in the 400- to 500-foot range, would be marked off as a par 4, and so on.
Disc golfers can play a course with just one disc, but most avid players, like Mabbutt and his wife, Alison, carry up to 24 of the hard-plastic spheres in bags that they haul on their backs — like a mini-backpack — or over their shoulders. Or they may use increasingly popular push carts. (Locals can buy disc golf equipment and accessories at the 360 Disc Golf store on Wheaton Way in Bremerton).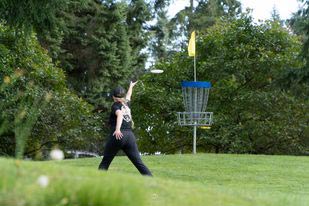 "They (discs) each fly differently and they all do different things," says Mabbutt, who uses individual discs for distance shots, midrange shots and putting. "It's similar to (ball) golf in that you need a driver, fairway wood and putter."
The discs are made of hard plastic and are a bit thicker and heavier in composition than the familiar Frisbee that you might throw with your dog or with a friend. Depending on what shot a disc golfer uses it for — driving, putting and so on — each sphere is likely to be a different diameter.
"It's not like a Frisbee," Mabbutt explains, "but the mechanics of throwing it are. It takes a lot of practice to perfect it."
The WSDGA, a 501(c)3 nonprofit organization, got started in the early 2000s with the idea of fostering the sport in the region. A number of original club members — including Paul Wright, himself a multiyear national amateur champion; Sam Huff, the board's current treasurer; and Tony Beckett, among others — helped design and build the region's six courses, all the while attracting new members.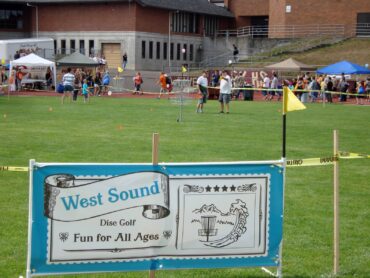 Located at NAD Park in Bremerton, the Bud Pell at Ross Park, Kitsap Fairgrounds, Van Zee Park in Port Orchard, Horseshoe Lake Golf Course in Port Orchard, Frederickson Wilderness Park in Poulsbo and Battle Point Park, the courses are either on private land or public property.
Bud Pell, one of the region's more popular layouts, will close soon, as the property, situated next to the driving range on Waaga Way outside of Silverdale, is being transformed into a residential development. Frederickson, where Mabbutt began playing in 2009 with his brother and where he later began playing with his future wife, Alison, is on land owned by the Poulsbo Lutheran Church. The club is now in negotiations with another church in Kitsap County to build an additional course.
"Horseshoe (Lake) is like a regular golf course," Mabbutt says, noting that it's the only one that charges to play. "You call and get a tee time. The others, you just show up (and wait your turn to play). It's very casual, not as structured as (ball) golf."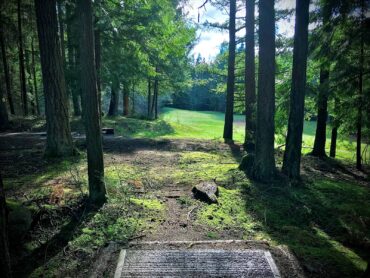 On Bainbridge Island, Greg Scharrer can relate. Back in 2017, he and a few buddies worked with the Bainbridge Metro Parks District to create a new nine-hole layout at Battle Point Park. After a few initial hiccups with some community members concerned about safety, the course was unveiled and today, disc golfers can be seen tossing their spheres in the shadow of runners, bikers, roller-bladders and pickleball players at the popular park.
"It's quaint and not quite as competitive as the other courses," Scharrer says. "It's a great place to teach and learn disc golf. And it's beautiful out there."
Wright, who has won five national amateur championships and six world championships, began playing the sport in the late 1970s while still in high school in Bremerton.
"I heard about people playing it in Seattle and got hooked," he recalls. "There are so many nuances to the game, and it's for the whole family."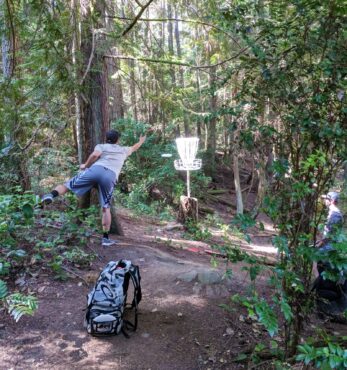 While developing a "feel for the game" back in the day, Wright was also a serious catch-and-fetch Frisbee player, so much so that in 1981 he and his dog finished seventh in a national contest hosted at the Rose Bowl. He set aside disc golf for almost 25 years until he heard about efforts under way to build a course at NAD Park in 2005.
"I found out about the club (WSDGA) and (soon) became president. I jumped in with both feet," recalls Wright. "It's all about the people challenging themselves (during play). It's similar to ball golf, which people can relate to. There's always that one shot that will keep you coming back."
Wright says there are a lot of good young players coming up through the ranks in West Puget Sound. "These kids today are incredibly skilled," he says. "They can (really) throw those discs."
One of those players is Alison Mabbutt, 36, who played softball and volleyball while growing up on Bainbridge Island. She plays from time to time in tournaments around the country that are sanctioned by the Professional Disc Golf Association. Mabbutt turned pro in 2020 and has a ranking of 881, which is close to the top female player in the world. (A player's ranking is loosely based on the difficulty of the course, not unlike traditional golf's slope rating.)
"It's amazing how quickly she picked it up and improved," Wright says.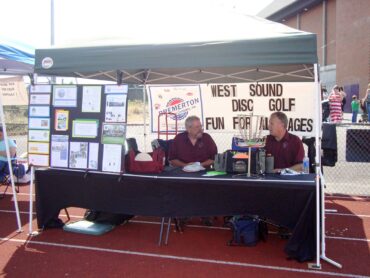 Disc golf pros, like their traditional golf counterparts, can earn prize money and endorsements. The sport's top player just recently signed a multimillion-dollar contract with Discraft, a well-known disc maker.
"The difficulty (of the sport) is the mental aspect," Alison Mabbutt notes. "It's not a team sport, so you only have yourself to rely on, which I like."
An even younger competitor who is making noise in local disc golf circles is Silas Stenerson of Suquamish. The 16-year-old discovered the sport in early 2020 and just like Wright some four decades ago, "got hooked on it." Stenerson was an Ultimate Frisbee fanatic until the pandemic hit and made it difficult — if not impossible — to play his then favorite sport.
"I needed something to do during COVID," he recalls, and "I saw one of my favorite Ultimate Frisbee players playing (disc golf) on YouTube, so I thought I'd try it."
Like Alison Mabbutt, Stenerson is a highly ranked player, scoring in the 941 rating range. He also plays baseball for Crosspoint School and is on the traveling Kitsap Ospreys select team. He caddied for a friend in this past May's Kitsap Classic Disc Golf Tournament at Horseshoe Lake.
"Coming from Ultimate Frisbee, it's easy to throw (discs)," Stenerson says. "I like the freedom to play whenever you want … and the overall aspect of it and the competitiveness of it."
While disc golf has, in general, attracted lots more people during the pandemic because of its healthy outdoor atmosphere and lifestyle, players like the Mabbutts and Wright also use it as opportunity to see the country.
"My wife and I take disc golf vacations," Wright jokes. "On one trip back East, we visited nine states" and played on a number of different courses.
The Mabbutts have gone on similar trips to Pennsylvania and Alaska. "I like traveling around and meeting people," Scott Mabbutt says. "There are countless people I would have never met if wasn't for disc golf."