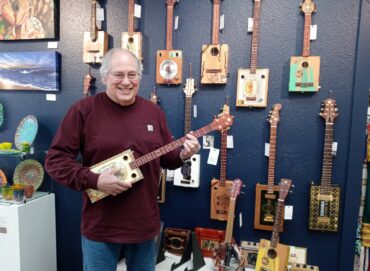 The Verksted Gallery in Poulsbo is home to many talented artists, including Bob Rau. He creates what he calls "playable art." That is, he builds musical instruments out of beautiful cigar boxes.
This artistic craft bloomed during his retirement. He worked as an engineer for a marine construction company, retiring in 2013. Then, Rau says, he asked himself the question, "I've got to do something, so what am I going to do?"
As it turns out, building instruments became his calling. Rau has a long-standing love of music. He learned to play the banjo in high school, an interest that stays with him to this day. He combined this interest with inspiration from the Pike Place Market, where he saw instruments made from cigar boxes. With his pockets full of inspiration and musical passion, Rau set out on the adventure of instrument-building.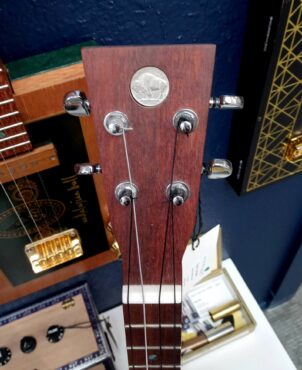 Today, he creates a variety of instruments, including guitars, ukuleles, banjos, dulcimers, mandolins and violins. Every piece utilizes a cigar box as the body of the instrument and is finished with a buffalo nickel set into the headstock. The nickel is Rau's signature, much like a painter's flourish of the brush.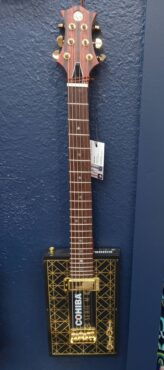 Rau explains that each instrument typically takes a week to build. The most difficult part is creating the neck of the instrument. It's the largest piece and, therefore, the most time-consuming. Each neck piece is hand carved. After creating the neck, Rau moves on to the frets, using abalone for the fret markers.
He creates instruments with modern advancements in mind. Rau's guitars have electric pickups inside, which allow them to be plugged into amplifiers. Rau accounts for this by building his own amplifiers. They are smaller than typical amps. However, they're beautifully crafted by a loving hand.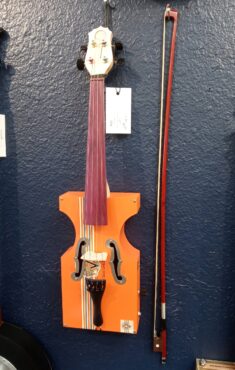 As he structures the instruments, Rau pays special attention to the artistic elements. He says it's important to him to preserve the artwork on the front of the cigar box. Many artists use the back of the box for the instrument's face, as this is easier. However, Rau takes the road less traveled and keeps the beautiful box cover as the front of the instrument. He also relocates the bridge of the instrument in order to conserve the box's art. Rau jumps through hoops to have instruments be more than just musical pieces. They're also artwork.
"I like variety and I like the beauty of wood," Rau says.
He procures a wide spread of wood to use for his instruments. Every instrument "is a little bit different," he says. Some have uniquely carved headstocks. Others take a traditional shape. Some are mostly made of wood, while others are accented with metal pieces. Like fingerprints or snowflakes, no two of Rau's instruments are the same. Each is a special, independent creation.
Rau's "playable art" represents his skillful craftsmanship, artistic eye and passion for music. Each handmade piece is a unique work, with careful attention paid to its visual features. They're both beautiful and usable, containing lovely tones in their cigar box bodies. What used to be mere containers, Rau transforms into balm for both the ears and the eyes.