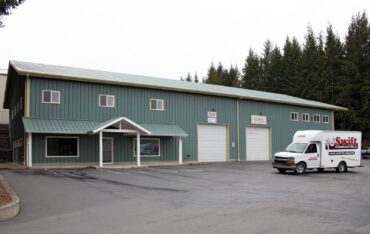 Like a lot of his fellow tradesmen, Ty Swift is almost giddy about doing business in Kitsap and Jefferson counties.
"It's a good spot for business," says the 46-year-old CEO of Swift Plumbing & Heating Inc. in Kingston. "There's a lot of growth here."
Even during the recession of 2008-2014 and the more recent pandemic, the company stayed busy. "We still have the (Navy) bases here, and their engineers (and other employees) still need work done," Swift says. And now, "Kitsap County is becoming a hot spot for people working out of their homes."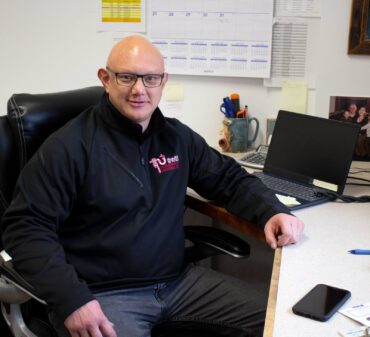 As you can tell, when opportunity knocks, Swift Plumbing is well positioned to take advantage. Started by Ty's parents, Cal and Bev Swift, in 1986 after it was purchased from a previous owner, the plumbing outfit today has 31 employees — including 13 licensed plumbers — and a fleet of 24 trucks that make the rounds from Bainbridge Island to Port Townsend.
Nowadays, Swift's workload is parceled out into three departments: service and repair, remodeling and hydronic heating. The latter service in laymen's terms is better known as "radiant floor heating."
The company also performs the usual laundry list of services you'd expect from a plumber, such as plumbing repairs, drain cleaning, water treatment, boiler services and some new construction.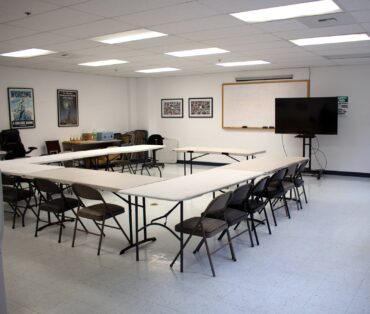 "There's plenty of work around here," Ty Swift says. "It's crazy. … When the initial shutdown of the pandemic hit, it hurt us quite a bit, (but) now we can't keep up. In most departments, we're three to four weeks out."
Not surprisingly, the service and repair side of the shop is the busiest, handling everyday repairs like water heater change-outs, broken faucets and toilets, washer and dryer installations, and the like. One area that's growing is water filtration.
"We have one guy who's very busy with doing just that," Swift says, noting the number of wells and water systems that have sulfur and other minerals accumulating in them, especially on Bainbridge Island. "It's just certain pockets (on the island), but it's the same in Poulsbo and around the county."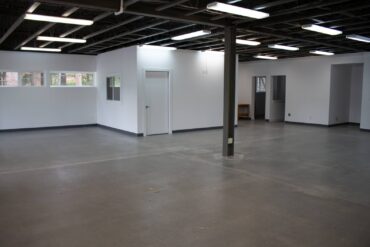 The senior Swifts lived in Burlington, Washington, where Cal worked as a maintenance supervisor for ACRO at the company's Cherry Point refinery. They then did a nearly decadelong stint in Alaska during the early days of the Alaska-Valdez oil pipeline era, before returning to the mainland. Cal Swift took an early retirement, and the couple began looking around for a business to buy when they stumbled across Strand Plumbing in Poulsbo, which was up for sale at the time. (Strand, owned and operated by Merle and Pat Strand, had previously been known as Poulsbo Plumbing for some 40 years.)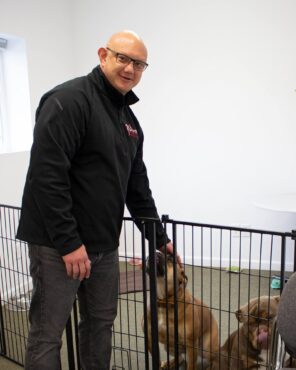 The Swifts purchased the business and kept Pat Strand on staff for many years thereafter. When the Swifts first got started in the business, Ty recalls that his father "chased anything and everything," as far as pursuing potential clients. "He mostly did custom (home) work back then," he says. "(But) as we grew, we always had someone doing service and repairs."
Today, the senior Swifts are still invested in the business and Cal teaches an in-house plumbing apprentice program to employees once a week.
"It's the only way we've been able to grow our business," Ty Swift explains. It takes about four years to earn a plumber's license, and the company currently has seven apprentices on staff, two of whom are females. Apprentices typically accompany a licensed plumber on customer calls to learn the ropes first hand.
Similar to other trade groups — electricians and carpenters, for example — plumbers are hard-pressed to find fresh recruits.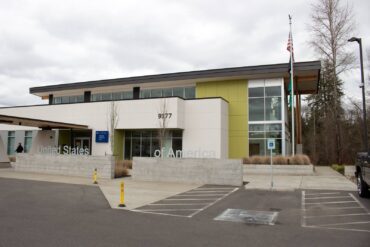 "People just aren't going into the trades these days," Swift laments. He says the company had a good pipeline with high school students at one time, but those connections ultimately dried up. He even "bonused" existing employees if they brought in a potential candidate. But now, Swift adds, most of his licensed plumbers are older and no longer have connections with younger people.
"Most of my 'first years' are green," he admits. "You hire for character and you hope they will be great. Then you have to teach them the work, and how to do the work."
Swift took over the company from his parents in 2015. He has two younger siblings and an older brother but none of them wanted a piece of the family business.
He worked summers during college while earning a degree from Northwest University in Kirkland and discovered to his surprise that he liked it. "I enjoyed the physical work, putting something together at the end of the day," Swift says.
He started at the first rung of the ladder and learned the business, literally from the ground up, performing plumbing grunt work, and then taking on more responsibility as a dispatcher and project manager. All the while, Swift recalls asking himself, "Do I want to sit in the office and look at numbers all day? … It was kind of a natural progression (stepping into the CEO role). You have to think about it and make sure you're good with it."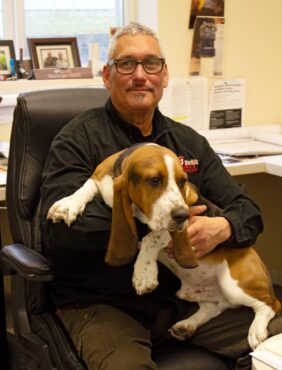 Swift has three lieutenants on board who help him manage the business: service manager Brad Duchemin, construction manager George Hall and heating manager Dennis Fanara. "They are excellent at what they do and the make it easy," he says, with a smile on his face. "We have a good team."
Swift Plumbing is holed up in a rather nondescript-looking, tilt-up warehouse building in a small business park in Kingston on United Road. But the 1,100-square-foot structure was Cal Swift's "dream site," when the company moved there in 2005 from smaller digs in Poulsbo.
Besides being the company's headquarters, the building serves as its inventory center. Walk around for a bit and you'll see a wide assortment of water pipes, copper tubing, plastic pipe, drains, waste vents, fittings and fixtures of all sorts, not to mention tools and trucks.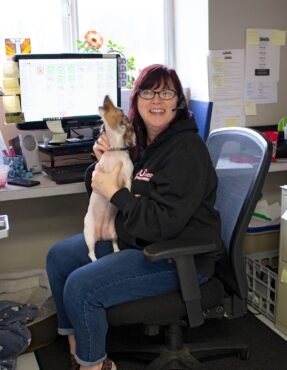 "We don't do a lot of retail (if any) out of here," Swift says. "These products are for our service guys to have on hand."
If you're looking for a plumber's perspective on certain product offerings, Swift is partial to "Bradford White" hot water heaters and "Tow Tow" toilets that flush more efficiently.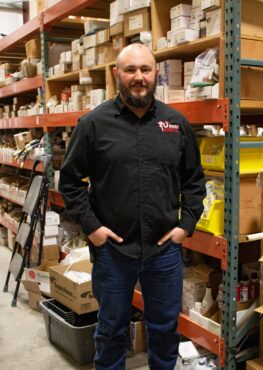 While Swift Plumbing is doing pretty well for itself, with annual gross revenues ranging between $4 million and $5 million and basic house call fees of between $200 to $300 (not unusual in this day and age), it has not shied away from big projects.
Over the years, the company has dabbled in some signature jobs. Some of the highlights include a remodel of the Fourth Street Apartments in Bremerton in 2018 that involved changing out old pipes under the building's existing slab.
"We didn't know what pipes were good or bad or where they were going," Swift remembers.
Over the years, Swift Plumbing has done plenty of work for North Kitsap High School, especially with its heating system, and has had an ongoing relationship with the Washington State Ferries in which it was hired to change out all the fixtures in the terminals to low-consumption units.
Swift says the company has also done yeoman work in a number of other recognizable projects around the region, including the Fishline Building in Poulsbo in 2019, the Silverdale Veterans Administration Clinic in 2019 and the new Olympic Hotel in downtown Poulsbo in 2021.
As for marketing and getting the word out about the company's services and reputation, Swift says there's not much to brag about. "We've been around long enough that our name is out in the community and word of mouth has been kind to us," he says. "We do some advertising … (but) it's fantastic to take over a business that has such a great reputation."
He adds, "I'm in a pretty good spot. I have great people working for me. My job really is to not screw up what my parents started."