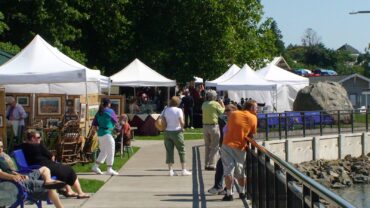 Cultural Arts Foundation NW (CAFNW) has a lofty organizational mission statement: "supporting the arts, advancing creative potential and involving the community in the enjoyment and appreciation of the arts in Kitsap County." Since its inception 37 years ago, the Poulsbo-based nonprofit has been doing just that.
Run entirely by a small group of volunteers, CAFNW has annually organized popular arts events, funded scholarships, supported working artists with grants and sponsored the work of fellow arts organizations. In 2021 alone, when the local arts scene needed a pandemic boost, CAFNW supported 110 local artists in the exhibition and sales of their art, gave away $16,000 in student scholarships and awarded another $9,000 to working artists.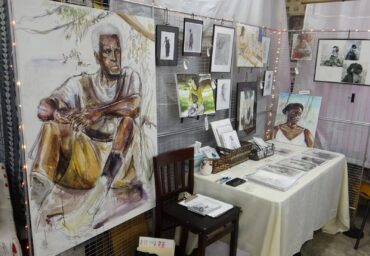 Local arts activist Val Torrens and Northwest College of Art and Design founder Craig Freeman established the organization in 1985 with a simple vision: create an arts nonprofit similar to those on Bainbridge Island and in Bremerton that would provide support for Kingston, Suquamish, Indianola and Poulsbo. From that modest start, the organization has refined its mission statement, playing a vital behind-the-scenes role in arts promotion in communities and schools.
Involving the Community
"Our summer outdoor arts festival on the waterfront in Poulsbo is the organization's first public initiative and longest continuous activity," said Sandy Cross, CAFNW vice president.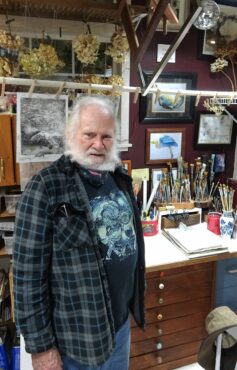 Originally called Arts by the Bay, it took place over three weekends in the summer, providing a summer retail venue for local artists and a tourism draw for the city of Poulsbo. Thirty-five years later, the event has been rebranded. Now called Poulsbo Arts Festival, it's shorter — taking place on the third weekend in August — but expanded with a varied schedule of Kitsap-area musicians playing in the park's gazebo, food booths and a raffle of artwork. In 2021, the event also hosted a COVID-19 vaccination clinic.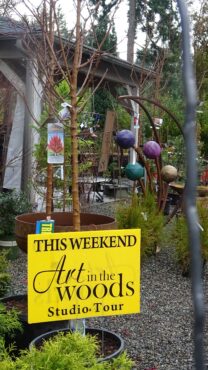 "There have been years when the artists and musicians had to endure rain and the wind blowing off the bay and years when three days of sunny weather brought big crowds," said Greg Enright, CAFNW president. "But the show must go on. No matter what the weather brings, it's an important summer event for the artists who get to showcase their work and for locals and visitors who get to meet them."
Once the success of the summer festival was established, local artist Wendy Hampton and teacher Pat Strayer proposed that CAFNW sponsor a studio tour giving the public an opportunity to visit artists in their workspaces. The 20-year-old event, dubbed Art in the Woods, is hosted annually on the second weekend in November. In 2021, 18 North Kitsap studios and nearly 60 artists participated.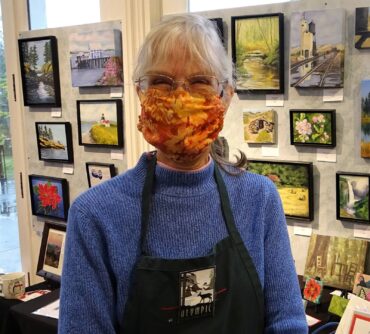 Visitors to Art in the Woods can print a downloadable map or pick one up in local galleries and navigate a self-guided drive to studios in Poulsbo, Kingston, Suquamish and Indianola, many of them in some of the area's prettiest rural locations. Often the venue is an artist's home, with multiple artists showcasing their work. In other venues, visitors get to watch a single artist at work in the studio.
In all cases, it's another opportunity to involve the community in the enjoyment and appreciation of the arts. "We get a lot of people because they love visiting the studios," Cross said.
Advancing Creative Potential
From the earliest years, CAFNW leaders realized the importance of exposing area students to the arts, according to Enright.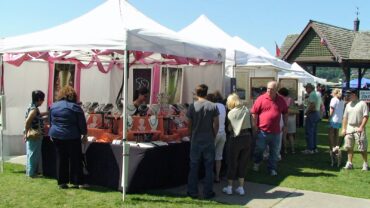 "We helped fund the North Kitsap School District Art Docent program by purchasing fine arts prints and supporting training for volunteer docents who worked in classrooms teaching art," he said.
As arts education dwindled in local schools, the organization offered scholarships to K-12 students in Kitsap County. The scholarships fund individual student proposals, including projects; classes; and workshops in music, writing, painting, drawing, photography, dance, sculpture, theater and film. Last year, 31 students received a total of $16,000 in CAFNW scholarships, allowing them to take piano and voice lessons, learn guitar and violin and attend art classes. Students are required to complete an application for CAFNW board's consideration and older awardees, grades 9-12, must do a presentation to the board.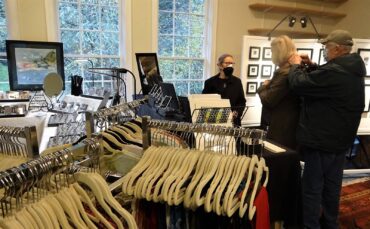 CAFNW also manages the North Kitsap Caro Wilding High School Scholarship program named for a popular North Kitsap High School art teacher who expanded the high school art program and encouraged arts appreciation. Each spring, scholarships are awarded to two North Kitsap and Kingston high school graduating art students who plan to study art in their postsecondary education. The two 2021 scholarship winners were a painter and an aspiring theater set designer.
Adult artists also benefit from the organization's commitment. Grants are available to "assist adults 19 years and older in developing their skills and knowledge" in music, dance, theater, film, writing and all forms of visual arts. Awardees can use the funds for supplies, workshops and "any other art-related avenues that would assist adults in their artistic development." In 2021, five working artists received grants to purchase items such as a printing press, jewelry-making supplies and a band saw.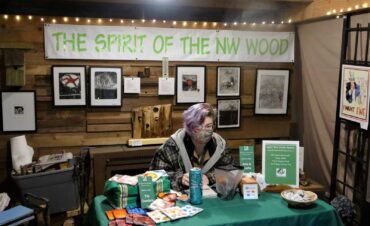 Supporting the Arts
CAFNW also sponsors other arts-related organizations and events. In 2021, it provided financial support to the Poulsbo Community Orchestra; the Bainbridge-based Kids In Concert, a nonprofit music education organization offering all children a chance to learn a musical instrument; and the Bainbridge-based Rachel James Ingress Film Production for an entry into the Northwest Film Forum.
The Best of Kitsap $1,000 Award at Bremerton's Collective Visions Gallery annual statewide juried art exhibition is another CAFNW-funded initiative. In 2022, Bremerton artist Madison Boewe received the prestigious award for an acrylic-and-charcoal painting.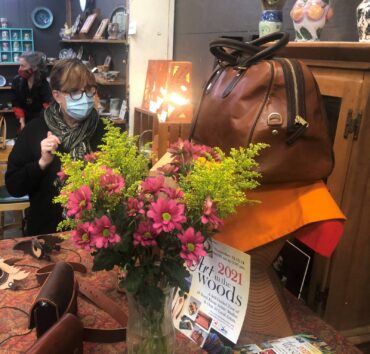 The organization's commitment to community extends to more than the arts.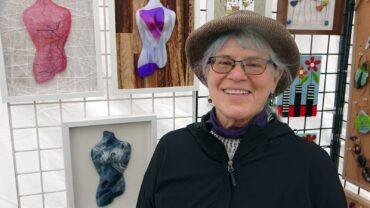 "In 2020, when the pandemic shut everything down, our board talked about the struggle local arts organizations were having surviving the pandemic," Cross said. "It was hitting the arts and other nonprofits pretty hard. We had a small surplus and decided that each board member could gift two other area organizations — one had to be arts-related and the other could be any nonprofit. Several board members donated to Fishline, our local foodbank."
According to the CAFNW website, "The arts are essential to the well-being of a community. The arts give citizens a sense of place, engage and train the mind and give exposure to diverse perspectives." As a small organization with a nearly four-decade history, Cultural Arts Foundation NW has had an outsized impact by living its values.