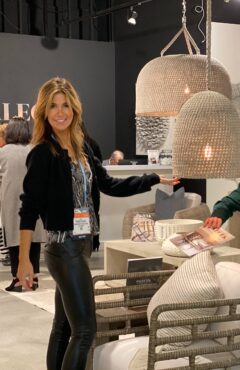 The Content Scout recently caught up with Theresa Stirling, who offers interior consulting for homes and workplaces. Having grown up in the Kitsap area, and after a long-layered career in the biotech corporate and medical world, she is now incredibly fulfilled and following her dream. To talk about what she is bringing to interiors in our area, we caught her in between large art commissions that she ships around the country.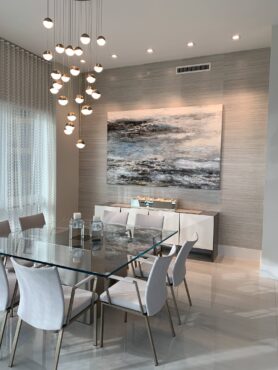 CS: What is the backstory that led you to interior consulting?
TS: With my economics degree and experience in marketing and business co-ownership, over many years I've learned how to work with others and for others and growing others' businesses. I found tremendous joy when I could squeeze in a creative DIY project — refresh a room, create a kid's make-believe camp nook with fairy lights or simply frame some photos. I have been creating encaustic art for 20 years and continue to. As I am in these wonderful homes and compounds, I have observed epic finished interior design and over time, my collectors have naturally asked my opinion and help on pulling together their interior layers while we planned or installed art.
The layers are the fun things — throw pillows, wall color, cozy blankets, art, texture, plants, floors, fireplaces, countertops and drawer pulls. This blends beautifully with what I am doing already in art and design, with a strong lifestyle brand. I have done home remodels, renovations and a dreamy new build. Each instance was a chance to express through high-quality products and touches.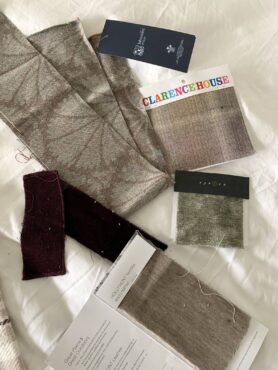 CS: What types of projects do you take on?
TS: Clients or collectors will email or call asking if I can visit their site or see it through photo sharing or even FaceTime. We take into account natural and supplemental lighting and talk about color, what feels fresh and uncluttered. We collaborate on what makes them happy as a feeling and build on that, usually pulling toward uncluttered, breathable, almost serene, spa-like-feeling spaces.
Think of the vibe when visiting Restoration Hardware. Everything has a sophisticated, understated quality. Putting out things that express the homeowner but using restraint of hand to keep it minimalistic and soothing. We go with light colors whenever possible, add in plants and often try to echo the outdoors. I keep it fun, easy, enjoyable and with some choices but not an overload. I like to work with others who enjoy the process, too.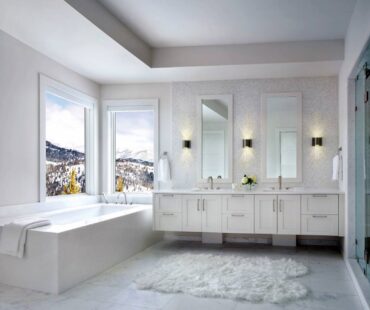 CS: How do you work differently in interior design consulting?
TS: First, I see everything as a collaboration with whomever retains me. I honor them and hopefully open their minds to pushing things forward a tad in contemporary design aesthetics — clean lines, quality furnishings, good art statement pieces and timeless accents — from countertops, to cabinets, flooring, carpet and electric fireplaces. I work with clients on an hourly basis and tend to be more of a "super-curator" for their home stages.
If they are doing the kitchen, I take them or send them all sorts of choices and have gotten to know many of the suppliers and retailers in Kitsap, Pierce and King counties and beyond the state. I don't stock lines or transact merchandise — I take them to suppliers that do. I sort of take the homeowners on a journey or treasure hunt but save them the time driving all over and searching endlessly.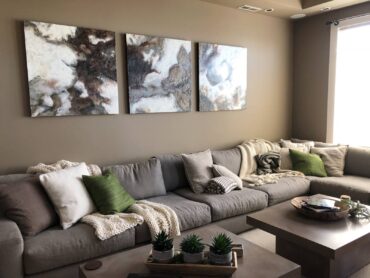 I am self-taught, as I am in my fine art, and have found that is my secret to working fearlessly, trying new approaches and not holding myself to a classically trained standard that may extinguish some of the fresh play at hand. It works wonderfully. One of my out-of-state clients has me hunting for perfect white/blue and clear blown glass nesting bowls for their modern home's coffee tables. One has me hunting for the right bar cart and coffee table. Most importantly, I thoroughly enjoy it and bring that passion and positive energy to help lift my clients into that mode while making exciting decisions.
CS: What is your favorite home interiors style?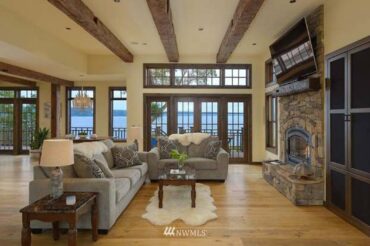 TS: I have a deep love for "mountain modern" and "coastal luxe." Both styles work well here in the Pacific Northwest. Think light, airy, clean lines, contemporary feel and colors. Cozy blankets, concrete tables, comfy couches, contemporary dining and bar stools. I don't pull much in the primary color palette, preferring grays, creams, black, bone, driftwood and white — lots of white. I find a soothing interior puts everyone at ease and helps set a relaxing tone.
White walls are the best way to refresh walls, beams and pretty much any home or office space. Today, everyone is home more and working remotely; there has never been a better time to clean up the space and decorate it in a way that reflects who lives and works there. Our living spaces reflect our inner interior, how we feel on the inside or how we wish to feel more.
CS: Where do you get inspiration?
TS: Favorite magazines, many of them in the Western Rockies. Pinterest, Instagram, following design style leaders. Also being in some well-designed spaces where I do art installations.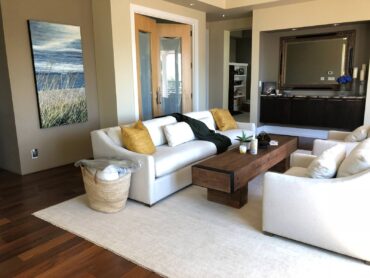 CS: What are some of your favorite design tricks?
TS: In no particular order: more plants and succulents and a few custom-made quality pieces, whether it's a linen seat cushion, area rugs or runners, or art and pottery. White walls set a stage for breathability. Keep as few things as possible on the counters — store away appliances and utensil holders.
Put a cookbook or two upright on display, elevating your space a bit. Have a comfortable place to sit with a guest and have coffee facing each other. Lose the clutter — it will make a tremendous difference in your life. I'm a big fan of floating cabinets — media holder, powder, master bath, even kitchen island. It gives the whole room an airier feeling. Mostly, do what delights you and when you can, go for a more cohesive look and feel that flows. Where focus goes, energy flows.
Theresa Stirling's Field Guide
Mountain Modern Style:
Warm neutrals, whites, blacks, faux furs/hides, shed or cast antlers, stone, soft textures
Steamlined glass, polished metals, locally sourced woods
Concrete, open-concept, locally sourced objects
Succulents, plants
White or gray contemporary barstools
Linear electric fireplaces, some metallic accents
Abstract or soft-focus art
Coastal Luxe Style:
Grays, whites, driftwood colors, some blues, blacks, cream
Big bowls on coffee tables
Lots of white and dove gray throw pillows
Concrete, serene art, soft lines, high-quality carpets and throw rugs
Crisp white rooms, walls, silver metals
Contemporary floor lamps, linear fireplace
Lush green, leafy plants