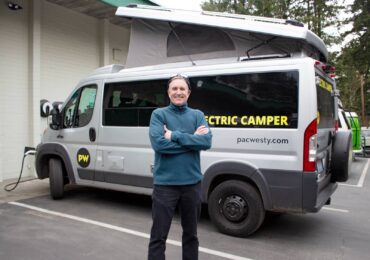 Hang out with Greg Dronkert for any length of time and you just might feel like you're chatting with the Energizer Bunny — that is if the the bunny could only talk.
The bunny, of course, is the mascot of Energizer batteries, and can be seen in TV commercials banging on a drum and hopping all over the place, demonstrating the battery's supposed longevity and energy efficiency.
The 59-year-old Dronkert has a similar proclivity for energetic activity. Sit down with him at his office on Bainbridge Island, and before you know it he's standing next to you, showing you the company's website on an adjoining laptop. A few minutes later, he's up again and pulling down data from the firm's grocery delivery service. Wait a few minutes more, and he's giving you a tour of the shop's automotive repair facilities.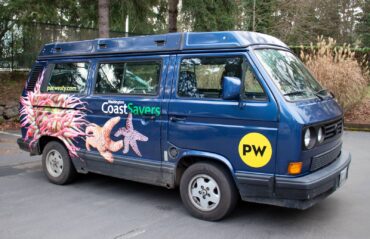 If this sounds a bit wild and crazy, it just may be. Dronkert is founder and CEO of PacWesty, an emerging company tucked away in a small business park on the island that has three distinct business models housed under one roof.
It includes rentals of electric conversion camper vans — mostly Volkswagens — to locals and tourist interested in exploring the Kitsap and Olympic peninsulas and other areas of Washington; a grocery delivery service for customers of Town & Country Markets, including its stores on Bainbridge, Poulsbo (Central Market), Shoreline, Ballard and Mill Creek; and a service and repair shop that works primarily on electric vehicles and converts many campers and other vehicles from internal combustion engines to electrics.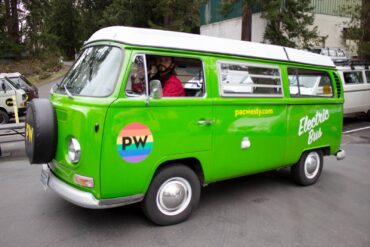 Dronkert talks fast and acts quickly. When the pandemic hit with full force in April 2020, PacWesty was deemed an "essential business" under the guidelines then in place, and he looked around to see what he could do to occupy his 15 employees. He reached out to Town & Country, which at the time was still a year or so away from starting a delivery service of its own.
"I called on a weekend and asked, when do you need us," Dronkert recalls. "They said, 'Can you start on Monday?'"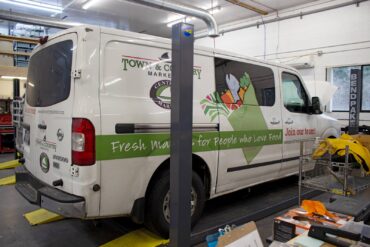 PacWesty took its camper vans, which weren't being used by tourists at the time, and transformed them into delivery vans. It started out dropping off groceries to mostly "at risk" individuals, but not long after, Dronkert and Town & Country realized they had the makings of a new business model and a budding partnership.
"It happened organically," Dronkert says. The delivery service started on Bainbridge and quickly spread throughout the company's network of stores. PacWesty has since added refrigerated electric vans and figures it's delivered at least 150,000 tons of groceries, while reducing emissions by some 30 tons.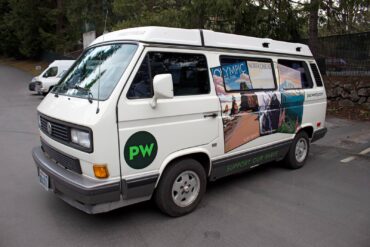 If you're getting the impression Dronkert is something of an engineer, along with being a savvy business type, you're right. The hard-charging entrepreneur got a degree in maritime engineering from the California Maritime Academy in 1984 and later picked up a master's degree in logistics and global shipping. He parlayed those skills into a career in transportation and mobility, eventually starting Pacific Navigation on Bainbridge Island.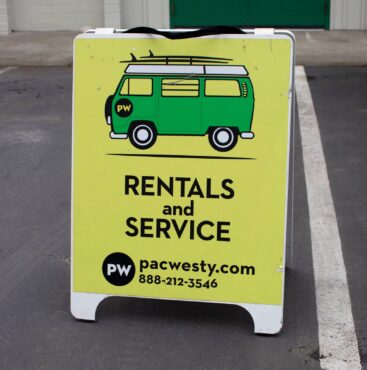 The company managed private ferry services in Bremerton, Pierce County and even in Alaska, where it helped operate some cruise-ship lines. It later merged with Hornblower, a giant global leader in on-the-water experiences and transportation, and Dronkert was drafted to help it manage ferry systems in New York City, Trinidad and other places.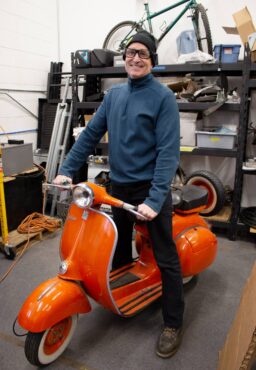 Through a contract with the Department of Energy, "Hornblower (built) the first all-electric ferry in Alabama," Dronkert says, noting the significance not only of that achievement, but Hornblower's enormous hospitality side.
"The idea for PacWesty was, 'Why can't we do more of a mobility system with zero emissions,'" Dronkert recalls thinking to himself prior to departing ways with the conglomerate in 2018. "It was acquired by an equity firm … and that's not my thing. I'm a small- business guy."
Dronkert bought a few camper vans, converted them to all-electric engines and started renting them to would-be locals and out-of-staters who wanted to experience the great outdoors in nonpolluting vehicles.
"The notion is to connect the (greater) community (as well as) our culture and the environment to things we love to do," he says. "We let people decide what 'meaningfulness' means to them."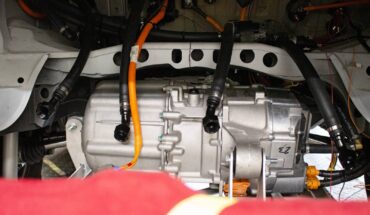 PacWesty is essentially a hospitality company, supplying its guests with everything they need to enjoy their adventure, from stoves, coolers, beach chairs, cooking supplies and sleeping bags, to French presses to make coffee in the morning. Campers can rent one of PacWesty's rigs from $155 to $225 per night, depending on the size of the vehicle and the time of year.
Typically, the vans have a 150-mile battery charge radius — which will get most visitors to Port Angeles and the Olympic Peninsula — and are equipped with an onboard charger and adapter. Dronkert says his electric vans can be recharged at most campgrounds, either at a 220 volt or 240 volt station, or even at a 110 voltage outlet.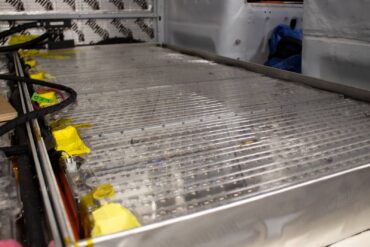 "It's a really safe way to go with all the social distancing (inherent to being outside), and everyone really wanting to get out and about," he says.
The company currently rents out six to 15 vans at a time and attracts most of its customers online and from potential partners such as evo Seattle, a skiing, snowboarding and mountain biking retailer that PacWesty is aligning itself with. "They're a good fit," Dronkert says.
To expand the camping side of the business, Dronkert envisions setting up similar rental stations in places such as Palm Desert, near Joshua Tree National Park, California; Bend, Oregon; and Boulder, Colorado.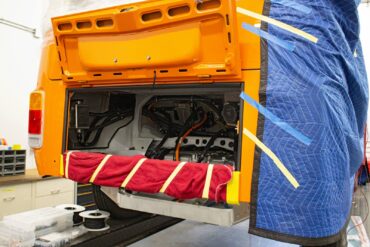 "These are gateways to outdoor recreation," he says. "Each one becomes a portal in each location. … It's a great way for people to get out and adventure and connect."
Dronkert says these future locations would have four to six vehicles and allow customers to potentially take round trips or one-ways from, say, Bainbridge Island to Bend. "If people dig the experience here," he adds, "they may like it in other locations."
Meanwhile, PacWesty has made its grocery delivery business more streamlined by adding "delivery optimization software" to its toolbox. The software allows drivers to quickly discern where groceries need to be dropped off, and gives customers a chance to track their deliveries using an app that is similar to the one used by Uber.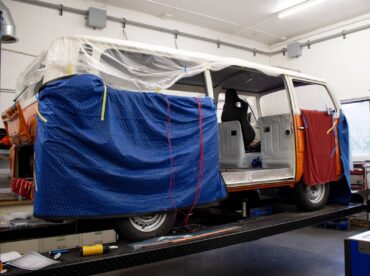 Because of the software twist and other innovations, PacWesty has become more efficient with its delivery system, only relying on one van and one driver between two stores. It's "the concept of vehicle sharing," Dronkert explains. "One (electric) vehicle doing the work of many." Some day, as he foresees it, these sorts of delivery vehicles will be "automous," with no drivers.
But that's a ways off, and for the near term, he sees the potential for the delivery business to expand. Think Smith Bros. Farms, the dairy products company, delivering in all-electric trucks, or Ridwell Inc., the Seattle-area company that collects hard-to-recycle products, doing the same, he says.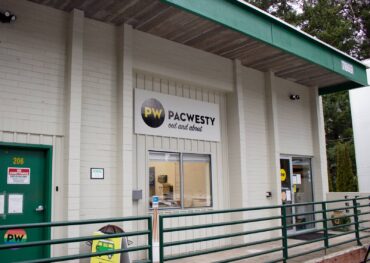 While PacWesty's automotive side was essentially started to service the company's fleet of electric camper vans, it's become something of a going concern of its own. It's the area's "only electrical vehicle maintenance shop" and takes on a variety of fun conversions. Walk around Dronkert's shop and you might spy a 1958 Volkswagen Beetle being readied to go electric or a 1972 T2 VW van being totally refurbished with a Tesla engine from parts salvaged off a Model S motor. Look harder and you'll likely see an old, orange Vespa scooter that Dronkert is hoping to install electric components on and possibly rent out.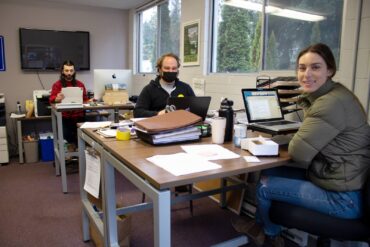 But what really stirs Dronkert's drink is talking about the potential of the electric fleet business. He calls it "fleet as a service." There are hundreds of "small-to-mid-sized businesses out there that will utilize a company that has the vehicles" and understands the logistics and regulations surrounding this emerging segment.
Dronkert says PacWesty wants to occupy this space. Along those lines, it currently is awaiting word from Clemson University on whether it will be selected to provide electric vehicles to the private southern college.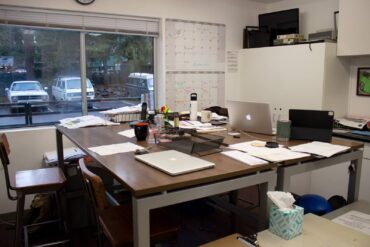 "We see it growing into its own thing," he says of the fleet business.
Just about everything Dronkert does or says reinforces his core beliefs and philosophy. "We're betting that zero-emission propulsion and primarily electric (transmissions) are going to be the most successful modes" of transportation, he says. "How people move and how to get them into electric vehicles, that's our goal."
From here, anyway, Greg Dronkert looks like a sure bet to succeed.