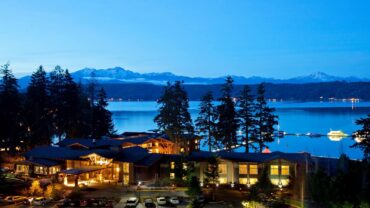 With Valentine's Day falling on a Sunday, a weekend away is the perfect recipe for a romantic getaway. Or connect with your gal pals with a fun Galantine's Day away celebration. A few of these options have spa services and are close to many outdoor activities to soak in all that West Sound has to offer.
The Maritime Inn
3212 Harborview Drive, Gig Harbor • 253-858-1818
The Maritime Inn is located on the shores of Gig Harbor Bay. This boutique property has won many awards and provides a quiet respite from the hustle and bustle of daily life. With over 20 years of providing impeccable service combined with harbor views, this hotel provides the ambiance and picture-perfect views as the backdrop for a splendid Valentine's Day away.
The Eagle Harbor Inn
291 Madison Avenue S, Bainbridge Island • 206-842-1446
The Eagle Harbor Inn is intimate and unique, referred to as a "petit hotel." It offers five stylish, one-of-a-kind hotel rooms and two custom-designed townhomes located near downtown Winslow, a great location to walk to the many restaurants and shops or to just relax and order in. This property is truly tranquil yet perfectly positioned to all that Winslow has to offer.
Alderbrook Resort & Spa
10 E Alderbrook Drive, Union • 360-898-2200
This Pacific Northwest-designed property takes in all that the location, perfectly positioned on Hood Canal, has to offer. With 77 guest rooms in the hotel, Alderbrook also plays host to 15 beachfront, two-bedroom cottages. It also offers a wonderful restaurant, a very well-appointed spa, a PGA golf course and a marina.
Note: Make sure to check for special packages and availability.