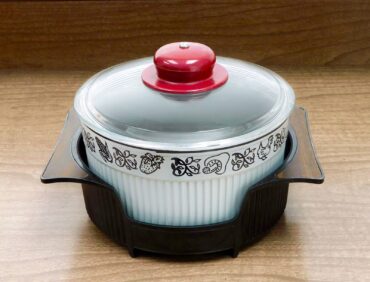 The '70s began with the Beetles breaking up, Vietnam War ending, avocado-green color taking over almost every household, the Doobie Brothers entering the stage and consumers saying hello to the microwave. Today we see the midcentury-modern ('50s and '60s) kitchen trend fading a bit, with a new reach toward the quirkiness of post-midcentury ('70s and '80s).
This series is about contemporary thrifting — different these days in that frenzy collecting is turning more to "one item." This is especially seen with individuals selling online and more consumers visiting thrift shops for the first time looking for that "one" quirky item.
Recently I was at the St. Vincent de Paul Thrift Store in Bremerton. It's probably the oldest thrift shop location in Kitsap County, opening its doors in 1937.
I found this delightful but confusing casserole with a carrier and no lid. Weird stuff, creepy but oddly wonderful. The tag showed it had been on the thrift shop shelf for weeks with no takers. I can understand why, but lucky for me.
The dish diameter is 7 1/2 inches, which is a standard lid size, so I went over to the lid bin area and selected a lovely vintage glass lid, made in France, with a red plastic center knob.
"Corny looking," I said to myself, never thinking it would be used as a thrifting series example, but here it is. Research drew me in and I was hooked. It's a very unusual '70s Nordic Ware soufflé or casserole that was not sold with a lid. It has a light nonstick coating, maybe Teflon, which other similar units don't have.
The red knob broke off and my husband attached it back with a screw that made it look even cornier, but more wonderful and artistically attractive. I began using it as a hot food server. With the small size, convenient carrier-holder and unique vintage appearance, it's a great and efficient kitchen item, and now has a new forever-home — with me.