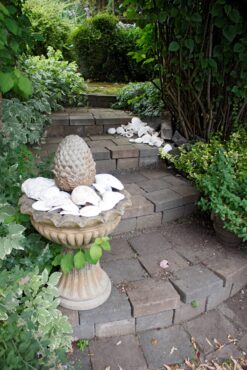 Now that summer is fizzling out, plants are slowing their blooming and the leaves are turning colors and falling to the ground. It's time to plan for the holidays and to put the garden to sleep for a while. Here's a short list to change your focus and get you started:
Pruning of trees, shrubs and perennials is in order.
Add a healthy blanket of top-coat compost to your beds to keep them warm and feed them all winter.
Plant early-blooming bulbs for a colorful show and bright welcome to next spring.
Keep your bird feeders and birdbaths full of fresh food and water for our feathered friends throughout the cooler months. The little Anna hummingbirds stay with us all winter and still need nourishment.
Plan which shrubs and trees you will drape with fairy lights and collect pine cones for well-placed baskets inside your home and on your porch.
Make wreaths, garlands and swags with colorful greenery, twigs, holly and big ribbons.
Have chili by a cozy fire.
Plan yummy dinners for friends and family.
Just "be" with wonderful loved ones and celebrate this new season.
Happy Holidays to all of you!