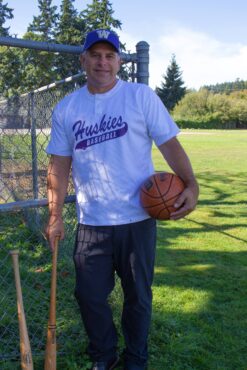 A former professional baseball player, Derrin Doty got involved with Kitsap youth sports after his family moved to Poulsbo in 1999. He had recently served as head coach for Olympic College baseball and in 2001, was asked to help coach a North Kitsap team for 16- to 18-year-olds.
Doty had previously coached his young kids' team for three years, reaching a state championship game during their last summer. "After that, I caught the 'coaching bug' and had ideas of coaching college and pro baseball someday," he says. "But as my kids grew older, I made the choice to instead coach them so I could always be around them."
Over the years, he coached all his three children through different teams and sports, from T-ball and soccer in Poulsbo and baseball at Silverdale Pee Wees, to girls middle school basketball at Klahowya and boys middle school basketball at Crosspoint Academy. He later coached at high school level and saw his girls soccer team through two high school state championships (first championships ever for the school).
At Crosspoint, Doty also started the school's first boys high school baseball team, which went on to compete at state the last three years and win four consecutive SeaTac League championships. His oldest son, Derrin Jr., is now in college, while daughter Deserée (who went to college on a full soccer scholarship) manages Revive, the family's coffee house in Port Orchard. The youngest son, Thunderr, is still in high school, and Doty is currently the head coach at Crosspoint for high school boys basketball and baseball.
Doty comes from an extensive background in professional baseball. After finishing his college career in 1993 at the University of Washington, Doty got drafted by the California Angels in the 17th round on June 3, 1993 — his birthday. He later played in the minor league system before getting married to his Sequim High School sweetheart, Pam. He also played at Cedar Rapids, Iowa (making the Allstar team), was selected to play in winter baseball in Australia and played in the California League and then Midland Texas Angels in AA before moving on in 1994 to the Big League club in spring training.
"Coaching allows me to pass on all of the great things and skills I learned playing college and pro baseball, as well as playing basketball at Sequim, which was a powerhouse in the late 1980s with the great coach Rick Kaps," he says.
Why Volunteer to Coach
I have been given a gift of being a great athlete and person who has high skill. But even more important, I love to mentor kids! I also like to motivate and teach them how to become better people and even teach them how to pray when we end or start practice.
The Importance of the Work
This work is important because I have been given an opportunity that not everyone gets — to coach kids all the way through high school and mentor them and build relationships.
Best Part of the 'Job'
The best part of my job is being around great kids who love to learn and get better. Then we get to see the reward as they become older and successful in life.
Biggest Challenge
Coaching in a small Christian school, we don't always have good numbers of kids coming out to play sports but it's fun to see them progress and beat bigger schools.
Best Compliment
When they send me personal notes on how much the "experience and journey" affected their lives.
Things I Can't Live Without
I can't live without being around my family. I can't live without chunky peanut butter, sharp cheddar and heavily buttered popcorn. Oh, and the Huskies, Mariners and Seahawks.
Best Way to Relax
Go on a walk with my wife and then we just start talking. Also, I have an infrared sauna and I like sweating out my stress.
Hobbies Outside of Work
I love sports and reading (I read fantasy and sports books). I like bike riding and working out too. Reading the Bible is also something that keeps me going.