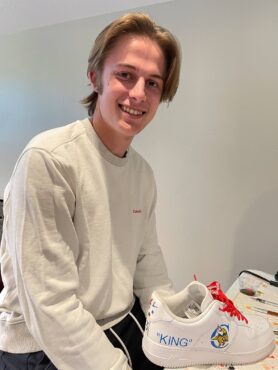 Imagine owning a pair of shoes that speak for themselves, each rooted in a unique story. Imagine what it feels like to wear these unique pieces of art as you take the world in stride.
Welcome to Connor King's world. Owing to a spark of creativity that took over his life while being displaced from college, he designed a new platform for the classic Nike's Air Force 1 shoe. With images drawn by hand, he came up with graphics using multiforms of varied mediums, all created to tell each shoe owner's story.
A graduate of North Kitsap, King attends Texas Christian University in Fort Worth, Texas. In spring 2020, like so many college students, he had to head back home to sit tight with his family during the COVID-19 lockdown. Bored and restless with remote learning, he wasn't sure what to do. How could he make this unexpected break in his life worthwhile? What could he come up with that nobody else had? How could he best express himself during such uncertain times?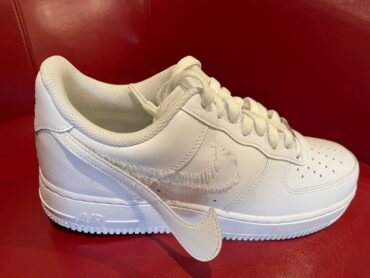 King had always loved good stories and the different ways of telling them. He decided to tap into his creative juices and to experiment. He had no real background in art; he had only taken one drawing class in college, but playing with design and painting spoke to the budding entrepreneur. Learning how to use stencils and images through YouTube and the internet became his main source of inspiration, along with his family.
The Kings had always lived and breathed basketball. Connor King fell in love with the sport from the day he held a ball, and he played it throughout his young life. Brother Chandler, currently a senior in high school, is also a starting player. And mom Jean, who played professional women's basketball overseas, founded 2X Inc., a sports agency that specializes in representing female athletes.
With basketball in his blood, King found it easy to extend the sport into a unique medium for expressing himself. Each pair of shoes is individualized. He takes them apart, deconstructs them, hand draws and paints the different components, and then rebuilds them. Whether you're an athlete, a college student or an executive, these originals take things to a whole new level.
All the shoes he makes tell a story. One of the most meaningful is about Duke, the black-mouthed cur that the Kings rescued from an abusive owner many years ago. When this loving member of the family died, King posted on social media, "You're a rescue dog not because we saved you, but because you saved us. Thanks for growing up with me, buddy. I'll love you eternally." And then, paying tribute to Duke, this young man sat down and customized a pair of Air Force 1 shoes as a gift for his mom.
Intending to graduate from college in 2023 with a business degree, King is well on his way as "one to watch."