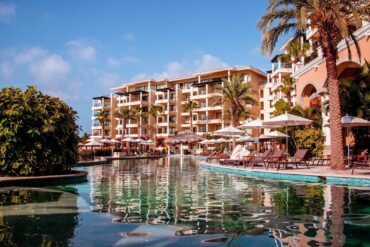 Casa Dorada means golden house in Spanish, and it sure is. Here, the setting glows, the hospitality warms, the palms wave, the views abound, the beach beckons, and the pools glisten. Casa Dorada is perfectly nestled in Cabo San Lucas, just a four-hour direct flight from Seattle's SeaTac Airport.
Over the last year, we made three trips to Casa Dorada, a hidden gem in the heart of it all — but also tucked away so you have the best of both worlds. Our guest list represented every configuration of family and friends.
Our first trip was just with myself, my husband and teenage daughter; the second with couples; and the third with adults and kids during spring break. Each time, Casa Dorada proved to be the perfect antidote to having been so shuttered in and isolated during the pandemic.
Along with the ease of getting there, what do we like best about this boutique-style, luxury destination? Location, location, location. It checks every box on our list, with attention to detail that truly made our stays memorable.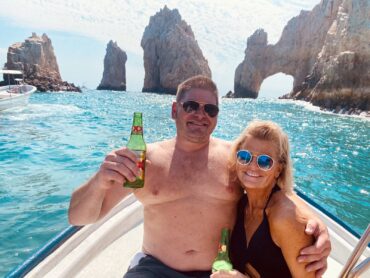 In addition to offering free-form pools, Casa Dorada is positioned right on Medano Beach, an immaculate, swimmable, blue-flag beach, which is not easy to find in this part of Mexico. Whether we were lounging in the sun or under a big, beautiful umbrella, this guests-only affair is full service, offering everything from plush towels and ice buckets for beverages to delicious lunches.
The hotel is just a five-minute walk to downtown Cabo San Lucas, rich with cultural sites and culinary delights. Casa Dorada also offers multiple restaurant experiences, including fine dining, sushi, woodfired pizzas and authentic Mexican. The little on-site mercado (market) sells hand-dipped ice cream and gelato, to-die-for paninis, espresso and delectable pastries. It also provides an assortment of travel goodies should you run out of sunscreen or sunglasses.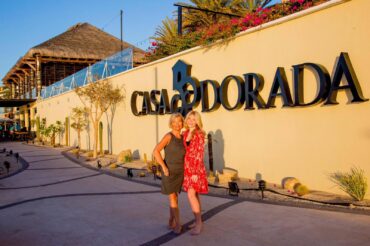 And the Casa Dorada beds? Oh, those beds! Adorned with luscious linens, they are some of the most comfortable we have ever slept in. Rooms and suites come with kitchenettes and balconies, and some with hot tubs. Most offer sweeping views of the Pacific Ocean.
Because Casa Dorada isn't a chain, its highly personable management has room to be more flexible and original in what they offer their guests. For instance, there's a 24/7 phone number that we could call for what seemed like anything our hearts desired (in English!).
Water sports and experiences are plentiful, seemingly tailored to every age and size. We went deep-sea fishing multiple times, bringing back some amazing fish. And we found a great spot that prepared our "catch of the day" in all sorts of ways for the tribe of friends we brought to dinner that night.
Water taxis pull up on the beach steps from the hotel's private, guests-only beach location. I love this mode of transportation, so I took a water taxi every morning to my favorite churro stand at the marina. Churro in hand, I would walk back to the hotel, which took about 20 minutes, savoring the cinnamon-and-sugar pastry and convincing myself that I was walking off my breakfast. I could get on a plane right now and go back to Casa Dorada just for one more churro.
We couldn't believe that, after just a couple of days, the pressures of COVID-19 in our lives faded away — thanks, in great part, to the charismatic Leonardo Perli, the general manager. He and his staff embraced us with true warmth as soon as we arrived and throughout each of our stays.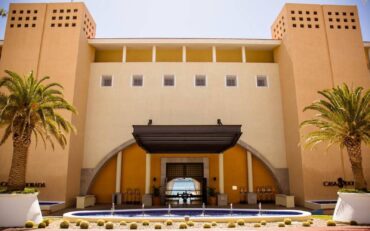 The same employees have been with Casa Dorada since it opened 12 years ago. They take such pride in their hotel, spa, food and activities. You can just tell that these people are completely genuine; nothing is forced. My family, friends and I could feel that authenticity — it radiated through everything they did.
We also discovered that Casa Dorada has a dedicated event planner who can help host weddings and private events. David Sanz Fernandez, the director of food and beverage, works magic both in and out of the kitchen, helping to design the most creative cakes and procure gifts, say, for an anniversary or birthday celebration. Casa Dorada can totally make special memories happen, and everything it does is bespoke, depending on the wishes of its guests.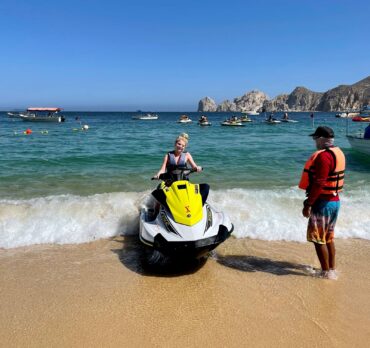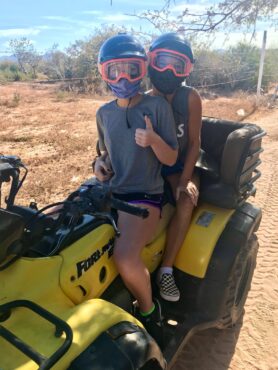 Everything is made even more comfortable at this splendid escape-from-it-all because Casa Dorada follows all international safety protocols for COVID. One staff member is designated to carry out additional security measures on your behalf. Seventy-two hours before departure, for example, we were tested in a simple, streamlined manner so that we could reenter the United States without a hitch. And if for any reason someone tests positive for the virus, the hotel has set aside a block of discounted rooms for quarantining, complete with room service.
Chic yet comfortable, inviting yet private, laid-back and family-friendly, Casa Dorada offers the perfect escape for rest and relaxation. Speaking for all of us who've ventured there, we can't wait to return to the Golden House, our home away from home.
Find out more about Casa Dorada at casadorada.com.