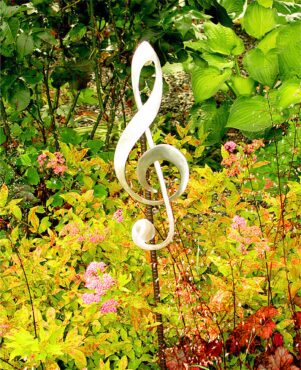 After a year of COVID-induced cancellations or a quick switch to "virtual" events, live, in-person art studio tours are back. The tours offer rare glimpses into the lives of people who create things with their own hands. Each tour is an opportunity to purchase fine, decorative and functional works of art directly from their creators, meet the artists in person and learn about the artists' techniques and what inspires them in their creative process.
The first tour to return was the Bainbridge Island Summer Studio Tour that took place in mid-August, with 35 artists showing their work in five studios. Pottery, glass, photography, mosaics, jewelry, paintings, sculpture and outdoor art were for sale in the event.
Many of the summer tour artists will also participate in the Bainbridge Island Winter Studio Tour in early December. Visit bistudiotour.com to learn more and see the work of the summer tour artists.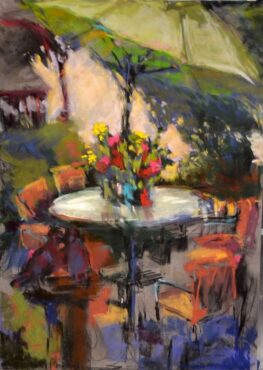 Gig Harbor Open Studio Tour
The Gig Harbor Open Studio Tour (GHOST) will take place Sept. 17, 18 and 19. This year, 27 artists from Gig Harbor, Fox Island, Key Peninsula and South Kitsap will participate.
GHOST was founded in 1993 by the late Al Johnsen, a Gig Harbor painter and potter who started a similar event when he taught art at University of California, Santa Cruz. For Johnsen, one of the goals of the tour was to educate the public.
GHOST's purpose was two-fold, Johnsen often said. From an artist's standpoint, it would make artists work a little harder and dig a little deeper to try new things so they could have fresh work to show every year. "Art isn't just about creativity or talent," he was fond of saying. "It's also about hard work."
Johnsen also intended that the studio tour be educational and introduce the community to artists as people. Not everyone spends their time with their nose in a cellphone or a plug in their ear, he said.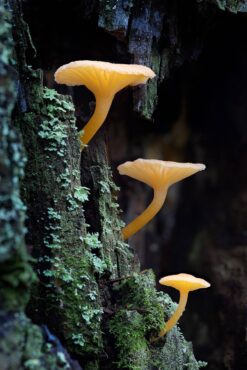 "The public needs to see that there are actually people who make a living creating things with our hands. Knowing that might inspire others to reclaim their culture and their identity," Johnsen once said.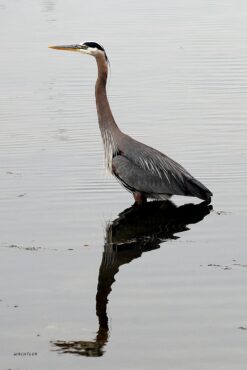 That first year, just six or eight artists participated in GHOST, including Olalla metal sculptor Gary Jackson, whose Sunburst Studio will again be open during this year's tour. Jackson specializes in welded metal sculpture and sculptural signage, fabricated from stainless steel and bronze. He also creates whimsical assemblages from found objects that many people use as garden art. He's well-known for his public artworks commissioned by the city of Gig Harbor and other jurisdictions.
Another Olalla artist, potter Jana Fisher, is returning to the tour after several years' absence. Fisher balances her work between functional and decorative ceramics and often uses unusual firing techniques such as raku and pit-firing.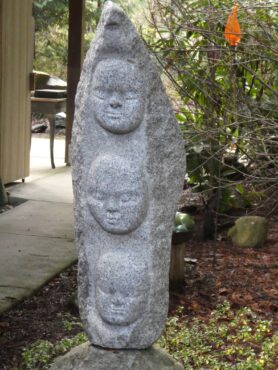 "Pottery connects me to the things I love — my community, my natural environment, my creativity — oh yes, and food!" Fisher said with a smile. "I love making things that can add to the presentation, enjoyment and serving of food."
Stone sculptor Sharon Feeney of Port Orchard is participating again in this year's tour, along with her husband, Rick Alway, who does landscape photography. Feeney's stonework ranges from hand-held objects to works that weigh 800 pounds or more and can be used indoors and out, "from garden to mantel," she said.
Alway began "taking pictures" as a kid when he was out hiking and exploring nature.
"Photography is how I encourage others to get in touch with the natural world and look beyond or outside of what is obvious," Alway said. "I want to listen deeper to what isn't being said and to open hearts and minds to what we know and what we don't know."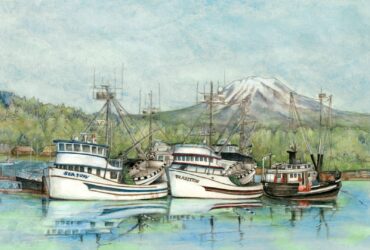 Two other Port Orchard artists, Jani Freimann and Pierre Mollinet, will also have their studios open. Freimann is a water-media-and-graphite artist whose work often "leaves a little something to the viewer's imagination." She uses lots of layering "to capture the complexity and capture depth. "A little bit of mystery on how it was done is always fun," Freimann said.
Mollinet has been fascinated with stones and rocks his entire life and began collecting as a child. Now stone is his art medium of choice as he carves and sculpts it into abstract and realistic shapes. This is Mollinet's first year participating in GHOST.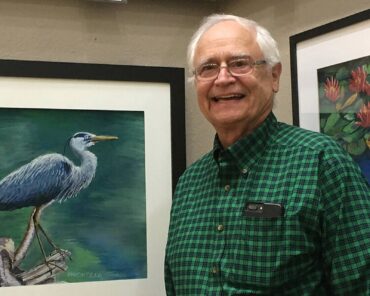 GHOST president Kathy Thurston is excited that the tour is able to return. She works in watercolor and Chinese ink in an ancient style of painting called gongbi.
"COVID was very hard on our artist community," she said. "We were unable to show or sell our work for so many months. But the shutdown also gave us a gift of time to create new art, try out new mediums and spend time with our inner muses. Art became a way to express our feelings, draw inspiration or simply rest. It also gave us time to recover from the demands of art as a business. We became 'artists in residence' in our own homes and communities."
Being back in the tour is especially important to the artists, she added. "Personally, I love this tour for all the energy, appreciation and inspiration that it brings to me as an artist," she said.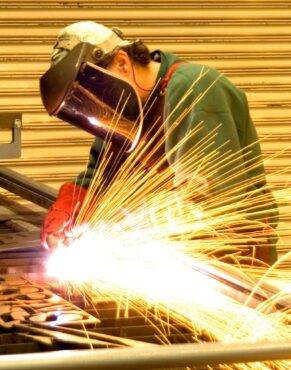 Two Gig Harbor husband-and-wife artistic teams are again participating in this year's tour. Both couples are longtime tour members.
Dan Barnett is a potter and ceramic sculptor. His wife, Mariam Barnett, creates jewelry and fiber art.
"Dan and I have worked in our crafts for over 40 years," Mariam Barnett said. "Creating is what keeps us whole, balanced and happy. We love doing the studio tour because it allows us to share our passion for the arts with others. We believe the arts save lives."
Like the Barnetts, Karen and Norm Geiger are passionate about art — specifically finely crafted jewelry. Although their styles are unique, both are inspired by the natural world around them. They started rock-hounding and lapidary work more than three decades ago and their art has evolved over the years. Both use traditional styles of casting and fabrication methods, turning metal and semiprecious stones into wearable art.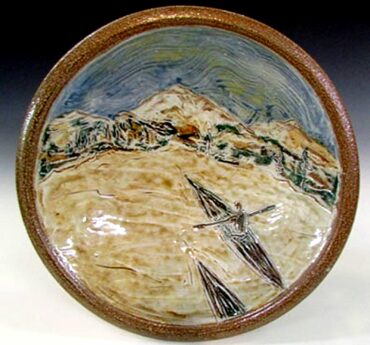 Gig Harbor painter Kate Larsson is another longtime GHOST member and is well-known across the country for her bright, colorful watercolors. Her paintings have graced the posters of numerous Northwest events, and reproductions of her work can be found in nearly 200 gift shops throughout the United States.
"My original watercolor art is digitally transferred to ceramic tiles, coasters, glass cutting boards and so forth," she said. "GHOST gives me an opportunity to demonstrate that complicated process step-by-step in a friendly and laid-back environment."
Award-winning painter Donna Trent is another long time GHOST member. She paints mainly in oils and pastels and has taught painting and drawing workshops all over the United States and Europe.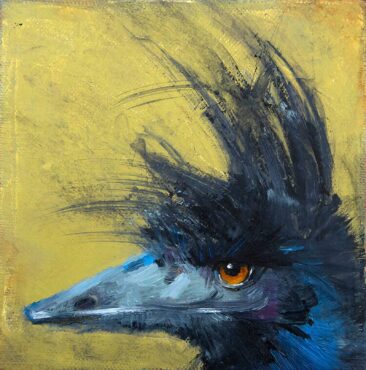 "I like to think of my painting as an introduction to all the beautiful places in the world, where the viewer can envision themselves in that environment," she said. Trent can often be found painting en plein air and especially enjoys painting landscapes and still life scenes.
Bill Wachtler works in several mediums: He paints, does photography and even works in wood. He grew up in a small farming community in western Minnesota, but a career in the forest products industry brought him to the Pacific Northwest.
"In all my art, I try to tell a story or capture the sense of wonder I see in the world around me," he said. "I really like being part of this tour because it's fun to talk with people about my philosophy, techniques and approach, to make each piece of art more meaningful to them."
Lea Basile-Lazarus, who creates abstract, contemporary prints and paper pulp paintings, is a newcomer to Gig Harbor and to GHOST. She earned a bachelor's degree in art education from The College of New Jersey and her Master of Fine Arts with a concentration in printmaking from the Art institute of Chicago, then taught art for nearly 30 years. During her career, she also studied and taught in Japan and Ghana, Africa.
"I'm attracted to colors, patterns and shapes that I find through the lens of my camera and through observation," Basile-Lazarus said. "Through my art, I'm also compelled to react to world events that affect the many groups of people who populate our world."
Other GHOST artists include Gig Harbor painters Lynn Guenard (watercolor, acrylic mix), Gayle Beard (acrylic), Cathie Johnson (watercolor), Barb Field (watercolor, acrylic mixed media) and Marty Robinson (paint with dyes on silk). Also participating are potters Becky Horkan and Wanda Garrity, woodturners Dan Stromstad and Brad Stave, glass artist Shirley Lane, fiber artists Sharon Kruger and Maureen Reilly, and knife and jewelry maker Michael Hoover.
For more information and a downloadable map of the free, self-guided Gig Harbor Open Studio Tour, visit gigharboropenstudiotour.org or pick up a brochure from a local art gallery.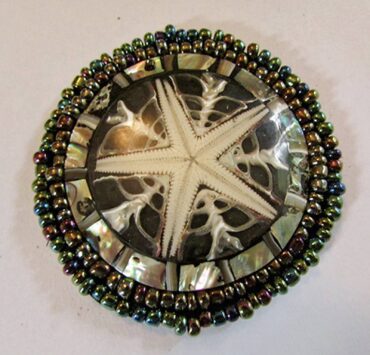 Fall and Winter Tours
In mid-November, the winter studio tour season begins with Art in the Woods that this year will feature 60 artists in 20 studios throughout North Kitsap. Potter Wendy Hampton and her husband, photographer Wally Hampton, founded Art in the Woods nearly 20 years ago. Printmaker Leigh Knowles, who has coordinated the tour for more than a decade, noted that last year's event was cancelled because of COVID-19 restrictions.
"So this year, people are very hungry to participate again and we have many new artists," Knowles said. "And many of the longtime participants are trying new things this year."
As with the Gig Harbor event, Art in the Woods emphasizes education, and many of the artists will be demonstrating their techniques. Some will even have videos of their creative processes.
"Every studio is different, because art is not one-size-fits-all," Knowles said.
Information about Art in the Woods will be available online in mid-September.
The annual Bainbridge Island Winter Studio tour takes place the first weekend in December. Online information will be available in September.