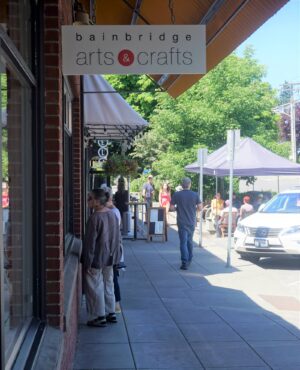 It all began as an inconspicuous announcement appearing in the Jan. 8, 1948, Bainbridge Island Review article with the headline "Adults Invited to Arts, Crafts Formation Meeting."
"Persons interested in forming an Island arts and crafts organization for adults have been extended an invitation to meet at the home of Mr. and Mrs. James Hodges, Port Madison, at 8 o'clock Saturday evening, Mrs. Hodges said this week," the article stated.
Bainbridge poet Francis Stillman Hodges and her husband, James, were influential island philanthropists and supporters of the arts. Their 1948 convening of like-minded residents was the beginning of Bainbridge Arts and Crafts, then Washington state's first nonprofit art gallery and now a venerable West Sound arts institution.
During the nascent organization's first four years, the group members hosted art and craft classes in whatever space was available, including their homes and island schools, providing instruction in drawing and photography as well as popular mid-20th century crafts such as lampshade making, sandcasting and china painting.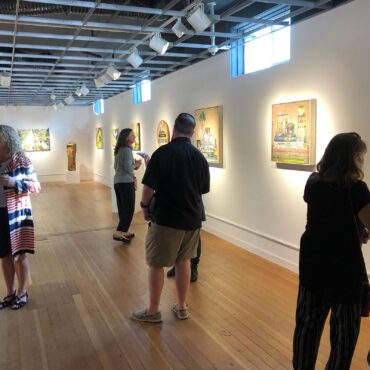 In 1954, the group was able to formally incorporate, opening operations in a building located on what is now the Bainbridge ferry lanes. By then, their originally intended audience had expanded to include children, and their first sponsored show was exactly that — an exhibition of children's art.
Currently in its 73rd year, BAC (as it's called in the island's vernacular) has survived three moves, a 1960s disaster that damaged artwork and the building, and a few lean years when it struggled to stay afloat. Today, the beloved gallery is located on Winslow's main street in a light and airy space, the result of a major renovation in 2018 that moved the organization's offices and classroom spaces elsewhere to create more exhibition space.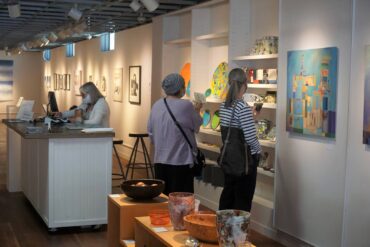 Since early 2020, like art galleries elsewhere, BAC has had to rethink how to best support its stable of over 200 Northwest artists while staying true to its mission of "illuminating our corner of the world through gallery exhibitions, art education and community outreach."
It's those last two elements of its mission statement — BAC's fidelity to art education (much of it free) and community outreach — that distinguishes it from other area galleries.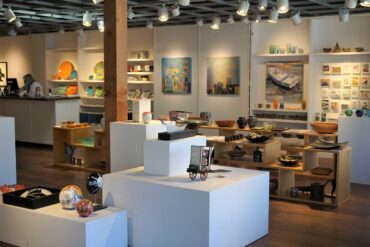 "We are a nonprofit with a board of directors and not just a commercial gallery," explained BAC's Executive Director Debra Ruzinsky. "As our mission suggests, our work is to support emerging and existing artists with sustainable tools."
It was that commitment to outreach that drew Ruzinsky — a glass artist — from a position at the Appalachian Center for Craft in Tennessee to the Bainbridge job.
The organization's annual May exhibit of K-12 student art is an example of that effort. During the school year, BAC sends out artists who partner with teachers in local schools to teach art lessons. Work created by students is judged by a jury of professional artists and shown in BAC's professional gallery space. The nonprofit also raises money to award scholarships to students pursuing art education after high school. The partnership between BAC and schools, said Ruzinsky, gives students a professional art experience while being supported by local artists — and it gives BAC an opportunity to discover emerging young local artists.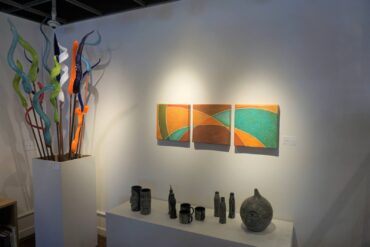 In addition to its work in the schools, the nonprofit does outreach with two other local populations. BAC teaching artists provide monthly instruction in the Art After 60 program: classes for residents of local retirement homes and senior centers; and for Creative Connections, an art program at Stephens House, a local day facility for differently-abled individuals.
Prior to 2020-'21, BAC reached over 10,000 participants with more than 100 programs every year. The pandemic temporarily ended those efforts, forcing the gallery staff and board of directors to get creative in their mission.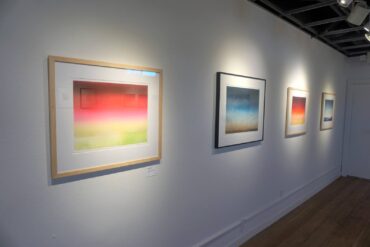 "Without face-to-face opportunities, we discovered we needed to communicate even more actively and more often," Ruzinsky said.
BAC is a major player in the island's popular First Friday Art Walks, which were cancelled during the pandemic. Working with other Winslow galleries, BAC turned to Facebook streaming to continue the event. The Facebook page was beefed up. Organizers also created a YouTube channel to continue one of BAC's popular staples — the artist talks that supplement new exhibits.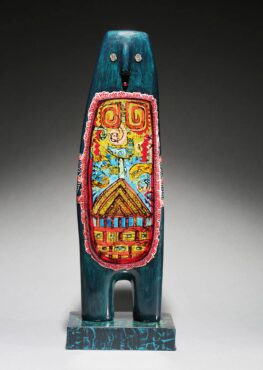 "It was not the highest quality in the beginning, so we began working with a social media expert to better showcase the artist and the interview," Ruzinsky said.
The gallery also opened a new virtual store for online shopping while the organization's website continued to publicize artists alphabetically by medium, with links to their websites.
With an eye toward further outreach, BAC's post-pandemic plans include expanding membership and exhibits.
"We're working hard to diversify our selection of artists and range of art," Ruzinsky said. "We're looking for fresh talent and hoping to bring in a new generation of artists."
BAC is sponsoring its first juried call for artists for an October 2021 show titled "Fresh Talent Exhibition." Organizers have cast a wide net in search for artists of all ages and artwork in all mediums, including but not limited to painting, sculpture, glass, photography, video, metals, mixed media and fiber.
BAC's upcoming calendar includes a full slate of exhibitions. In June, it featured an exhibition of printmaking, called "Island Ink," with seven artists, three of whom were featured on BAC's YouTube channel discussing their work and process. In July, three artists showcased work on perspectives in an exhibit titled "Over, Under and Through."
Fall brings the "Fresh Talent" exhibition and three more Northwest artists: Keke Cribbs, Janis Miltenberger and Cynthia Toops, who work in glass mosaics, polymer and big-scale glass. Plans also include a 10-artist exhibition with harvest as a theme. The organization is also considering plans for its 75th anniversary in two years.
"We think it's going to have a historical theme," Ruzinsky said.
In June, the island's First Friday Art Walk restarted as an in-person event complete with music, food and all the participating galleries. For Ruzinsky, who began her tenure in September 2020, watching the return of Bainbridge Arts & Crafts to its new normal is a welcome relief.
Said Ruzinsky, "Seeing people walk through those doors again for an arts community event was pretty exciting."