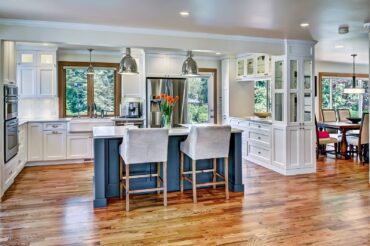 Brad Moore, owner of Creekside Cabinet & Design Inc. in Silverdale, is your classic entrepreneur.
"I didn't like school at all," says the engaging 62-year-old, donning a COVID-19 mask and sitting in the center of his company's small but efficient showroom. "I couldn't wait to conquer the world."
Moore has done just that in the niche business of designing and building cabinetry, countertops, mantels, bookcases, islands and many other accessories for kitchens, baths, home offices, libraries, entertainment centers and other residential spaces.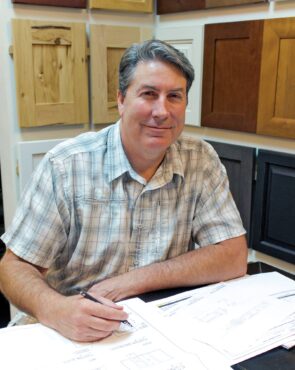 "If I worked for anyone else, I would have been fired a long time ago," Moore says with a chuckle. "What you have to do is show up for work and be persistent."
Moore has been adhering to that philosophy since 2003, when he started his business in Old Town Silverdale in a space atop the former Silverdale Cyclery. As the business grew and expanded, he moved it five years later to the current location at 3276 NW Plaza Road.
Creekside and its small staff of four consultants, including Moore, work primarily with homeowners directly or through a contractor representative.
"We used to do a greater percentage of new construction," Moore says, "but now it's flipped; we do probably 65 percent reconstruction."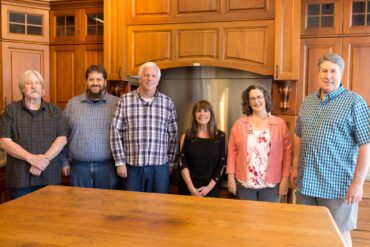 The small but nimble company has been doing quite well. Moore says Creekside had its busiest year last year, and this year looks to far exceed that.
But not all is fun and games. A lot of work goes into designing and delivering the products that Creekside creates, not to mention satisfying customers who are paying thousands of dollars out-of-pocket for advice, service and materials.
"There's a lot of hand-holding and education involved when dealing with a homeowner," Moore confesses. "We go out to a site, we see the people (and) we solve issues. It's fun, but it can be quite challenging as well."
Moore got his start in the business in an unlikely place — Alaska, the Last Frontier. His family moved there when he was in high school in an attempt to remove him from some bad influences in California.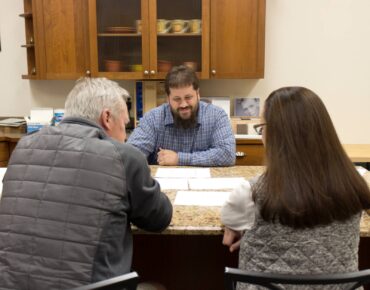 He was a fishing guide for a while before eventually landing a job in the furniture business. His mentor, Ted Sadler, closed the store where Moore was working near Wasilla, Alaska, and moved to Kitsap County in late 1980s.
Moore decided to join up with the venture and wound up managing two Perfect Harmony Furniture stores — one in Gorst and the other in the Kitsap Mall — as well as having a hand in operating two Bottom Line Furniture outlets in Bremerton.
While the furniture stores are no longer in business, Sadler went on to start the Mattress Ranch chain and Moore found his passion in cabinet and countertop design and building.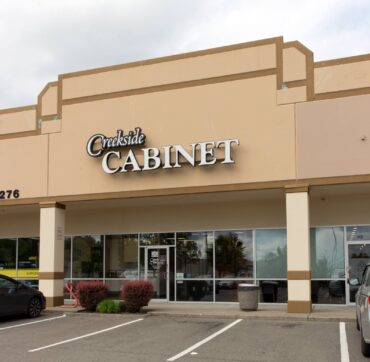 Moore later went to work for a custom cabinet manufacturer — where he met some of his current and now longtime employees — and learned that not "everyone was going to want to buy that one custom product."
That realization formed the basis for his later decision to start Creekside Cabinet & Design.
"I didn't want to run my own manufacturing facility or to be a design shop," he recalls thinking. "I can now sell cabinets at pretty much every price point. We spec the work out to (third-party) design shops. We tell them how to build it" and they deliver to Creekside.
Farming out the construction and assembly of Creekside Cabinet's designs has given the staff more flexibility in working with customers and solving problems that might arise during a job.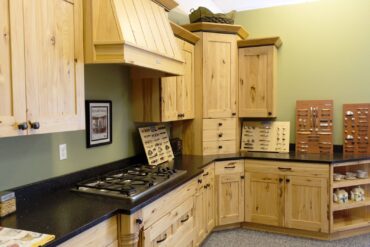 "Our biggest thing is educating customers about our products, the process we go through and what to expect," Moore says. "But there's something really satisfying about being able to work with someone to the point where their defenses come down and they open up. Then, you have a friend for life."
To ensure that potential customers are, indeed, serious about hiring Creekside, Moore created a 10 percent design retainer fee in 2012. It's aimed at separating the pretenders from the contenders. It does not increase the price of the cabinets, but it allows Creekside continue putting time into the project, doing revisions, more drawings, etc.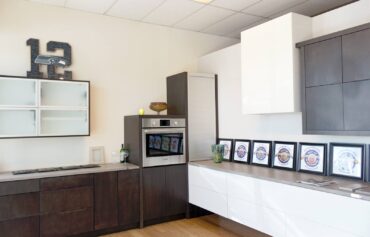 "Each project takes a lot of time from start to finish," says Moore, whose firm does not charge for initial consultations. "Our pricing is good. If (a future) customer is serious about buying cabinets (or other products), I'm pretty sure we can earn their business. The people who want our help or services, they will work with us."
Creekside's customer base is primarily Kitsap County, with a little Gig Harbor and some Seattle thrown in for good measure.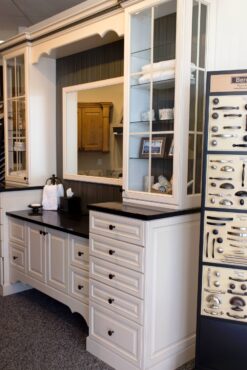 "Honestly, we don't have to look for work," Moore says with a slightly sheepish grin. "We're getting more people calling us than we can handle, and that's something we have to manage. And, it's not just us; it's all over the industry."
Indeed, try calling a plumber or an electrician these days for a small job, and you might have to wait weeks for a response.
The red-hot national and regional construction economy is having an impact on material prices as well. Moore points to OSB particleboard used in many building projects. A year or so ago, 4-by-8-feet sections of the stuff were selling for $17 a sheet. They're now going for $50 a sheet.
The ubiquitous two-by-four has seen a similar price jump. Last year, you could fetch a roughly 6-foot section of two-by-four at your local lumberyard for about a $1.28. It's now going for around $7 to $8 for the same sized wood.
What happened? While many contractors managed to stay in business during most of the pandemic because they were deemed essential businesses, lumber mills and processing plants were mostly closed, leaving a huge hole in the supply chain.
Moore has been able to keep Creekside's prices in check — seeing only 2 to 3 percent uptick in costs — by working closely with longtime local and regional suppliers. His biggest shortage to date? Drawer slides.
"I don't know why," he muses.
Even with tight product supplies, Moore sees his business and construction in general continuing to boom. With low interest rates, "money is almost free," he says.
"Housing values have gone way up and people have been sitting at home for the past year and now they want to do something. There's lot of pent-up demand," Moore says.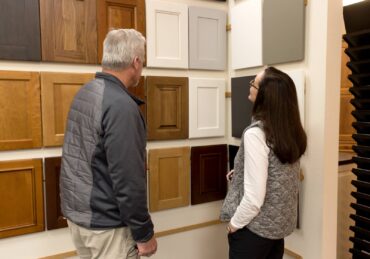 While the local West Sound economy is stable and is anchored by government and military employment, Moore is watching as the area becomes more and more of a bedroom community to Seattle and he's witnessing "a fair amount of people coming over here and getting out of that mess."
This emerging trend — especially on Bainbridge Island — has led to a few commercial jobs over the years, such as working on two phases of the Inn at Lynwood Center, as well as with custom homebuilders like David Spellman, Clark Construction, Fairbank and others.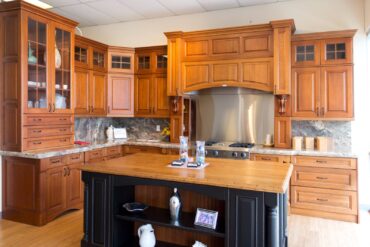 What's also led to Creekside's business longevity and run of success is a lean operation featuring Moore and longtime employees — Ben Muhleman, Howie Hulst and Cindy Friend — and, ironically enough, the COVID-19 scare.
"When the pandemic hit, we locked the doors and said, 'We're only doing this by appointment,'" Moore recalls. "I think that's really helped our business. People are more intentional about what they're looking for. It really helped our price ratio."
Underlining everything Creekside Cabinet & Design is Moore's simple but clearly effective philosophy: "You don't need to conquer the world. Do something and do it right."