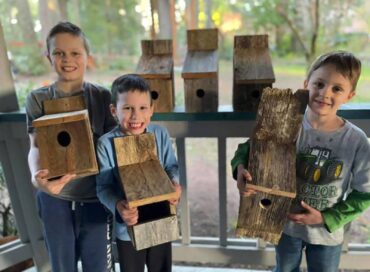 Three young entrepreneurs — Kezek, age 9; Ryser, age 7; and Maccabee, age 5 — are brothers with a passion for animals and power tools. And with a little help from their mom, Keldy Spainhour, they create custom birdhouses out of reclaimed lumber.
Their idea was born in the midst of COVID boredom in hope to raise enough money for summer camp. The other driving force was their shared love of birds and the observation that the birds in their neighborhood "were getting too wet," according to Kezek.
These young entrepreneurs wanted to provide the birds with a place to stay dry. The boys have favorite birds, such as hummingbirds, blue birds and robins, and wanted to take action to keep them safe and out of the elements — while also earning money for summer camp.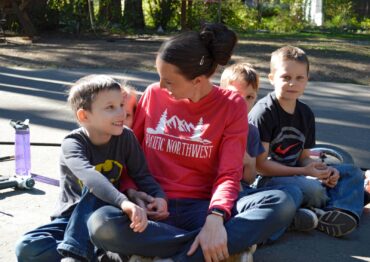 The brothers knew they had to first locate materials for their birdhouses. Luckily, they stumbled upon some old fence posts that were available at no cost — a great find considering these youngsters want to use recycled materials so their birdhouses are eco-friendly.
After sketching out ideas, the next step the boys took with their mom's guidance was to carefully use a band saw, or what the boys called a chop saw. Spainhour guided them as they cut the wood into various pieces and formed an assembly line, with one boy on the saw and others gluing. And, of course, the most important job was deciding which boy gets to use the scooter while the others work.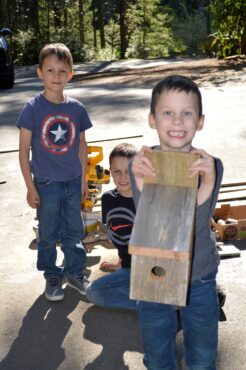 Kezek, Ryser and Maccabee are not only fun and playful — they are also moneymakers. In addition to crafting birdhouses, they raise chickens and sell eggs. And they're constantly coming up with new business ideas. No doubt, these go-getters are just getting started putting their ideas into action.
To order birdhouses directly, email simplyhomemadewa@gmail.com and you may also view them on Facebook at Simply Homemade Goods.