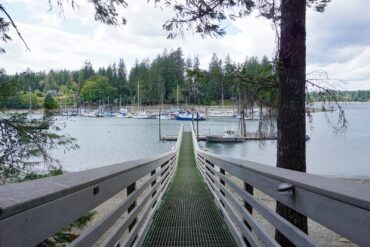 "Suri is the Bengal tiger. Tabbi is the Bengal/Siberian hybrid," a felid-savvy guide introduces the two wild cats. "Your smells and movements are new so you're part of today's enrichment. It's good for them."
Suri (at nearly 300 pounds) studies visitors through the fencing.
"In the wild, they eat primarily deer and wild pigs," the guide explains as the tour continues down a lush pathway to another enclosure. "And here's Salem, our snow leopard. He's capable of leaping more than six times the length of his body."
A close encounter with endangered wild cats is a completely unexpected find when researching a day trip to Harstine Island, making the Wild Felid Advocacy Center of Washington an itinerary must-see.
At 10 miles long and 3 miles wide, Mason County's Harstine Island is the third largest of the South Sound islands, exceeded only by Bainbridge and Vashon. And though it's only 40 vehicle miles from Gig Harbor and 56 nautical miles from Kingston, Harstine gets little of the day-tripping or weekend crowds of its larger sisters.
There are no towns. No hotels. No eateries. And yet what the 18.6-square-mile island lacks in urban amenities, Harstine more than compensates for in history, recreational opportunities and rural island delights. Also, curiously, wild cats.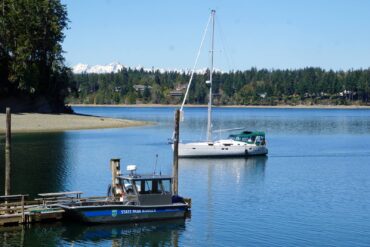 Harstine History
Harstine is the traditional land of the Squaxin Island Tribe, who gathered shellfish, hunted game and used its Pacific yew and red cedar trees to make bows, canoe paddles, clothing, baskets and mats. A large petroglyph boulder known as the "Love Rock" served as an island navigational landmark for indigenous peoples who traveled the inland waters in dugout canoes. The petroglyph is now part of the Squaxin Island Tribal Veterans Memorial.
Oystering was one of the main activities of Squaxin tribal members. In the early 1970s to continue the tradition of seeding and growing shellfish, the tribe bought the former Harstine Island Oyster Co.'s 5 acres of the island uplands and 5 acres of tidelands, which they now own as part of their Salish Seafoods tribal enterprise and tribal off-reservation trust land.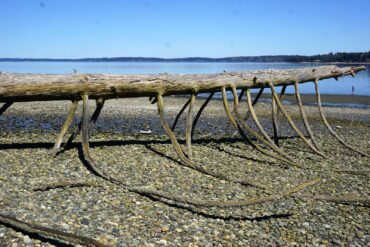 In 1841, during his U.S. Exploring Expedition of the West Coast, Cmdr. Charles Wilkes named the island after a member of his expedition, Lt. Henry Hartstene. For the next 150 years, the island's name was spelled multiple ways on area maps and in publications until 1997, when the state Legislature officially declared the spelling Harstine.
The first Europeans arrived 30 years after the explorers, homesteading and farming the island while logging most of its trees. Today, the island is largely second- and third-growth forest.
Until the early 20th century, private boats provided the only mainland access to Harstine. In 1922, Mason County began operating a paddlewheel ferry capable of carrying three cars. In 1969, after years of lobbying, the current 1,466-foot-span Harstine Island Bridge across Pickering Passage was completed — an event so momentous, the grand opening included a parade of locals and dignitaries, a reception at the community hall and even a bridge opening dance.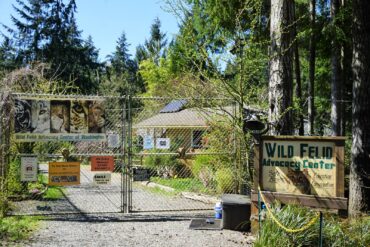 Outdoor Recreation
Today, Washington State Parks owns several hundred acres of Harstine, including the island's gem — scenic, shorefront Jarrell Cove State Park. The 43-acre park has boat moorage, campsites, two kitchen shelters, modern restrooms with showers, a marina, picnic tables, an expansive grassy area with volleyball courts and 2 miles of hiking and biking trails. It's a perfect place for enjoying a lunch, overnighting or watching boats enter and leave the marina with the Olympic Mountains as their backdrop.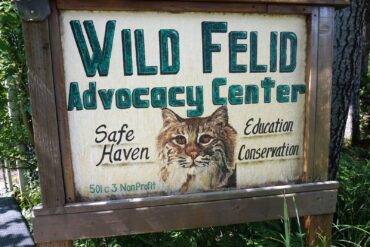 The largest of the island's four state parks, Harstine Island State Park doesn't have any of the amenities of Jarrell Cove, but you will find a secluded beach reached by hiking a wooded, half-mile trail descending from the parking area. On a clear day, there is an epic view of Mount Rainier. From its beach, you can also see the island's third state park, McMicken Island, reachable via a sand spit on a low-tide day. McMicken Island State Park is an 11.5- acre marine park with plenty of saltwater shoreline exploration possibilities.
Harstine is endowed with 20 miles of rural roads, idyllic for biking or slow-paced country drives; and 25 miles of shoreline for kayakers to navigate, including overnighting possibilities at marine campgrounds.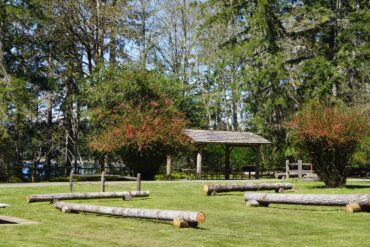 Local Foods
Before crossing the bridge for your island getaway, make a pitstop on the mainland side at Olympic Bakery and Deli to stock up on its mouth-watering, homemade pastries including cream-filled rugalach, chocolate and almond croissants, fresh bagels and seasonal berry pies. Check out the deli menu of fresh soups and sandwiches and the surprisingly well-stocked selection of wines, breads and cheeses. You can devour your feast inside or on the sunny deck. Or you can transport it over the bridge for an island picnic.
In season, the on-island Harstine Acres U-Pick farm sells fresh fruits and vegetables to accompany your Olympic Bakery purchases.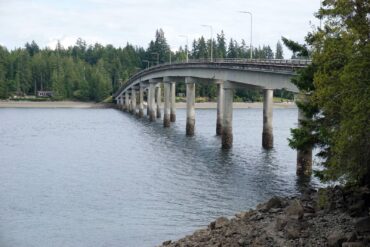 Harstine History and Culture Sites
Once across the bridge, turn left and follow the route to the island's major intersection, North Island Drive and Harstine Island Road North. There, you will find the community's center — the 1914-built Harstine Island Community Hall, whose parking lot hosts the May-September Saturday farmers market sponsored by the Harstine Island Garden Club. The building also serves as the meeting and performance site for the Harstine Island Community Choir and Harstine Island Theatre Club, whose annual calendar of concerts and plays welcomes visitors.
Nearby, historic Jarrell's Cove Cemetery is named after Robert Jarrell, the first non-Native resident of Harstine. Jarrell and his wife, Philura, deeded some of their homestead to island residents as a public burying ground and are buried there surrounded by four 175-foot Douglas fir trees planted by Philura.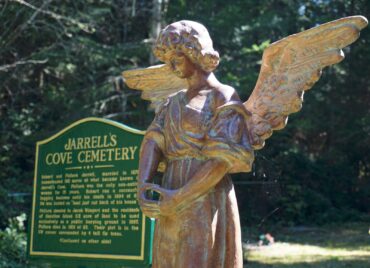 The cemetery has earned a place on the Mason County Historic Register. Its early, hand-dug graves aren't in tidy rows. You may find the remnants of leather shoes on older graves, a tradition of the island's early Scandinavian settlers. And in season, rhododendrons planted in honor of one of the cemetery's residents add to the quiet beauty.
The entrance to the 25-acre Wild Felid Advocacy Center of Washington is a half mile south of the community club. In addition to Suri, Tabbi and Salem, 55 other big cats (a total of 13 different species) reside there. Among them are Bengal tigers, snow leopards, cougars, bobcats, lynx and servals. Wild Felid homes cats who make their way there from rehabilitation facilities, zoos and owners who could not care for them. Located on the site of a former plant nursery and run entirely by dedicated volunteers and donations, the center offers educational tours that must be reserved in advance.
Harstine makes for an ideal outing any time of year, but summer and early fall provide more opportunities to take advantage of the island's serene beauty. It adheres to Mason County's COVID regulations, so check the venue websites and Facebook pages for current hours and days of operation.