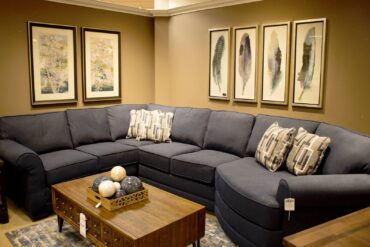 In the wee hours of a summer morning in 2009, three teenagers broke into Arnold's Home Furnishings on Kitsap Way in Bremerton and set the landmark store ablaze.
The devastating fire dashed the dreams of Betty Arnold, who started the store with her late husband, Wendell, in 1951, along with longtime general manager Ralph Erickson, and left in its path one of the largest regional fires on record. But it also created a serendipitous opportunity for two employees who watched the store's remains smolder the next day from a parking lot across the street.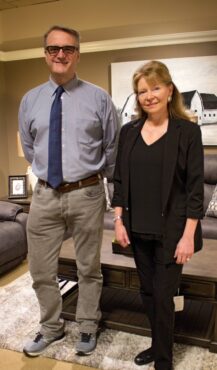 Kathy Christensen and Steve Ford, who have worked at the furniture emporium for most of their adult lives, purchased the store from Arnold a year after the fire and kept it alive and prosperous during the succeeding Great Recession, as well as this past year's ongoing COVID-19 pandemic.
"It was pretty scary to take the kind of leap we took when things were so grim," recalls Christensen, who started in the administration office right out of high school in 1974. "But we decided it was too good to pass up. By combining our assets and purchasing the assets of the company, we were able to keep everyone employed."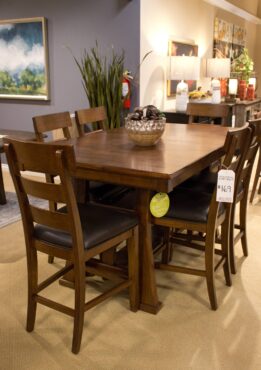 Today, Arnold's is one of only a handful of independent furniture stores still successfully operating in Washington state, let alone West Puget Sound. Now scaled back in size considerably from the 60,000-square-feet it occupied prior to the fire, Arnold's competes against national chains like Costco, Macy's, La-Z-Boy and others, not to mention online behemoths such as Amazon.
More than a decade later, the fire — with all its ramifications — is still a topic of conversation around Arnold's, especially among the current staff of 18, many of whom witnessed the conflagration first hand and have worked in the store for decades.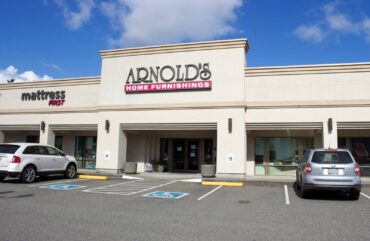 "Good thing is was at night," Christensen says. "Nobody was hurt. That was a blessing."
The fire scorched most of the 1.5 acres where the Arnold's store and warehouse complex sat and required some 125 firemen to douse it.
However, even the trauma of seeing the store suddenly transformed into a charred and gutted hulk couldn't stop Ralph Erickson or employees like Christensen and Ford from pivoting — and pivoting quickly.
Within two days of the fire, Arnold's reopened at the site of a former roller rink, located nearby at 1305 Marine Drive.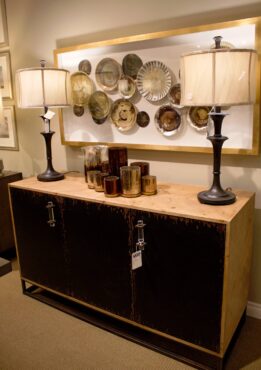 "The building was basically a warehouse," remembers Ford. "We had to install walls and put in carpeting. … The town (the city of Bremerton) was real good about supporting us."
Amazingly, delivery trucks that had been loaded the night before the fire escaped unscathed and were able make their rounds in the days ahead. Meanwhile, furniture and accessories suppliers and, of course, Arnold's devoted customers could easily saunter over to the new address to do their business.
"We started over down there," Christensen says, "and kept it going."
The store remained in the old roller rink locale for nearly a year while the building's owners renovated the salvageable parts of the former store. The east side of the sprawling structure, where the fire apparently started, was nothing but charred remains when the smoke finally settled.
That space today is occupied by an ACE Hardware store and its accompanying parking lot.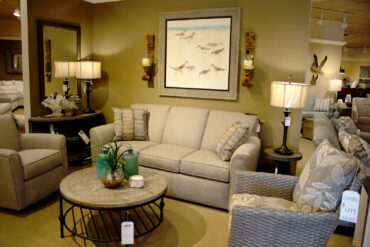 While the roof of the other section imploded, the superstructure was sound and that's where renovations began. Contractors first had to lap up close to 4 inches of water before building walls and ceilings and installing new ventilation systems, among many other improvements.
A year later and a few months after the purchase of the store from Arnold — in what Ford called a "mutual" agreement — the new Arnold's hosted a grand reopening on the same location as the previous store.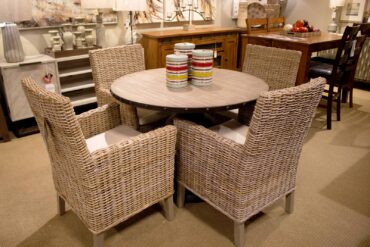 Some things were obviously different. The new store, at 35,000 square feet, was almost half the size of the old one. The showroom was leaner as well, at around 17,000 to 18,000 square feet. But the company offered — and continues to offer — the same lineup of products and services to a regional market that includes the Kitsap and Olympic peninsulas.
"Our approach is good, better, best," says Christensen, who learned the business from the ground up and handles all the store's purchasing. "We offer a little bit of everything, from sofas, chairs and reclining furniture, to mattresses, bedroom, dining room and accent furniture."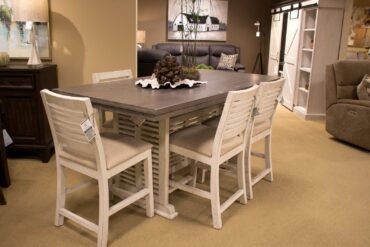 The 70-year-old store, located at 3520 Kitsap Way in Bremerton, also offers lines of area rugs, lamps, pictures and accessories, along with a complimentary interior design service.
Its main brands include Norwegian-made living room, family room and seating made by Stressless, and a wide assortment of upholstery, living room, family room, bedroom and tables made by Flexsteel. Both manufacturers have their own gallery showrooms displayed in the store.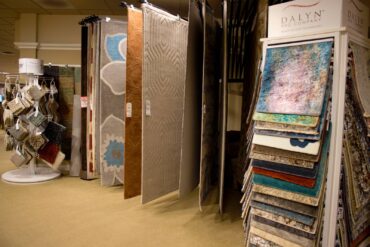 Arnold's also features Amish-made furnishings as well as upholstery and mattresses made by Southern Motion, Serta, King Koil and Lexington.
Christensen says Arnold's typical customer is "a little bit of everybody," and the store offers products for those just starting out in their first apartment or house to an older, well-established clientele.
"Inventory is a moving target," she adds. "We do a lot of special orders for people. (A customer) doesn't necessarily come in and buy what they see (at first glance). In many cases, placing a custom order doesn't require any extra cost."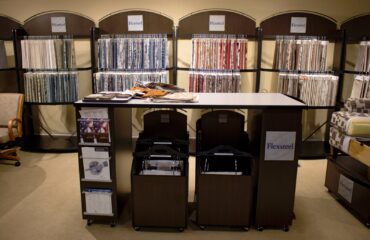 Arnold's has stayed competitive by steadfastly watching trends — such as stocking lift recliners (popular among seniors) — as well as providing low-cost deliveries and gently persuading customers that brick-and-mortar stores are, in the long run, a better value than shopping online.
"On the internet, most people (shopping for furniture) learn the hard way," Christensen says. "They order online and it doesn't look like they thought it would; something (might) be damaged. … They don't have the benefit of an in-store experience and delivery. You just don't want to take that chance."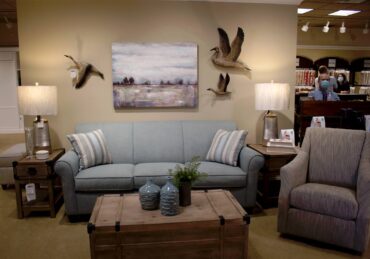 While Christensen and Ford said their business has continued to grow since the purchase in 2010, they did acknowledge that the pandemic presented its share of challenges.
Like most retailers, restaurants and other businesses deemed "nonessential," Arnold's closed its doors on March 24, 2020, as statewide COVID-19 restrictions went into place. The company laid off the majority of its staff, most of whom were able to receive unemployment benefits, and closed its doors but continued to answer the phone, and in many instances took customer orders.
"We kept in contact with our customers and held their orders until we could deliver," Christensen says. "They were very understanding."
She says one of the hardest parts of the pandemic was not being able to service customers who needed lift chair recliners. "When people need them, they really need them," she says. "Our first delivery was to an elderly couple (who was awaiting an order)."
As the economy slowly begins to improve, Christensen and Ford see positive signs for their business and for other retailers.
"People are not spending money on travel; they're not going out to dinner; they're not driving to work," Ford says. "What people have realized is the importance of their homes."
"We're optimistic about the future," adds Christensen. "I think a lot of people are still moving to the area … and a lot of people still want to retire here."
Indeed, West Sound is still one of the top destinations for military retirees, a fact that bodes well for Arnold's Home Furnishings and the local economy.