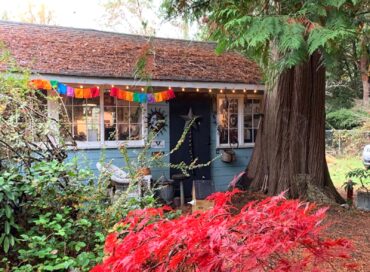 Stepping into Diane Haddon's studio is a tumble down a rabbit hole. The walls, countertops and dozens of small and large drawers spill over with vintage bits of this and that: an assortment of sieves and strainers, metal stamped hands, suns and moons, Japanese umbrellas, rusted roller skates, wooden cobbler's lasts, baby dolls and their body parts aged with fine patinas. Easels, at least four, hold hazy figures of unfinished paintings. This is a curiosity shop where every item tells a story and visual stimuli activate wonder and imagination.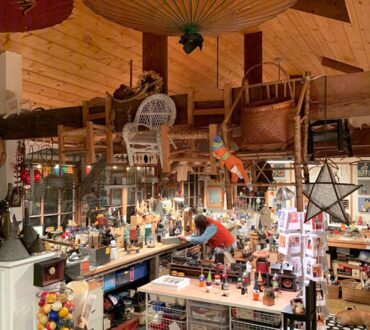 Haddon laughs and confesses she's been a collector since she was a kid. She can never pass a yard sale or a junk store without exploring. A day a friend arrives toting a great find for her — or a day spent junking — is a good day. This motley crew of a collection is the source material for Haddon's multimedia collages and assemblages.
She commutes to this magical domain from her cozy, curated home, a particularly peaceful place, where she lives with favorite pieces of her work and others she admires. Walking across a drive and under four guardian cedars that whisper blessings upon her, she and Peaches, her rescued French bulldog, enter the studio through its weathered door.
"Walking through this door, it's another world. A calm comes over me and I just smile," Haddon says.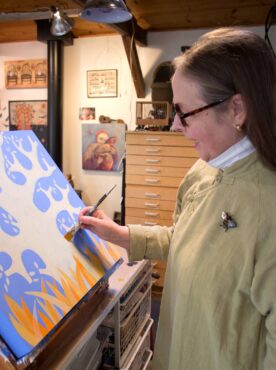 When Haddon bought the property, helpful souls advised her to tear down the ramble-shack workshop and build a studio. Her first thought was, "No! Don't touch the old windows on the long walls." The artist in her had a plan.
The abundance of space gave her room to house and organize all the tools of her trade as both a mixed-media collagist/painter and an assemblage artist. In the interior space with its ceiling, not too tall and not too low, and the wide-open center, Haddon could float an island atop columns of shallow drawers that would house drills and sanders, metal cutters and scissors, epoxies and glues, nuts and screws, bolts and small right-angle brackets. The entry room would hold easels, brushes, pencils, a drawing table and flat-drawers with her extensive paper collection and vintage photos.
On the island's counter and long work benches under the multipane windows, she could lay out disparate objects and find their present mates, arranging unexpected combinations that sing new harmonies as they discard their past. Truly, this workshop was her ultimate find.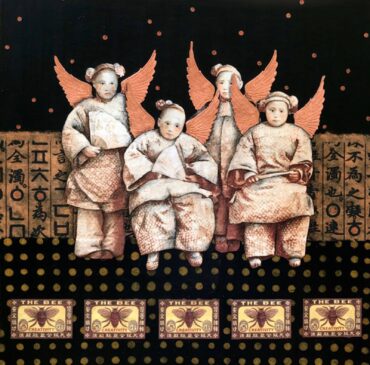 In shoring up the studio-workshop, rafters and skylights, a gas stove, floor-to-ceiling bookshelves, track lighting and a sink added contemporary necessities. Haddon placed a comfy chair by the country stove and flopped a rug down where Peaches could play and wheeze away at nap time. She and her collections had found a home. Now what?
As an artist, Haddon says she has lived with the question of, "What am I going to do with this?" for as long as she can remember. It may have cropped up first concerning her emerging artistic talent, handed down from her mother. Then her habit of collecting flotsam and jetsam of days gone by prompted the question, especially each time she moved. With her spacious studio standing by, the time had come for Haddon to tackle the question on a large scale.
Art took up one dimension of her life, but she, too, nurtured a marriage and a daughter, and had jobs in human resources for St. Luke's in Bellingham and Island Hospital in Anacortes. Haddon tucked in classes and collecting as time allowed — because, well, she's a collector and an artist.
The "what am I going to do with this" brings her excitement and discovery. Haddon doesn't need an answer any more than Pooh and Piglet needed to know what the day would bring.
In her 30s, she tended sick parents and heard her father when he said, "Diane, you must do your art." His advice felt like a blessing and woke her up to her next step.
With her daughter off to the Naval Academy, Haddon embarked on a two-year commercial art course at Seattle Central Community College just prior to computer technology taking over the commercial art world. Coursework steeped her in the old-school tools and hands-on processes of a graphic designer and illustrator. She took a joyful dive into watercolors, graphite, colored pencils, acrylics, life drawings and fonts.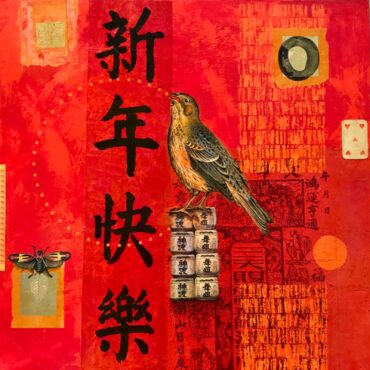 Landing a commercial graphics job did not happen without computer skills, so Haddon worked in an art supply company. The employee discount was such an unbelievable perk that she bought art supplies, taking it to the level of a new collection.
"I didn't know exactly what I was going to do with everything I bought, but I stocked up — for life," she says.
The skills Haddon did acquire are the foundation of many arts. Her graphic eye streamlines visual stories until they become enigmatic and engaging. She presents her subjects of children, birds, pets and toys like whimsical characters in classic children's books. Skillfully sidestepping cute sentimentality, they elicit in the observer a softened haze of memories and reawaken the tenderness that recognizes simplicity and innocence.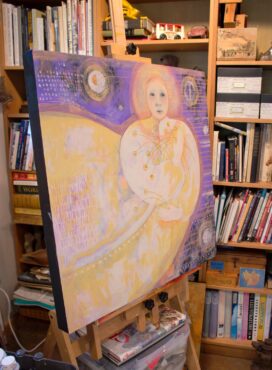 Her drawing ability shines in evocative works of graphite and colored pencils on the faces of her subjects as they sit amid multilayered fields. Papers and painted backgrounds are built up like the textures of old wallpapers and paints in historical homes. As Haddon paints, layers paper over it, sands some off, builds up another layer of texture with gesso, paints and sands again, the work itself moves forward and backward in time until the piece solidifies in the present.
When Haddon moved to Abiquiu, New Mexico, the home of Georgia O'Keeffe, she entered an eclectic community of artists who inspired each other by the sheer abundance of their work. Falling into an artist's dream, she found inspiration popping up everywhere. Her master bedroom turned into a studio and a small trailer on the edge of the desert served as a gallery.
The studio called forth Haddon's first assemblages — small ones in the form of brooches, dozens and dozens of them. Her jumble of oddities were cut, shaped and formed into flat rectangular, kimono-shaped figures. Metal hands, moons and stars, and flowers were modified and placed with restraint. Delicate faces drawn and tinted like old photos were protected with a watch's glass.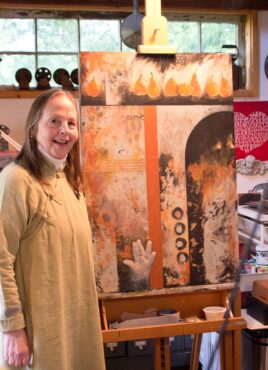 Each figure conjured up a backstory. They sold in Abiquiu and continue to sell today at Bainbridge Arts and Crafts and North Kitsap's Art in the Woods.
In the process of creating the brooches, Haddon learned how to shape metals and hold them together with glues and epoxies, finishes and resins. An assemblage artist was answering the question, "What will I do with this?"
After 12 years in the Southwest, Haddon felt her roots calling when she stood in the desert but smelled the salt air and cedars of the Northwest. She grew up in Oak Harbor and spent summers on beaches off Chico Way. Her grandparents ran a grocery store in Bremerton. Her grandmother, Lulu D. Haddon, and later her aunt, Frances Haddon Morgan, served as state senators at a time few women did. With her daughter, Heather Higgins, and family settled in Bremerton, Haddon returned to the Northwest primed for adventures with fast-growing grandkids.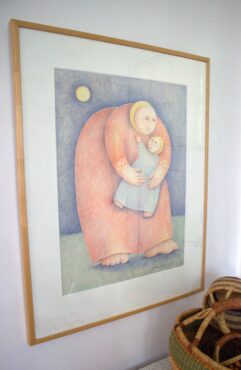 Knowing the inspiration artists offer each other, Haddon paid attention when she met a neighbor who is also an assemblage artist, Steve Parmelee. Seeing the crazy collection she was buying at his garage sale, Parmelee dubbed her one of his kind. They cheer each other on and sometimes he advises as she takes on larger assemblages that demand different fastening methods than brooches.
The two often show together, like at the Northwind Arts Center in Port Townsend, where Haddon won the 2019 Jurors' Award in the yearly "Small Expressions" show; or at the Collective Visions Gallery's statewide extravaganza. In 2017, Parmelee won first place in the 3D division. Haddon took third with an assemblage based on an old-fashioned skate ridden by an exuberant child-doll titled "Wheeee!"— an apt description of Haddon's approach to art and life.
Early during the pandemic lockdown, she took a course called "stARTs" that encourages artists to do exactly that — start. And don't quit until there is a finished piece of art. It's tripped a switch in Haddon. Every day, she and Peaches race-walk to her curiosity shop to talk to her birds, baby dolls, wings, crowns, eggs and nests. What stories do they want to tell? Which objects will draw it into life?
"What will I do with this" has morphed into "what will happen today?" In her collecting and studying, Diane Haddon naturally followed the old adage of do what you love. It makes life fun.
Today, an electric air of exploration propels her forward. Inspiration and curiosity abound, and she, like the white rabbit, has no time to waste. Her beloved studio calls.