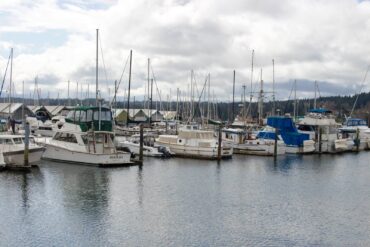 Some people say the two happiest days of boat owners' lives are the day they buy and the day they sell. But for boaters looking forward to what will hopefully be a warm, sunny summer on the water, boating on Puget Sound is some of the most fun that can be had, and where lifetime memories and friends are often made.
Boating season officially opens on the first Saturday in May. Prior to that, many boaters are spending time — and money — getting their vessels ready for the season. This includes bottom painting, tune-ups, new sails and myriad of other maintenance tasks, which, as every boat owner knows, are never ending.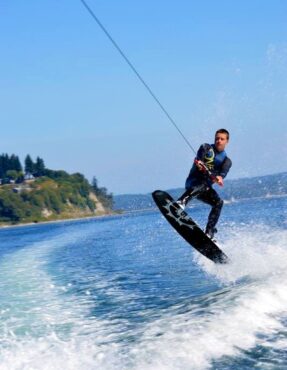 "We're still scheduled a couple of months in advance and have been busy all winter," said Loren Heay, general manager of Yachtfish Marine in Port Orchard.
The popular boatyard has upgraded to a 50-ton travel lift for taking boats out of the water for needed work and can now handle vessels with a beam up to 16 feet, 9 inches.
"We're a full-service boatyard," Heay said. "In addition to bottom paint and other routine maintenance, we have really good fiberglass and gelcoat guys and a great mechanic who can handle everything from a small outboard to big diesels."
The Port Orchard waterfront is a popular location for boat repairs, with Sulden's Marine and Kitsap Marine just down the road from Yachtfish. There are also numerous places not on the water from Kingston to North Mason County to bring your boat if it's on a trailer. But the key is to get it in early every year, or you could miss opening day.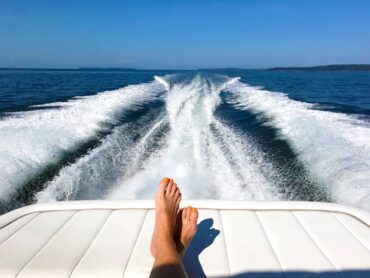 When asked what he was looking forward to this boating season, Bob Hinthorn of Poulsbo, who pilots a 332 Cobalt, answered with an enthusiastic chuckle, "Cracking fresh crab on the docks at Friday Harbor. I just love the San Juans."
Hinthorn, who has been boating locally for over 40 years, said his first boat was a 14-foot runabout with a 35 horsepower Evinrude outboard. "It was small, but it was a rock cod and salmon catching machine," he said with a laugh.
When asked what he was looking forward to this boating season, Jeff Swan of Port Orchard answered, "Using the boat as much as possible. The past two years, things have come up and we haven't been able to use it nearly as much as we would have liked."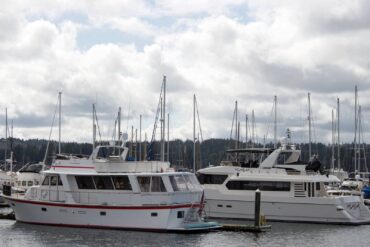 Swan and his wife, Claire, own a 52-foot Ocean Alexander Pilothouse. He said they are looking forward to cruising the South and Central Puget Sound areas, as well as the San Juans.
"We don't know yet if we're going to be able to get into Canada this year, but if we can, we really like the Canadian Gulf Islands," he said.
Some people just can't get enough of boats and boating, and live aboard as a lifestyle. Terry and Caitlyn Martin are perhaps somewhat extreme examples. In addition to living aboard their 40-foot Bayliner Bodega for the past three and half years — first at the Port of Kingston and more recently at Bremerton Marina — they make their living operating a dive service called Diver Down. The services they provide involve working on boats in the water, which includes making repairs to things like outdrives and propellers, bottom cleaning and more, as well as doing things like dock repairs and float maintenance.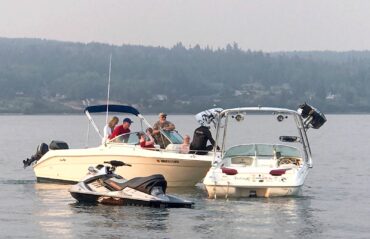 When asked how often they actually get out, Terry Martin answered, "Unfortunately, not as often as we'd like, because our business is really busy right now." However, Caitlyn chimed in that they do get out — even if they don't go as far away as some people. "Puget Sound is known for some of the best boating in the world, and we look for those little hidden getaways," she said.
The couple like Poulsbo Marina and sometimes either moor there or anchor out. They also like Blake Island a lot. "We enjoy seeing the Seattle skyline before heading back to Bremerton," Caitlyn said.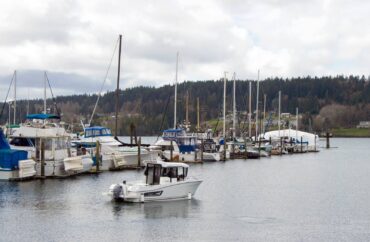 Marjorie Gaines has lived most of her life here on the water, primarily fishing. She has a 19-foot Arima that she uses mostly in Hood Canal. She also owns a classic 15-foot wooden Chris Craft she uses only in fresh water like Crescent Lake on the Olympic Peninsula, and also takes to a lake house she owns in Montana.
When asked where she likes to go in the local waters, she said, "Traditionally, Area 9 — Foulweather Bluff and Skunk Bay areas. We just go to fish." When questioned about local marinas, she said, "We used to go Kingston and sometimes Brownsville. But I recently bought a waterfront house and can just keep it here now."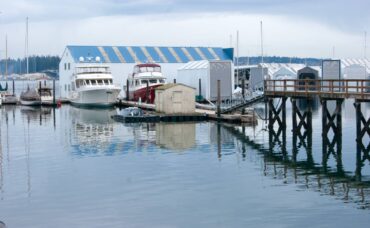 Eric Cooper says he and his family really enjoy taking day trips to Blake Island in their 19-foot Sea Ray. "They have mooring buoys there and it's always fun," he said. "We also like going to LaConner and cruising to the San Juans and Orcas Island."
There are 15 public marinas in Kitsap County, plus several more in neighboring Gig Harbor and North Mason County — both on Hood Canal and on Case inlet. Additionally, there are private, membership-only yacht clubs offering moorage in Port Orchard, Bremerton, Brownsville, Poulsbo and Shelton, as well as two on Bainbridge Island. Yacht clubs also offer their members what's called reciprocal moorage, where a club member can visit and stay at another club for free — but it usually requires an advance reservation and each club's rules governing this process are different.
In addition to docking and moorage, some local marinas sell fuel and marine supplies, offer boat repairs and maintenance services and provide bilge and sewage pump-outs. Some offer boat rentals and boat-safety instructional classes as well. Some marinas provide water, power, television, Wi-Fi and phone hookups in addition to moorage.
Different boaters like different things when it comes to marinas and tend to have favorites they visit somewhat regularly. But how do boaters find a marina specifically with what they want and need? One way is online, using websites that specialize in marina reservations. Some local marinas use a service called Dockwa (www.dockwa.com), which offers reservations for marinas nationwide, listing the services and facilities available at each.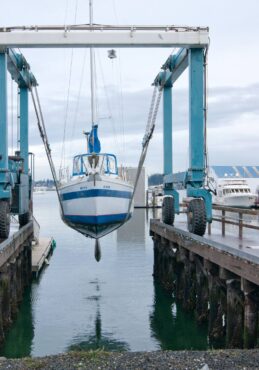 The newest local marina is The Dock at Allyn, which is owned and operated by the Port of Allyn. It's a small, 12-slip, well-kept secret located in the center of that sleepy hamlet. Situated near the head of North Bay on Case Inlet, the marina sits at the end of the port's iconic 300-foot pier and can handle vessels up to 50 feet in length.
"We're a full-service marina with 30- and 50-amp electrical hookups, water, pump-out facilities and Wi-Fi," said the port's Operations Manager LeAnn Dennis. We also have a boat launch here, restrooms and a shower, as well as the park and gazebo."
Ronnie Hix from Olympia was a recent visitor there in his Chapparal 330. He said while he and his wife usually stay in the South Sound, they do venture up to Tacoma and Seattle as well as the San Juans and up as far as the Canadian border.
"I'd go back," he said of Allyn. "The staff was amazing and very helpful. The main dock was great and the new 30- and 50-amp breakers are nice. The credit card pay station was cool. The town was amazing — restaurants were open, the coffee stand was great and the market was close. All in all, a great weekend trip."
The San Juans are obviously a popular destination and reservations are strongly recommended. Among other favorite destinations boaters mentioned are LaConner and Anacortes as great weekend trips. Others mentioned Brownsville, Bremerton, Poulsbo, Kingston and Fair Harbor in Grapeview, as well as Point Defiance and Day Island. And no matter where you go, there's no shortage of quality marinas on Puget Sound and fun things to do once you get there, but considering how busy this boating season is shaping up to be, reservations are a must.
Lary Coppola is an avid boater who moors his 28-foot Bayliner Contessa at Port Orchard Yacht Club and enjoys being on the water whenever the opportunity arises.