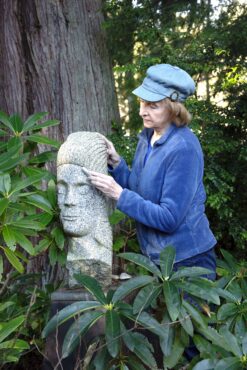 When you first see Sharon Feeney's stone sculptures, you might think she's been making art most of her life.
But, in fact, she began sculpting in stone a mere 14 years ago.
How it all began "is actually sort of a woo-woo story," Feeney said with a smile. "I was a social worker, working with people with neurological injuries, and I was attending a seminar about how to take care of yourself."
During a bit of free time at the seminar, Feeney had a one-on-one guided imagery session with the seminar leader.
"It just made my heart race and made my spine tingle," she said. "I envisioned myself carving a big piece of stone and I heard a voice say, 'Wake up and listen. This is your gift.' I'm really a very grounded person and I have no art background or art degrees. I'm schooled in psychology and social work."
But the vision had a profound effect on her.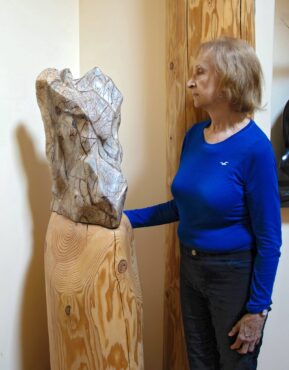 As fate would have it, not long after she got home from the seminar, she saw a newspaper story about a Bainbridge Island artist who was teaching stone sculpture, and quickly made contact.
Since then, she's immersed herself in her love of stone and has devoted her time to sculpture, as evidenced by the artworks placed in and around the log home she and her husband, Rick Alway, built on their 10-acre South Kitsap property.
Step inside the home and you immediately notice the huge stone hearth that holds the woodstove. The big, flat hearthstone was purchased from Marenakos Rock Center near Issaquah and sits atop three large "erratics" the couple found as they cleared their property.
The wall behind the woodstove is constructed of stones of various shapes and sizes that Feeney gathered on the property and then placed, stone-by-stone. Look closely and you'll see a couple of little carved-stone faces that she tucked in here and there.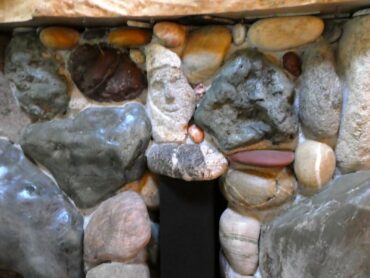 You'll also see many of her sculptures placed artfully throughout the house.
As you wander through the surrounding woods, you'll find many more intriguing stone pieces that show her artistic touch.
There's a large turtle, carved from a big chunk of granite unearthed as Feeney and Alway were preparing the garden space. "We had to use the backhoe to get it out of the garden and around to the front of the house," Feeney said. "It weighs about 800 pounds." Children especially like to sit on the turtle and pet it.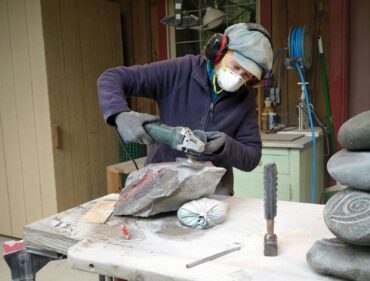 Not far away alongside the driveway stands a female figure, carved from onyx, hands outstretched, ready to hold small objects. "My little grandson likes to talk to her and play with his toy cars around her base and put little treasures in her hands," Feeney said.
Across the driveway stands one of Feeney's favorite pieces — a pillar carved with three little faces that she calls "Peas of a Pod." It represents people's affinity for one other, she said.
Another of her favorites is a woman's face carved from a piece of Eastern Washington marble with vertical striations that suggest that the woman is weeping. "Some women have a strong reaction to her," Feeney said. "It almost makes them cry."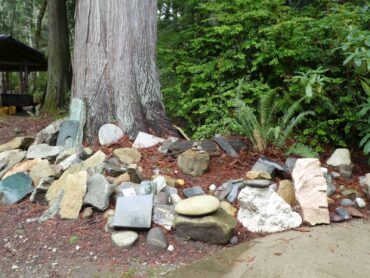 On the workbench in her outdoor studio, there's a piece of dark blue-green stone — probably marble — that Feeney is sculpting into a piece she calls "Sequester." The sculpture will be a gift to a climate restoration organization in California. Its name is an homage to the scientific theory that carbon dioxide and methane gasses can be locked up — sequestered — in limestone.
Although she sometimes purchases stones, Feeney prefers to find her own. She usually spends vacations outdoors, hiking through areas where she might find interesting stones suitable for sculpting.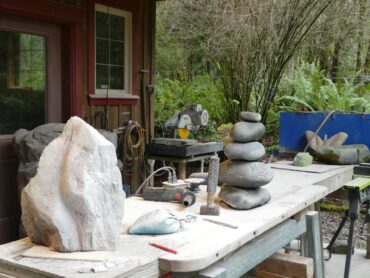 "I always want to be somewhere where there are rocks. I really love the look of wet stones in the sunshine and there are so many places in the Northwest where you can find beautiful stones," she said.
Once or twice a year (in normal times), she gets together for field trips with fellow stone sculptors and rockhound friends to places like the Nooksack and Pilchuck rivers in Washington and special spots in Central and Eastern Oregon.
"One of the best parts of going out with other sculptors and people who love rocks is that nobody ever says, 'Don't you have enough stones already?'" she said with a laugh.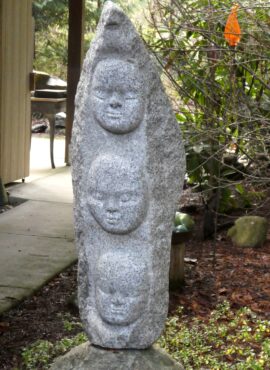 Her favorite stones for sculpting are granite and basalt. "Granite is so 'of-the-earth,'" she said. "It's so 'real.'" She created a bench from a piece of red granite that she carved with a halibut image. That piece is now in the collection of a Gig Harbor client.
Feeney also makes good use of things some might think of as trash, such as several large pieces of granite salvaged from an old curb of a Seattle street. She transformed those chunks into benches and a sculpture she calls "Curb Appeal" that now resides in a rhododendron grove near her house.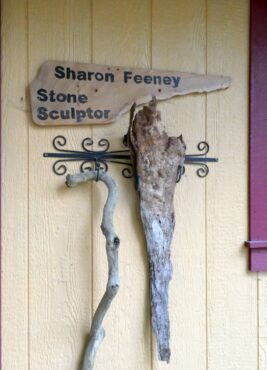 She also likes to work with marble and alabaster, although those stones are best used indoors or on a covered porch, as they deteriorate over time if left to weather. "Think of how marble statues in cemeteries sort of deteriorate over the years," she said.
Every new stone sits outside her work area — perhaps for months or even years — until Feeney begins to carve it. "I have to wait and handle the stone for quite a while and sort of 'listen' to it until I know what it says," she explained.
When she has made friends with a stone and knows what it wants to be, Feeney dons her studio garb — jumpsuit, goggles, ear protection and gloves; gathers her grinder, chisels and other tools; and goes to work. It's loud, dusty work that Feeney, a petite woman, relishes.
Sometimes she carves a stone into a recognizable shape. Sometimes she just polishes it to emphasize its abstract form. And sometimes a stone is so beautiful in and of itself that Feeney simply places it in the landscape to be appreciated in its natural, weathered state, unaffected by her tools.
"Stone is a hands-on medium for both the artist and the viewer," she said. "Stone just calls out to be touched."