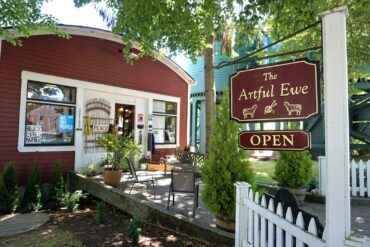 Port Gamble is a community of transformations. The two jade-green water towers, historically the source of the company town's water supply, currently serve as its greeting sentinels. The old meat and vegetable market adjacent to those structures now houses The Artful Ewe, modern-day Port Gamble's longest-operating business. And inside the shop, owner and artist Heidi Dascher has her own story of metamorphosis.
The Artful Ewe bills itself as a purveyor of custom-dyed yarns and fibers, but a stroll to and over the store's threshold and a conversation with Dascher make clear it is far more than that. The windows in front of the low-slung, colonial red building display a Black Lives Matter sign and another from the American Civil Liberties Union. A sign declaring peace graces the entrance.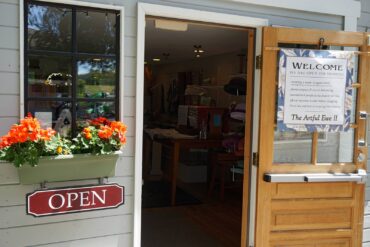 On sunny days, the front walkway is decorated with plants and chairs inviting customers to sit in the shade of the water towers and the surrounding elm trees, originally planted from cuttings shipped from New England. Inside, visitors discover what the store's loyal following of knitters, weavers and spinners already know — it's an idyllic wonderland for both experienced and wannabe fiber artists.
If you have never considered picking up a pair of knitting needles and casting on for a knit or purl stitch, The Artful Ewe will inspire you to learn how. Skeins of richly hued yarns in a wide variety of textures and weights, batts and felts are displayed in baskets and bowls and draped from decorative branches and racks, all artistically arranged for visual and tactile appeal. Among the array of fibers are baskets of exotic buttons, handmade wool-felted hats and piles of well-used books: "The Principles of Knitting," "The Tapestry Handbook" and Vogue's knitting patterns.
To the left of the store's woodstove, often lit on colder days, is a cozy nook, the domain of anyone who wants to sit for a spell to knit or crochet, or peruse the piles of reference books stacked on the floors and shelves. The space is often shared with Dascher's two friendly shop dogs, graceful whippets named Grace and Semillon.
Outfitted with overstuffed chairs, lamps, strings of white fairy lights and a spinning wheel, the space encourages the conviviality of an old-time knitting circle. It's an ambiance Dascher encourages.
"This is more than a yarn shop," she explains. "It is a welcoming, comfortable place where people can come and learn about fibers and textures."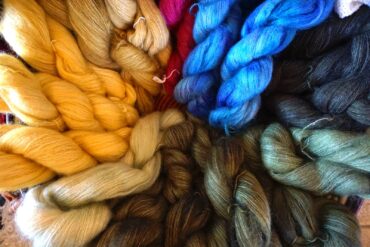 Dascher's roots in the North Kitsap area run deep. Her grandparents homesteaded on land in Kingston and she lives there now, settling into the family cabin after moving back to the area from Texas in 2004. It's a place filled with memories. It was where her grandmother, Gunda, taught her to knit when Dascher was a child.
"Knitting keeps the connection to my grandmother and that happy past where I spent a lot of time with my grandparents," she says.
While she was in Texas, she developed an interest in spinning. Dascher started with a simple drop spindle before progressing to a small spinning wheel. Self-taught, she grew her collection of spinning wheels as her skills developed.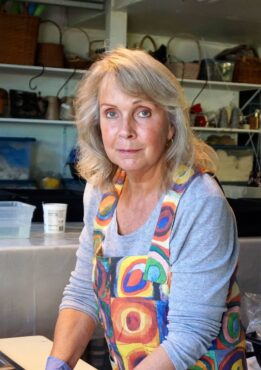 When she moved to Kingston, Dascher began searching for a like-minded community of fiber artists and found the Kitsap Weavers and Spinners Guild. Their members hosted Saturday demonstrations at Port Gamble's Walker-Ames House and Dascher joined up, quickly becoming a popular spinning instructor. For a few months, she taught classes and operated a small retail shop out of the town's former fire hall, selling custom-dyed yarns she made in her home studio.
When the old market building became vacant in 2008, she moved her growing retail business and classes there, but kept the yarn-dying process in the large workshop on the old family homestead. Ninety-five percent of the wool, cashmere, angora, alpaca, mohair, cotton and hemp fibers for sale in her Port Gamble store are custom hand-dyed at her Kingston cabin.
Watching Dascher at work in the dying workshop provides a glimpse into the magic that produces her bold fiber colors. It's an extensive process requiring patience, intuition, inspiration and a lot of space to produce an inventory that she retails in the store and through special order.
She begins with commercially spun, eco-friendly yarn.
"I select the colors I want to use based on photos or customer requests. I also experiment to try new, inspired combinations. Sometimes I feel like creating saturated solid colors and other days I want to variegate the color," she explains. "Some days I feel like immersion dying and other days I'm inspired to hand-paint. But all my dyes are eco-friendly."
Each batch is unique, a feature of custom hand-dying. That perfect tomato-red-orange skein in the store likely will not be duplicated if you don't purchase it when you picture it in a warm winter scarf.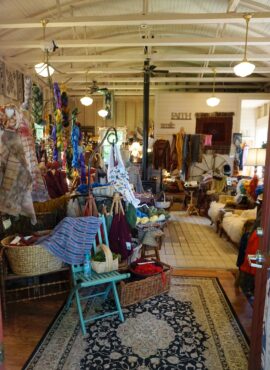 In 2013, Dascher opened the nearby Artful Ewe II to better promote the area's growing demand for a space to learn and practice weaving. Located in a former art gallery just two doors down, the second store is a light-filled, working studio filled with looms to rent or buy and a selection of handwoven retail items. Local weaver Marcia Adams staffs the studio and visitors can find her there teaching weaving classes or creating her own woven fabrics.
Dascher and Adams are both fiber artists and instructors. Adams offers structured classes in the weaving studio. Over in the yarn shop, Dascher teaches knitting and drop-spindle spinning for free, a legacy from her days demonstrating spinning — but also an homage to her grandmother.
"My grandmother didn't charge me when I learned from her, so why should I charge to pass on her knowledge?" she asks.
The retail operating hours of both stores are limited. They're open Friday-Sunday from 10 a.m. to 5 p.m. — a schedule that allows Dascher to spend the rest of the week ordering supplies and engaging in the creative process of producing the yarn and fiber inventory for the shop and online retail.