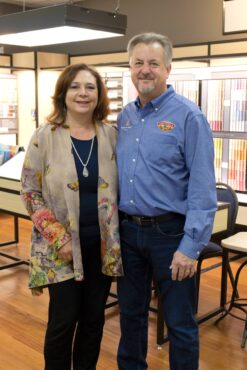 To contractors, interior designers and homeowners, Ray and Diane Donahue could easily be called the king and queen of paint.
The West Sound couple, who call Kingston home, own five paint stores, from Gig Harbor to Bainbridge Island, under the moniker of Peninsula Paint Co.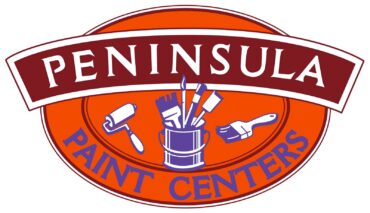 Their firm, with Bainbridge, Poulsbo, Bremerton, Port Townsend and Gig Harbor stores, has 27 employees — including the owners — and an exclusive, sole-source relationship with Benjamin Moore & Co.
The Donahues, both 62 years old, built their small chain through a few timely mergers and acquisitions, and a laser-sharp focus on their customer base.
"We're the premier paint destination on the peninsula," Ray Donahue says unabashedly. "For over 15 years, we have strived to be the one-stop shop for professional painting contractors as well as DIY (do-it-yourself) homeowners."
The Donahues started their business in 2004 in partnership with friends Ken Schuricht and Mary Hall of Bainbridge Island. The two couples purchased part of a small chain of independent paint stores run by a Seattle-based subsidiary of Benjamin Moore.
At the time, they acquired stores in Poulsbo, Port Townsend and Sequim that were being run as Lovell Paint and Decorating out of Seattle, and then formed Peninsula Paint.
"They were a diamond in the rough that just needed a little TLC," Donahue recalls of the outlets. "The shelves were bare."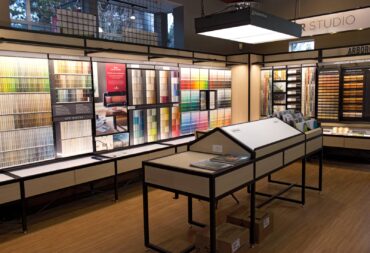 The Donahues quickly changed the store's look and feel and added a whole slew of Benjamin Moore paints, stains, finishes and other accessory products. A year later, in somewhat of a surprise move, they bought out Schuricht and Hall's side of the business.
"Sometimes business partnerships don't work out," Diane Donahue says. "We were able to maintain a professional relationship through it all, though. At the end, it was probably the best for both of us (couples)."
The Donahues got to know "Ken and Mary," as most people referred to Schuricht and Hall, back in the early 2000s when Ray Donahue was working as a sales representative for TRIW Distributors, a paint and sundry supplier. He called on them regularly at their Winslow Hardware store on Bainbridge Island.
The once-iconic venue on Winslow Way — a space now divided between the wood-fired pizza place Bruciato and Sotheby's Real Estate — had an expansive line of paints that represented more than 30 percent of the store's annual business.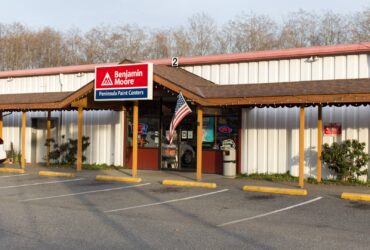 One day, Ray Donahue recalls, Hall asked him, "If you were going to open a paint store, what would you put in it, from a product standpoint?" That question eventually led to the creation of the Winslow Paint Co. outlet on Hildebrand Lane on Bainbridge and a budding partnership between the Donahues, Schuricht and Hall.
While the business partnership between the two couples eventually dissolved, Diane Donahue continued to handle the paint store's books. In 2012 the Donahues purchased the Bainbridge outlet from Schuricht and Hall and added it to their chain of Peninsula Paint stores. A year earlier, they had shuttered the Sequim locale, and in 2015 they purchased two more stores in Gig Harbor and Bremerton from Martin Nayer to complete their chain.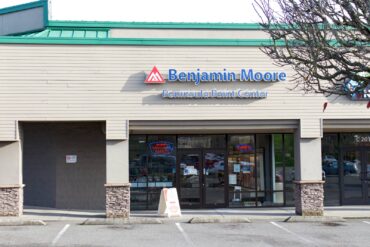 The Sequim closing was particularly hard on the couple.
"It (the store) got hit pretty hard by the recession and it never recovered," Ray Donahue remembers. "It was a tough decision, but it was one of the best decisions we ever made."
One relationship that's flourished over the years is Peninsula Paints' alliance with Benjamin Moore. One of the country's premier interior and exterior paint manufacturers, Benjamin Moore is owned by Warren Buffett's Berkshire Hathaway and is favored by many high-end paint contractors and homeowners looking for quality products to apply to their walls, ceilings, sidings and decks.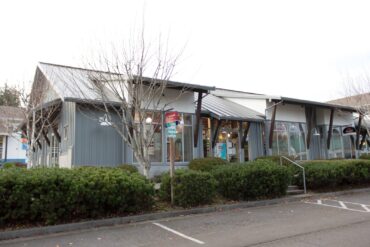 As part of their exclusive relationship, they also provide small-chain storeowners like the Donahues with a wealth of advice, leadership and support.
"Benjamin Moore is the only paint company that goes to market with independent stores," Ray Donahue says. "They feel like you have skin in the game, that you have that entrepreneurial spirit (needed to succeed)."
The store has access to just about anything related to paint that a customer may want, Donahue adds. "Being independent, we can be more responsive," he says.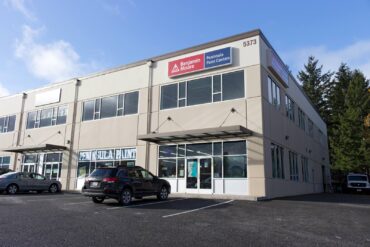 Indeed, if you walk the aisles of one of Peninsula Paint's stores, you can browse a catalog of more 3,000 colors offered by Benjamin Moore, look at a variety of stains for decks and siding or check out the latest palette of color trends. Not only that, you'll find a wide assortment of painting and staining accessories from companies like Festool, Messmer's, Spantex, Dap and many others.
One of the biggest advantages the Donahues have discovered by partnering with Benjamin Moore is the public-traded company's training regimen. It provides Peninsula Paint's employees with many online training opportunities, and emphasizes a technique known as "solution-based selling."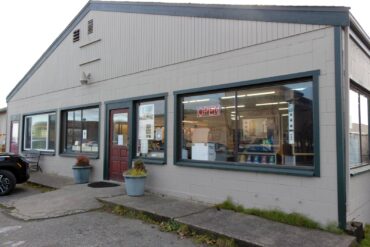 "When someone comes through our front door, they have a problem," Donahue says. "We need to solve it."
To allay customers' anxiety, employees are taught to essentially interview them and find out what they're in need of.
"You have to interview them to understand what their project is," Diane Donahue adds. "Employees have to ask a lot of questions and then come up with two or three solutions."
An example is a recent job that slightly miffed the staff. A certain color worked in the customer's main house, but for one reason or another, it looked, in the customer's mind anyway, "too green" when applied in the nearby guest house.
Employees had to match their wits and expertise to determine if the issue was the grain in the wood, the type of paint — whether it was water-based or oil-based paint — or if it was another cause altogether, such as the brush stroke or a spray application that might have been causing the problem.
Solving those sorts of challenges — especially when working with contractors on expensive jobs — "is not going to happen easily," Ray Donahue says with a serious look on his face. "It's going to take time."
Longtime West Sound painter Bruce Carter of Indigo Painting can relate. "They (Peninsula Paint employees) helped me pick some colors on a job I was kind of struggling with," he recalls. "They came through with some great color suggestions that helped move the job forward."
Carter, who has been painting in the area for more than three decades and uses almost exclusively Benjamin Moore products, focuses on a higher-end clientele on Bainbridge Island, Suquamish and Poulsbo. He has nothing but praise regarding his relationship with Peninsula Paint.
"You can't find a better paint company with their product understanding, customer service and with their community support that is (also) locally owned," he says.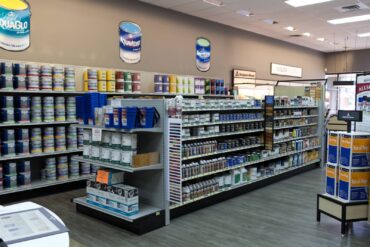 Other customers heap similar praise on Ray and Diane Donahue's operation.
"I've been dealing with Ray for over 15 years," says Brent Hancock, division manager of Sabelhaus West in Silverdale. "We only use Peninsula Paint on the residential side (of the business). They're great. Any issues we've had, they've been right there with us."
Bill Boston is another fan of Peninsula Paint. He's the former CEO (1976-'85) of the now defunct Ernst Home Centers, and he and his wife, who live on Hood Canal, are regular customers.
"They're your classic case of a successful small retailer that presents high-quality merchandise," says Boston, who met Ray Donahue back in the 1980s, while he was working with TRIW. "(And) their people are very knowledgeable and helpful."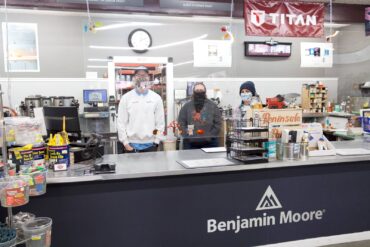 What Boston really likes about Peninsula Paint is its meticulous recordkeeping, "so that you can go back (years later) and tell them what you bought and they'll find it."
Peninsula Paint will also match colors from a paint swatch or a chip of paint, which Boston appreciates.
"Their people know how to sell their products and can also instruct you on how to use them," he says. "And, as far as I can tell, Ray is a real hands-on manager. That's reflected on how the stores are run and staffed."
The Donahues have made their business and marriage work by dividing and conquering. Ray handles the sales and marketing aspects of their company, while Diane focuses on the operations end.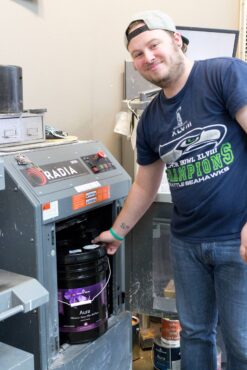 "With my background (living and working) in the county and Ray's background on the sales side, we saw what worked," Diane says. "It's that combination that has made us successful. Plus, this is a very supportive community."
Conversely, the Donahues have not hesitated to give back. The company is a member of most Kitsap chambers of commerce, and they annually support any number of fundraising galas, as well as donating paint to myriad nonprofits.
As the COVID-19 pandemic set in last March, Peninsula Paint — like many other retailers — saw business slacken as the company reduced staff hours and asked patrons to pick up products curbside, as many businesses did. But as people learned to navigate in and around the viruse's requirements, Peninsula Paint saw its business soar.
"Everybody needs paints," Ray Donahue says. "With COVID, we found people doing remodels and redos. It's been beyond a normal year."
He adds that it's a strange time to be a business owner.
"It's hard to forecast (trends) and buying (and ordering) products is different, but I hope it keeps going," he says.
For the king and queen of paint, the future looks bright, indeed.