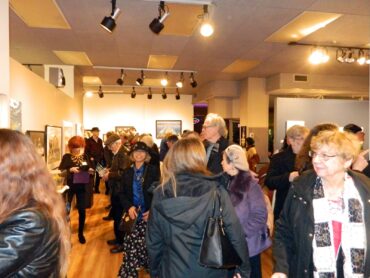 The annual CVG Show, one of the Pacific Northwest's largest and most competitive statewide art exhibitions, will open for its 14th year on Saturday, Jan. 23. Every year, this prestigious art event attracts numerous artists and a large audience of viewers from across the state.
For last year's show, 394 artists from 98 locations throughout Washington submitted 1,100 artworks for consideration. From these submissions, jurors chose 152 pieces of art to display in the show, which took place in the Collective Visions Gallery in Bremerton.
This year's show will offer more than $9,000 in prizes to artists, including the "Best in Show" award of $1,500 by the mayor of Bremerton. The juror of this year's show is Michael D'Alessandro, executive director of the Northwind Arts Center in Port Townsend. The five-week show, including the opening awards ceremony, takes place at the Collective Visions Gallery, which is located at 331 Pacific Avenue in Bremerton.
State guidelines may restrict the number of people allowed in the gallery at any one time due to COVID-19. Consequently, the show committee has decided to present the awards ceremony, as well as a virtual walk-through of the entire show, on YouTube. This viewing experience will be available online during the entire course of the show, even when in-person visits are open. You can also view individual artworks at cvgshow.com.
During the course of the show, there will be several special events at the gallery, including:
Sunday, Jan. 24 — the juror of the show will do a walk-through and discuss several of the artworks.
Saturday, Feb. 13 — a panel of art experts will participate in a panel discussion on the topic "Art in the Time of COVID."
Friday, Feb. 26 — on this final day of the show at 6 p.m., the People's Choice Award will be presented and guest lecturer Amy Burnett, a nationally known Bremerton artist, will talk about a timely aspect of art.