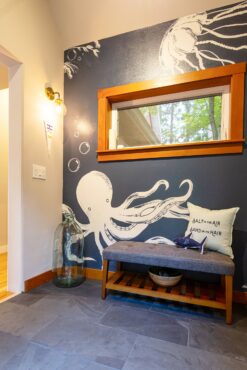 Lillian Benge of North Kitsap grew up surrounded by a family of artists and creatives. Once she was old enough to hold a pencil, it was easy to see her innate passion for design.
Lillian has a unique talent and ability to take inspiration from almost anything — as seen in this project, for which she was commissioned by a homeowner in Poulsbo. The homeowner wanted to tie a front-entry art piece into another area of the home, keeping with a nautical but very specific octopus motif.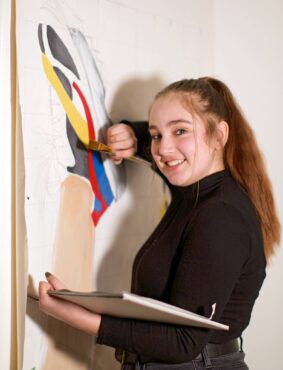 "Lillian listened to what we wanted and sent us sketches, and once she arrived, she knocked our vision out of the park," the homeowner says.
This young artist's abilities reach far beyond her 16 years. She has a unique talent of taking even the simplest things, from a water bottle to a file folder, and creating something that is unique.
Lillian has done some local work on the stage but the high school senior has focused on the same goal for what seems like her entire life: After graduating, she wants to attend school in New York or Los Angeles as an aspiring set designer.
When not working at a local Poulsbo eatery or attending school, Lillian spends her time on her many art-inspired projects.
"I have become so attached to the hobby that I love so much," she says. "I do all sorts of art projects around the community."
Lillian welcomes and delights in art commissions of all kinds around Kitsap County. Notable work includes the 2019 Poulsbo Viking Fest logo, local sports team logos and other commissioned graphic design and paintings. She is open to commissions and art of all kinds and has experience in just about every art-related medium.
"I believe that the theater is where my creativity and passion will do the most good for the world," she says. "I hope one day to help others share their stories through my art."
To contact Lillian and view her work, find her on Instagram: @benge.artistry.