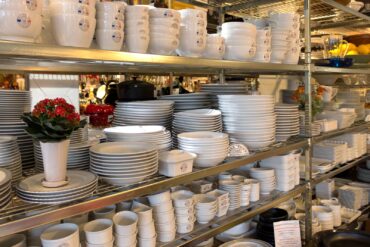 She's definitely the island's small-biz matriarch. The Berry Patch Kitchen Store turned a half century old last year, and Jane Pomeroy, the longest-continuous solo owner of a Bainbridge Island retail shop, has been present ever since — unpacking boxes, rearranging displays and assisting customers.
On Winslow's main drag, where many of the long-standing retail shops are owned by women, Pomeroy has outlasted all of them. And in the West Sound region, where other specialty kitchenware stores have downsized or disappeared, The Berry Patch has survived 50 years of multiple recessions and Amazon's buy-anything, next-day delivery competition — proving, as Pomeroy says, "when someone wants to bake a cake, they want to bake it today, not wait a day for the specialty pan to come."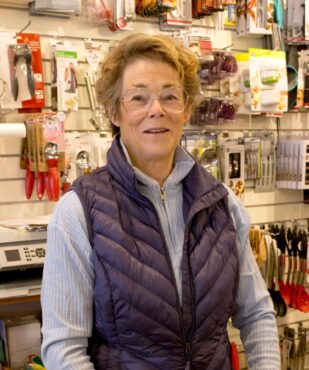 The store's name is a nod to the island's ubiquitous berry history and the long-lost treasures that can be found in an overgrown patch or field.
"Like when pruning a thicket of blackberries and you find a hidden wagon that was covered by the brambles," Pomeroy explains.
The Berry Patch shelves display a colorful, eclectic inventory of dinnerware, cooking utensils and table linens, all sourced to meet the needs of her loyal base of customers and Pomeroy's own sensibilities.
Armed with a degree in home economics from the University of Washington, Pomeroy returned to Bainbridge, where she'd graduated from high school. Once home, she decided to open a kitchen store because the island didn't have one. "And," she says matter-of-factly, " I've always loved to cook."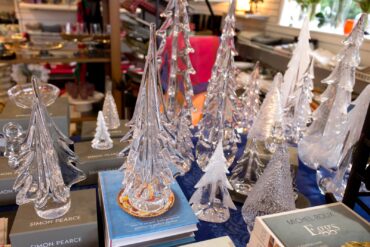 But she admits her entrepreneurial instincts started nine years earlier. At 12, she and her sister gifted their mother three days of fully cooked meals for Mother's Day — "including appetizers and desserts," she says with a laugh. The Mother's Day gift was such a hit, it inspired Pomeroy to begin a food-catering business the following year before she could even drive.
Pomeroy continued to cater even after opening her store in its first location in the Island Village Shopping Center. She recalls that first shop operated out of repurposed buildings barged to Bainbridge after being used for the 1962 Seattle World's Fair.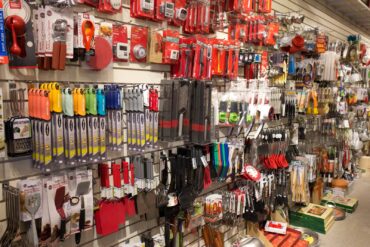 Seven years later, she moved downtown to the Winslow Mall, remaining there for the next 39 years while continuing to build a loyal base of Berry Patch customers.
About three years ago, she relocated to a larger retail corner in Winslow Green, giving her more space to expand her inventory and plenty of light-filled windows.
"It makes me so happy," she says. "It's like being in a village. You can hear doves cooing in the morning, watch groups of children and families on the lawn, and there are other business owners on the ground level, with people living on the upper levels."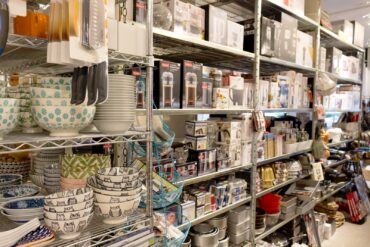 Her employees agree that the secret to Pomeroy's longevity is customer service and quality inventory.
"I want people to have investment kitchenware that can be multipurpose and last a lifetime," she says. "I try not to stock low-quality products. If it breaks, I don't stock it again."
Her inventory from Europe includes knives from the Swiss company Kuhn Rikon and Wusthof, a family-owned business in Germany. Belgian ceramic nonstick pans from Greenpan are featured as cookware.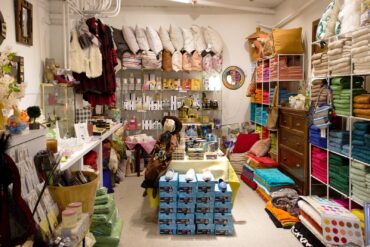 Ten shelves are devoted to multipurpose French Pillivuyt bakeware, dinnerware and servingware. Fired at 2,400 degrees, the white porcelain is resilient and can go from oven to table. The same can be said for the shelves of French table linen she stocks in "beautiful muted colors that go with anything forever."
She also makes an effort to consciously stock USA-made products. New Orleans-based Beatriz Ball melamine trays (prized as an Oprah favorite) share floor space with Lollaland, chemical-free children's dishware made in California.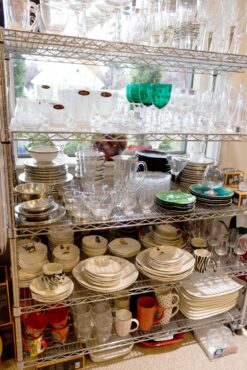 It can take several circuits around the shop to appreciate the extent of its inventory, particularly the kitchen gadgets. There are specialty items you may not realize you need until you see them hanging from their displays, like kale and herb strippers or avocado tools.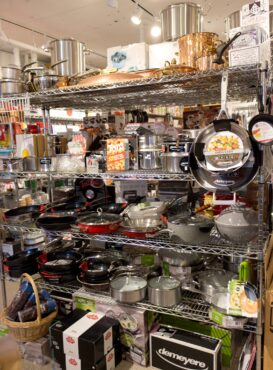 Lately, Danish-made Jarkey Jar Openers have been a bestseller. Before that, it was sink drains. Over the holidays, it was meat thermometers.
The back room — which Pomeroy calls her "girlie room" — evolved because she has a fondness for nonkitchen gadgets as well, like thick Portuguese towels in rainbow color hues. "They have no ribbing, so you can use the entire towel," she says. And displays of candles because they smell good.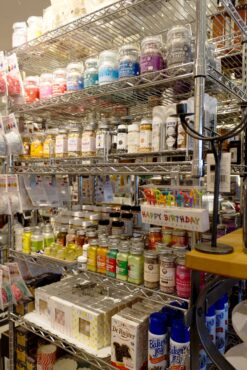 When she heard about Floafers, foam water loafers whose early production began with a Kickstarter campaign, Pomeroy re-envisioned them as cooking and gardening footware and found a place for them in her back room as well.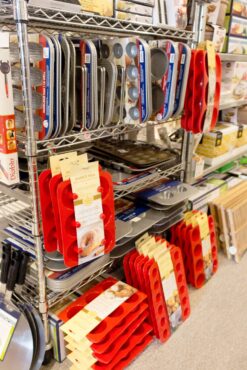 The Berry Patch customers range from very experienced cooks who know precisely what they want — "Sur la Table sends me customers if they don't have an item in stock," Pomeroy says — to people who wander into the store with minimal kitchen experience.
Kathy Anderson, a store employee, says Pomeroy's experience as a caterer and her enthusiasm for cooking (she catered Anderson's wedding) makes her an invaluable resource for customers no matter their background.
And Anderson has an additional take on what distinguishes the brick and mortar of The Berry Patch from online shopping. The store has a regular stream of visitors, many of them Pomeroy's longtime high school friends, customers who became friends and Puget Sound visitors who hop the ferry to Bainbridge for the day. Even the store's longtime UPS delivery person, now retired, drops by just to say hi.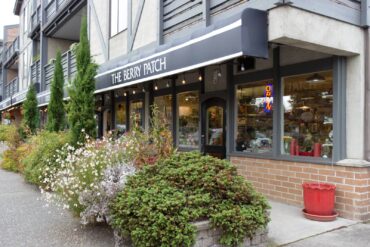 Anderson says they all know they can find Pomeroy at the shop.
"It's a bit of the village center," she says.
Because of that, you won't find The Berry Patch website. Its Facebook presence is saved for holidays and big announcements. Pomeroy and her employees value the conversations between themselves and whoever walks in the door of the shop over a virtual customer relationship.
The Berry Patch sense of community extends beyond the boundaries of the store. Pomeroy is a supporter of Eli's Place, the YWCA short-term transitional housing in Poulsbo for domestic violence victims. Customers are encouraged to bring in their gently used or unused kitchenware, which she donates to residents there. And she helped outfit the Bainbridge Artisan Resource Network's Community Kitchen through an in-store donation program and the gift of a commercial range.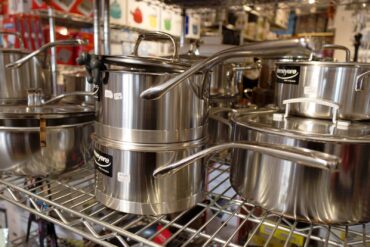 Despite 50 years of owning and running her retail business, Pomeroy has no intentions of retiring. She's still excited to attend trade shows with their displays of novel kitchenware designs. And she still loves opening boxes of newly delivered inventory.
"It's like Christmas every day," she says.
But ultimately, what brings her the most satisfaction is when customers find and take home that perfect pot or kitchen tool.
"I just want the kitchen to be a happy place," Pomeroy says.