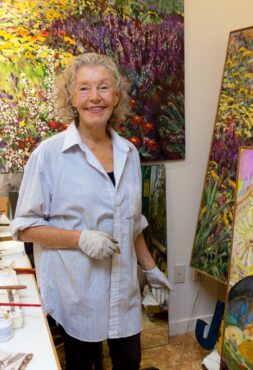 Bainbridge Island needs no introduction to Peggy Brunton. She is a favorite local artist whose lush, expressive canvases of acres of flowers, rowboats and water, bicycles and pies, gardens and wild bouquets record the emotional life of a magical island. She is also an avid cyclist who uses her bike more than her car.
Today, Brunton lives in a small cottage-turned-studio tucked in near downtown. She has downsized the duties of a full life to focus on her passion for painting.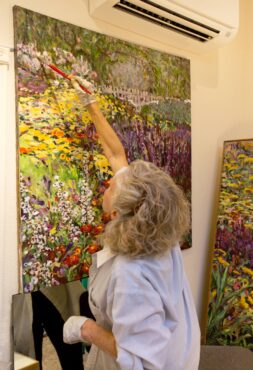 On a sunny fall day, trees and shrubs are the eye-catchers showing off warm, subdued hues, rich textures and defined shapes. Brunton studies the landscape a moment and comments on changes for next spring, saying she sees where she went wrong.
Later, she makes a similar comment about one of her paintings. Such insights occur regularly to her: She says nothing is ever really done. Oh? Or is it that her creative eye never stops reimagining the possibilities of the interplay between color, texture, form?
Brunton isn't done yet. Creativity dances in her like the light and color in her work. She exudes a liveliness and sparkle as she pulls canvases from the racks to illustrate a point.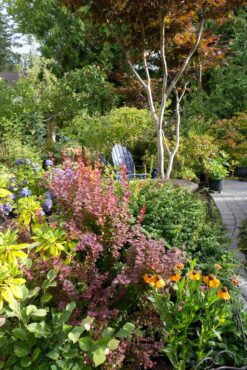 Brunton's art sings with light, bright colors and the high values of transparent flowers and reflective water. To sustain the flight, her paintings take the viewer on, deeper colors and defined shapes form the foundation, similar to her garden as well as her fully lived life. Painting is at the core of her heart but life has demanded its share of intensities, giving Brunton a personal depth to paint from.
She studied ceramics but switched to painting upon returning to the University of Washington for graduate school. Her adviser told her to paint what she knew. All she knew at the time was Safeway and food.
So Brunton started there with huge canvases full of shiny, fresh fruits and vegetables displayed at grocers and markets. Later canvases expanded to include shoppers and then she explored pop art in gigantic labels ala Warhol. Still in her personal collection are favorites: Quaker Oats and Uncle Ben.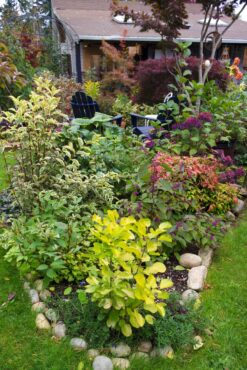 The majority of Brunton's art draws from the postimpressionist period where subjective, emotional qualities are valued over realistic representations. Painterly brushstrokes and intense, natural colors and hues with multicolored shadows, water, snow, leaves and flowers are worked to evoke emotional responses. Strong geometric forms added to unusual perspectives accentuate the abstract qualities of the land or water, or a leaf, allowing ever more emotional expression to emerge.
Working in oil paints and applying pigment directly to the canvas with a palette knife or flat stiff brushes, Brunton builds up color-rich textures. Applying the paint in layers and then dragging the knife or brush through them allows darker values to surface, peeking out and adding depth. Light bounces off the varied textures as well as the flecks of colors breaking through to lose edges in some places and find silhouettes in others. The effect is a heightened sensation of how eyes actually see.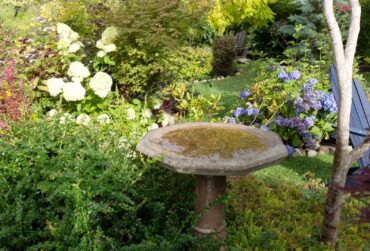 Before she was 30, Brunton had traveled far, both in art and in distance. A petite woman, she hoisted a backpack through Lapland, the Scandinavian countries, England and Scotland. In Rome, she bought a Vespa, worked the 1960 Olympics and then scooted through Greece, the Balkans and old Yugoslavia, and ended her year's adventure at the Kunst Academy in Vienna.
In Madrid, she painted street scenes and flowers and held a show at the Washington Irving Institute of Spain. Brunton remembers her sold paintings by where they live. Four live in Spain, one on the Isle of Ischia.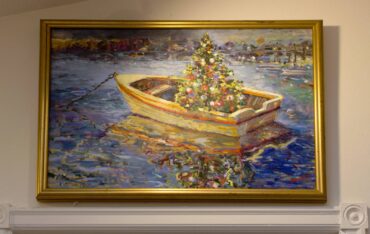 After a successful show in Paris, a few paintings took up residence in the city itself while one traveled to the Carcasson. Those were the beginning days. Gallery sales have sent her works to live across the United States, as well as Europe.
An invitation to join an American-Russian cultural exchange took her with a group of international artists to Riga, Latvia; Moscow and St. Petersburg for group shows. Brunton paintings also live at the Moscow Museum of Modern Art, the Seattle Art Museum, the Henry Gallery and the Bainbridge Gallery.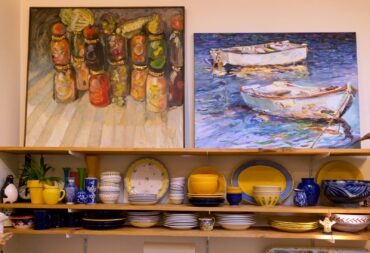 State-side, Brunton took up rock- and glacier-climbing, scrambling over the peaks of the Northwest. She worked for the chocolatier Julius Boehm, who introduced her to opera when they delivered candies to Pavarotti backstage. She laughs at what she calls her 30-year affair with opera, her excuse for dressing up in fabulous gowns and further travel.
Brunton's first contact with Bainbridge in 1969 came like a good omen loaded with inspiration. As the ferry pulled into port, she saw a fully decorated Christmas tree floating in the dark harbor. How unexpected. How magical!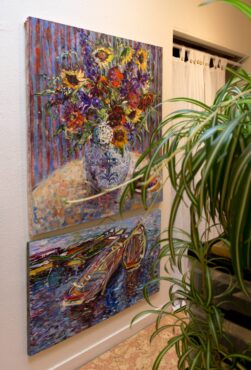 It turned out the tree was anchored in a dingy attached to a live-aboard. She painted that teeny boat and lit-up tree with tantalizing water reflections and the town's twinkling lights behind. It is named "Christmas Afloat."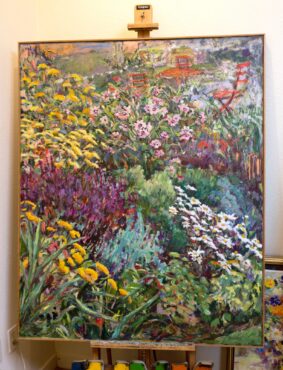 Bainbridge and Brunton were a natural fit. She threw herself into island life, finding her communities as she went. Her life blossomed with a husband, two children, friends and ongoing passions of cycling, painting and travel.
She painted two posters for Bainbridge in Bloom and one for Bainbridge Home Tour, donating the paintings for their fundraisers. Squeaky Wheels, a bicycling advocacy club, lies close to her heart. She gifted several paintings for the club to use on posters and T-shirts for "Bike for Pie," its fundraising event. Many island organizations have been recipients of her donated art for auctions — which means many Bainbridge high-bidders are living with Brunton's art.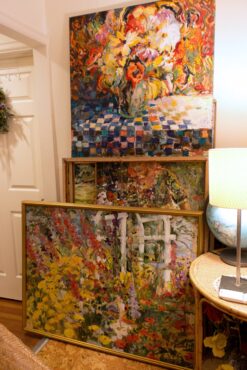 Between moving to Bainbridge and becoming a mother, like many islanders, Brunton commuted to Seattle Pacific University, where as an assistant professor she taught art history and set up the ceramic departments. Building kilns is one of her skill sets.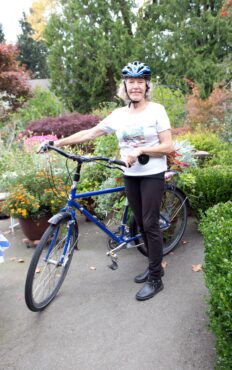 Brunton spent years performing in the chorus and as leads with the Bainbridge Light Opera Association. Painting skills came into play as she painted literally miles of her set designs with a team for performances right into the Bainbridge Performing Arts era. Later, she sang in a group called Side-by-Side, caroling on Winslow Way, at rehabilitation homes and in concert-style events.
Brunton, a soprano, gives an impish grin and adds, "I'm a yodeler too." A well-worn ukulele sits close at hand on her sofa.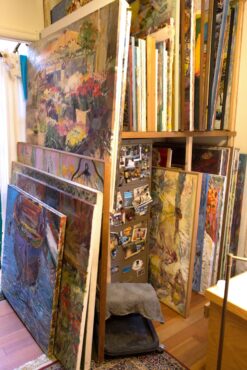 Midlife found Brunton running the law office of her husband, Bruce. Her son and her daughter swam on the team at the high school and Brunton became involved with the school board as she saw her son and other highly intelligent kids slipping through the cracks. It turned out they were all buddying musicians and thus began an era of rock 'n roll, punk rock and grunge bands in her garage as these young people found themselves.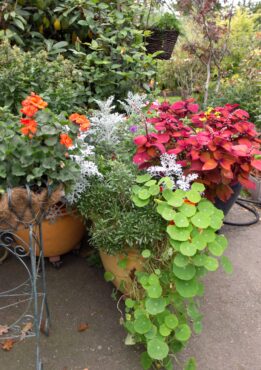 For a year, Bruce Brunton studied at the Sloane Institute in London, where his job took him off traveling the world. Meanwhile, Peggy and their daughter, Genevieve, who went to high school there, traveled the British Isles, Paris, Crete and Berlin. As life would have it, the mother and daughter were making memories that would have to last Peggy Brunton a lifetime. Genevieve died of leukemia at the age of 23.
Painting was always there, somewhere, sometimes waiting in the wings like a bit-part player waiting for someday. Brunton has declared now as her someday.
A garden, however, is as essential as painting for her. Stepping into Brunton's tiny, jewel-bedecked oasis is akin to stepping into one of her paintings. Although, her canvases may actually be larger.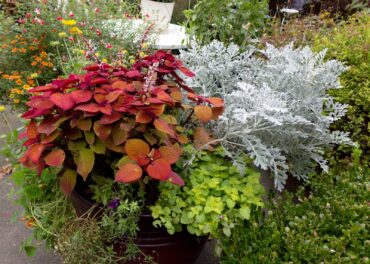 Full-grown trees transplanted from a former home in Battlepoint Park are settling into their new digs after three years. A camellia loves its new site to such a degree that it has overtaken the east and south wall of a shed and continues blooming late into fall, while a lipstick plant still purses its pink lips.
Brunton purchases plants on a visceral response to color and she uses them like pigments. Fiery coleus, cool dusty miller, fire-cracker crocosmia, hot geraniums and stately star-gazer lilies, maroon barberry shrubs — they each fulfill a painterly purpose.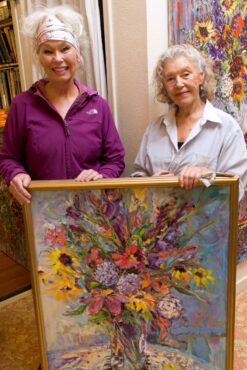 Brunton has time to ponder the empty chairs that crop up in her pieces. What do they mean? She says she never sits in them. In her mind's eye are two images: a man tending a garden in a small boat off his live-aboard and another of a man and his dog rowing to his home-boat in a dingy leafy with plants. Will they make it to a canvas? Or will Brunton paint a series of girls dancing in wildflower fields? Her easel and palette stand ready.
Last summer, the pandemic canceled a bicycle tour she had planned of the Loire Valley in France and the Southern boot of Italy loaded with exactly 26 pounds of camping gear. As soon as events allow, Brunton will be off. There's so much to paint and so many places still unseen.
Whatever Peggy Brunton decides to undertake, rest assured, this inspiring octogenarian has more than enough energy to do it in flying colors. The truth is, Peggy Brunton — quite simply — is not done yet.