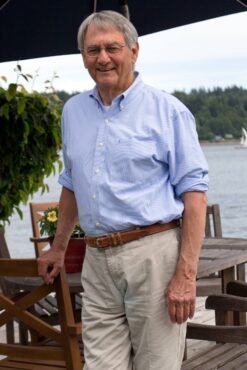 Cary Bozeman's career of service goes back decades. The former mayor of Bremerton and Bellevue has contributed to numerous nonprofit organizations and community projects. Currently a commissioner with the Port of Bremerton, Bozeman is also a board member of Kitsap Humane Society and Leadership Kitsap.
"I fundamentally believe our life is about the choices we make, not our circumstances," Bozeman says.
While Bozeman's personal and professional accomplishments are many, he is most proud of his 25 years of working with the Boys and Gils Club of America. A former foster child who lived in 12 cities before age 14, Bozeman was the director of the Bellevue Boys Club in the 1970s, when girls were not members. He advocated for and started a program for girls — and the first one, a girls soccer league, signed up 400 participants.
During Bozeman's tenure, the organization became the first in the nation to change its name to the Boys and Girls Club, and within seven years started a national movement for other clubs to do the same. In 1985, Bozeman went on to become president and CEO of King County Boys & Girls Club. The name of the national organization officially became Boys & Girls Club of America in 1990.
"I learned from that a great lesson that stayed with me my entire life, that change is created by vision and leadership," Bozeman says.
One local organization that has benefitted from his Boys & Girls Club leadership experience and more than 30 years of nonprofit fundraising is the Kitsap Humane Society. The human society faced financial challenges a decade ago, and Bozeman was asked to join the board and help develop a fundraising plan. He says that today, thanks to strong leadership by board members and Executive Director Eric Stevens, the Kitsap Humane Society is in a good financial position and recently completed a successful financial campaign.
Founded in 1908, Kitsap Humane Society takes in thousands of animals every year. In 2019, the nonprofit saved the lives of 96 percent of the more than 6,100 animals that came through its doors. Most of the animals are adopted by new families.
Bozeman and his wife, Kerri, are both animal lovers and believe that pets bring a lot of happiness to children, families and seniors. For three years, the Bozemans have hosted a wine-tasting party at their home that was auctioned off at the annual humane society's fundraising auction. They also host a garden and deck party every year to raise more funds.
"I love being part of the humane society because everyone involved have a love for community and for the animals that are brought to the humane society each day," Bozeman says.
Through his involvement with Leadership Kitsap, Bozeman helps develop strong local leaders who can continue to impact change. Founded by the Kitsap chambers of commerce and the United Way of Kitsap County in 1993, Leadership Kitsap has graduated hundreds of servant leaders into the community through its 10-month program and has developed more than a hundred community service projects throughout the county.
Bozeman feels that Leadership Kitsap Executive Director Kate Walters has done an "outstanding job of leading and improving the organization" and says he's happy to donate both time and money to an organization that's making a positive difference.
He believes a community is reflective of its leadership. In addition to serving on the board for the eight years, he's been speaking to the incoming Leadership Kitsap class for many years about his ideas around leadership. He also hosts "A Conversation with a Community Leader," a BKAT cable show sponsored by Kitsap Leadership and featuring nonprofit leaders who are making a difference.
Another one of Bozeman's numerous contributions was serving as the co-chair of "We Are Kitsap" endowment campaign for Kitsap Community Foundation for two years. The campaign raised more than $10 million.
"I have spent my entire life in public service because I have always had a passion for wanting to make a difference in my community," he says. "I love having the opportunity to create positive change by having a vision and acting on that vision by involving other people, putting a plan together, creating partnerships and making life better for people. It is what has driven me my entire life and still does to this day."
Why be involved
Most importantly, I believed in the organizations' mission and believed it would help me grow as a person. I love being a part of a team that is doing good work and improves the quality of life for people in the community.
Why it's important
First and most important, the work is benefiting my community. I learn every day from the people I work with and it allows me to challenge my own comfort zones. I believe in lifelong learning and these experiences support my own personal growth.
Best part of the 'job'
Working with other passionate, committed people who are motivated to making it a better world. They inspire me. Also as a senior citizen, I enjoy working with younger people — they give me hope for the future.
Biggest challenge
For almost all nonprofit organizations, the biggest challenge is being able to raise the funds needed to support the mission. There is always more to do than there is money to do it. The question you always have to ask yourself is how much time you are willing to commit to the organization and how can you help give or raise the funds needed to accomplish the goals.
Best compliment
Knowing that my involvement is helping the organization and making a difference. A simple thank-you is all that is needed. I love it when people write personal thank-you notes.
Things I can't live without
Knowing that my wife, Kerri, and our family and our children are safe, happy and healthy. That's all I need.
Best ways to relax
I love to read about history and leaders who make history. I enjoy reading the New York Times each day. I am a daily walker and enjoy working in our garden. Having a glass of wine on our deck with my wife each evening is a great way to end the day.
Hobbies outside of work
I have always loved playing a round of golf with my friends on a beautiful golf course. Gold Mountain is my favorite. I am not a good golfer but it's a great way for me to spend four or five hours away from my normal activities. I also love to write and voice my opinion about things going on in my local community. I am a terrible cook but love cooking.