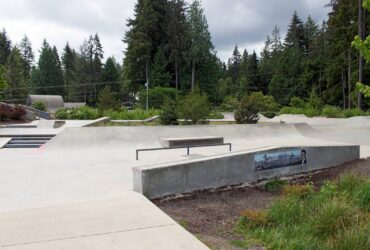 Wheels screech up and down ramps, scraping against hard cement walls as wheel recreationalists attempt an "ole." Checking every angle to see how the ramp could be used in a unique and creative way, skaters give each other advice as they practice and perfect their moves. It's a typical scene at a skateboarding park — including in West Sound.
Locally, skating was big in the '80s and '90s. The social aspect was enticing to teens. Skaters were seen as athletes, and the ones who could do certain tricks were "cool." Then came a rebellious stereotype association with the term "skater."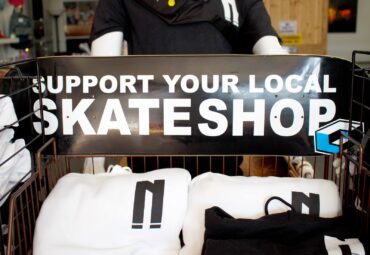 But times have changed. So much so, that soon top skaters will be able to go as far as the Olympics — in 2021, the Olympic Committee is expected to officially designate skateboarding an Olympic event.
Skaters truly are athletes. It takes dedication, athletic ability and repetition to perform. Beginners start with simple moves, then after achieving a certain level of skill, creativity comes into play.
Eric Mahler, a successful coffee roaster and the owner of Poulsbo's Caffe Cocina, grew up as a skater in Silverdale. He says skating for him started out as a way to attract girls — but reflecting back, it turned into one of the biggest influences of his life.
"Skating is probably what made me the business person I am today," he said. "You fail all the time. That's probably why I'm so motivated and dedicated to do what I do. I want to hit that rail on the 'back nine' and it doesn't matter how many times I fail."
West Sound has several skate parks open to the public, including Kingston's Billie Johnson Skate Park; Silverdale's Gateway Skate Park; and the newest and largest, the South Kitsap Regional Park's Skatepark. There are also skate parks in Gig Harbor, Bremerton and at Bangor, Island Lake Park, Little Boston, Strawberry Skate Park and Poulsbo's Raab Park.
Every park is set up differently, giving skaters the freedom to use the rails and walls to their liking. Some, like Island Lake's and Kingston's parks, have hosted skating events. (The 2018 Skate Jam brought out a crowd to Billie Johnson Skate Park for an event complete with stiff competition, prizes and sponsors.)
Skating enthusiasts can also find everything they need at the two main skate shops in Kitsap: Unity Skate Shop in Port Orchard and Norse City Boardroom in Poulsbo.
Unity Skate Shop opened in March 2015. Owner Ian Wilhelm and his wife have been involved in the skating community for years. He has been skating since he was 6 years old, and his family moved to Port Orchard when he was 12.
Wilhelm has been building skate parks and ramps and was part of building Kitsap's biggest indoor park and the outdoor South Kitsap Regional Skatepark.
"It's a way I can help teach kids how to skate and get them involved in skating," he said.
Unity Skate Shop provides everything from skateboards to roller skates and safety gear. The shop also hosts live music such as punk rock shows, rap shows, comedy shows and even art shows. During time of quarantine, the business has been shipping gear and equipment around the world.
Skateboarding is a lifestyle for Wilhelm, and he doesn't know what life would be like without it. He wants skate boarders to have a place to meet and hang out, taking ownership of the shop. He also uses his business to help the community and give back. Unity Stake started Skate Jam in Kingston as a fundraiser for Kitsap Cares, and also hosts smaller-scale skating events, giving cash prizes to winners.
He believes skating is a great way to mentor the younger generation and bring everyone together, "connected through skateboarding."
"We all identify through skateboarding," Wilhelm said. "There were a lot of struggles in the skating community, getting gear, boards and equipment. But everyone knows each other and grew up together and is family."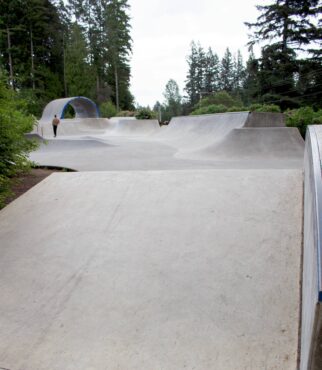 This community spirit can be seen in action at the South Kitsap skate park as well. South Kitsap skater James Lund said the reason the big South Kitsap Regional Park is free of trash and graffiti is due to a regular group of skaters who've become stewards of sorts. In addition to consistently picking up trash, they're aware of the local graffiti artists and advise them to steer clear of the park.
Like Unity Skate, Norse City Boardroom is also active in the community. The shop opened in Historic Downtown Poulsbo in July 2018, and recently started offering online orders and delivery.
Owner Kevin O'Brien runs a blog for area skaters to keep up with events. According to the store's Kelly Fischer, Norse City is also actively involved in bringing a new, state-of-the-art skateboard project to Poulsbo, much like the one in Port Orchard. Norse City Boardroom is leading the charge with petitions for a new skate park.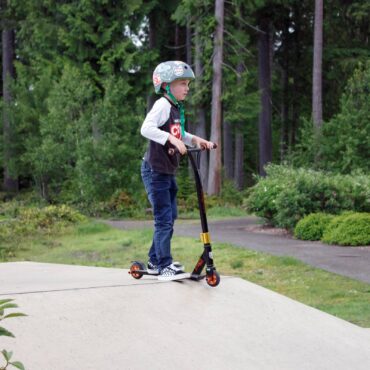 The city is considering several potential locations, according to Fischer. The group plans to form a nonprofit for fundraising.
"This city's goal is to finalize the project within the next three years, after Public Works vacates their Iverson location," Mayor Becky Erickson said. The city council will then decide on how best to utilize the space.
During the quarantine, many West Sound skaters took advantage of their free time to learn new skating tricks. Among them was Emma Laurion. New to skating, she's been practicing as much as possible recently.
"It's a fun way to get outside and stay active with my brother," she said.
As the weather gets better, more folks will want to get out their dusty boards to give themselves something to do. Some may even use it as a form of transportation. Whatever reasons motivate them, they'll find plenty of areas around West Sound to follow their passion.