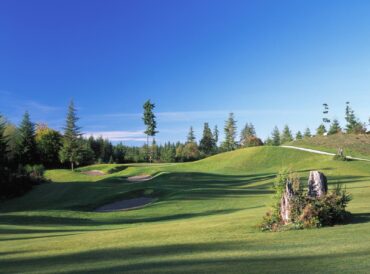 Here's a trivia question for you. What is the Kitsap Peninsula best known for? Sure, there are beautiful gardens and forests, more than 200 miles of shoreline, unique shops, restaurants and businesses, stunning waterfront homes, and some of the country's largest naval installations.
But what sets Kitsap apart from other regions its size is its incredibly diverse array of championship-caliber golf courses.
"We have three of the top seven or eight courses in the state within 10 minutes of each other," says Daryl Matheny, general manager of Gold Mountain Golf Course in Bremerton.
Matheny, who has been in the business for more than three decades, is referring to the Olympic Course at Gold Mountain, where the U.S. Junior Amateur Championship was played in 2011; McCormick Woods in Port Orchard, designed by legendary golf course architect Jack Frei in accordance with the Audubon Society to optimize its serene location; and the nearby Trophy Lake Golf & Casting, consistently ranked by Golf.com and Golf Week as one of Washington's, if not the West Coast's, top courses.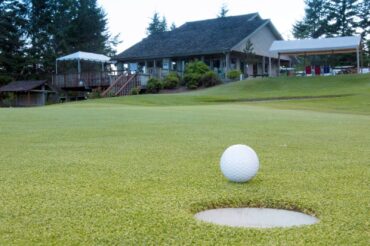 "You look at it from a conditioning, playability and toughness standpoint (and) you're not going to get a better challenge. Plus, the great amenities," Matheny says. "And they're all beautiful courses."
Besides the trifecta of celebrated courses in Bremerton and Port Orchard, West Sound has a handful of other notable layouts for golfers of all abilities. These include Canterwood in Gig Harbor, Horseshoe Lake in Port Orchard, Lakeland Village Golf in Allyn, Kitsap Golf & Country Club and Rolling Hills Golf Course in Bremerton, White Horse Golf Club in Kingston, The Resort at Port Ludlow, and Meadowmeer Golf & Country Club and Wing Point Golf & Country Club on Bainbridge Island.
"We're lucky to have so many great options for golf in this area," says Dale Knell, a Bainbridge businessman and avid golfer. "Most of them are affordable and well maintained and can be enjoyable for any skill level golfer."
Knell, whose home course is Meadowmeer, frequently drives off the island to play at other local courses. "My golfing buddies who live in Seattle are definitely jealous about the golfing opportunities over here," he says.
Steve Decoy would agree. He and his good friend, Frank Horton, have been golfing together since the early 1990s. The pair figure they play anywhere from three to five days a week depending on the time of year — this past winter, with its extended cold snap and snow, being the rare exception.
The two are fixtures at Gold Mountain but play all over the county thanks to tournaments they enjoy entering annually or special events that Decoy has organized, such as the emerging Kitsap Cup.
"We live in a golf mecca," says Decoy, a 63-year-old Puget Sound Naval Shipyard retiree. "I live in Sunnyslope and I'm three minutes from McCormick Woods, five minutes from Trophy Lake and seven minutes from Gold Mountain… I've got some great memories of twilight golf coming down the 18th fairway at McCormick Woods, with the sun setting. Nothing better."
Horton, 71, is the husband of former Bremerton Mayor Lynn Horton. He's also retired and was once Decoy's boss in an engineering unit at the shipyard. He has the same admiration for Kitsap's spectacular links, but really enjoys playing golf with and meeting new and familiar folks on the course.
"The people are just awesome," he says. "It's a really nice (golf) community."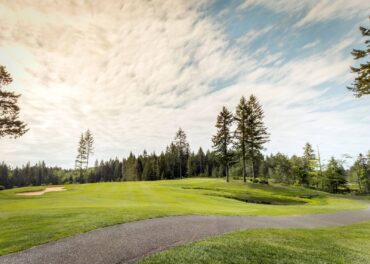 Historically, the Kitsap Peninsula has been home to a cross-section of venerable public and private golf courses. But the area didn't begin gaining a national reputation for its beautiful and challenging courses until the mid-1980s and the 1990s, when McCormick Woods (1986) was chiseled out of the surrounding wilderness, as was Trophy Lake (1999), and Gold Mountain added its spectacular Olympic Course (1996).
What really catapulted Kitsap to the top of the golfing world was Gold Mountain's Olympic Course hosting the 81st U.S. Amateur Public Links Championship in 2006. That same year, the Olympic Course was ranked among America's top public courses to play.
Back then, golf was exploding among baby boomers with expendable incomes and novice golfers who enjoyed watching a certain professional on TV.
"Tiger Woods' popularity helped tremendously," recalls Gold Mountain's Matheny. "We hadn't had a growth spurt in 10 or 15 years, (but) with Tiger on the scene, it increased tenfold."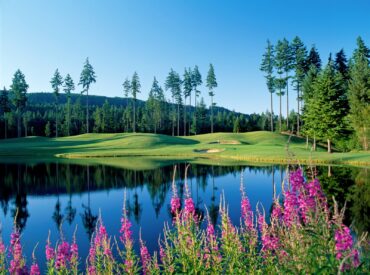 White Horse came on board in 2007, adding even more prowess to the region's golfing options. The sporting press loved the layout's challenging holes, deep rough, gaping sand traps and sleek greens. But some midlevel players complained at how tough it was to play and its new owner — the Suquamish Tribe, which purchased it in 2010 — has made it more amenable to average golfers.
"We worked on softening the greens, filling in half the sand traps (at one time there were 150 of them), and made it more playable," says assistant pro Kevin Miller. "Play has definitely increased." In fact, in 2019, White Horse had its most rounds ever.
Lee and Marianne Jorgenson were avid golfers at Wing Point on Bainbridge before selling their restaurant business a few years back and moving to Gig Harbor. The two have been testing out Gig Harbor area courses — including Canterwood — in search of a good fit.
"I've played some rounds at Canterwood," says Lee Jorgenson, who's a published author. "It's a difficult course, with elevated greens and gaping sand traps, but it's like an architectural tour." Jorgenson, and most anyone else who has played the private track, is awed by the houses that line the fairways and surround the greens at Canterwood. "I've never seen a course in the Northwest with more beautiful homes," he adds.
Other Kitsap courses have seen a similar uptick in play.
"Our membership has remained steady," says Steve Anderson, superintendent of golf at Lakeland Village, a semiprivate course with 27 holes in Allyn. "The people who live here love it."
Most of the top courses attract players from Seattle, Tacoma and the Eastside. And, in the case of Gold Mountain, from "all over the world," says Matheny of his two 18-hole tracks, the only local municipal courses.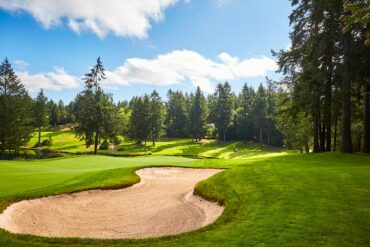 While golf is certainly the main attraction for the West Sound's many courses, most have superb restaurants open to the public, and adjacent clubhouses and facilities set up for special events, weddings, conferences, picnics and the like.
Some also offer separate layouts for foot golf and disc golf — two emerging sports favored by millenials and Gen Xers.
But at the end of the day, it's the look, feel and reputation of the golf courses that keep people coming back. From Bainbridge Island to Gig Harbor, West Sound courses are classic Pacific Northwest layouts, with tall trees, narrow fairways, rolling hills, challenging water hazards, thick rough and sleek greens.
Play a round on almost any layout in West Sound, and you're bound to see deer strolling across fairways or eagles flying overhead. You may even spy a river otter or two, or maybe a possum seeking shelter.
On some courses, views of the surrounding Olympic Mountains and the not-too-distant Cascades are spectacular. At No. 6 and No. 18 at Trophy Lake, you can even fly fish while waiting to tee off. The nearby pond is stocked with rainbow trout and poles are available for golfers to cast about.
Local courses are also affordable for most budgets. Unless the course is private like Canterwood, Kitsap Golf & Country Club and Wing Point, many offer seasonal rates, monthly fees, men's and women's clubs, and twilight fees that allow both serious and casual golfers to play as often as they'd like.
And for diehards like Dave Reeves, who recently moved back to the Peninsula from the East Coast, the weather is no problem.
"Compared to Rhode Island, it's great," he says. "You can play year-round. If you use a heated cart, I think there are only two or three days a year you can't play 'cause of weather. The courses stand up (to the conditions)."
Indeed, regulars like Decoy, Horton and Knell not only enjoy the scenery and topography of the West Sound courses and playing in every type of weather, they also relish the challenge of some of the area's tougher holes.
"I like a hard hole," admits Decoy, a 13-handicap golfer. "The seventh at Trophy Lake is fun. It's a par 5, downhill with a dogleg right. The No. 5 at McCormick is a neat hole. It has a pond and a seasonal swamp, and the swamp changes colors."
Horton remembers playing on a Super Bowl Sunday at McCormick Woods and "watching balls fly off frozen ponds."
For Knell, the 18th at White Horse stands out. The dogleg left, with a huge pond accompanying it on the left, can be intimidating. "It can ruin a good round in a heartbeat if you're not careful," he says. "But it's beautiful — it's one of my favorite finishing holes."
Kevin Dwyer is a Bainbridge Island writer and high-handicap golfer.
Kitsap Peninsula Golf Courses
Go to visitkitsap.com/golf to download Visit Kitsap Peninsula's Golf Guide, which includes a map of golf course locations.