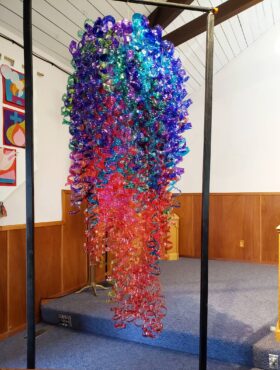 This "chandelier" was created by a group of students from the Community Transition Program at South Kitsap School District. Made from 400 plastic water bottles, it's 8 feet tall and 4 feet wide and is currently on display at the Port Orchard City Hall.
The 11 students in Romny Arnold's class worked for six months on the sculpture as well as discussing how plastic is invading our oceans and causing harm to marine life. Sarajane Rants taught the class on "Saving Plastic Before It Enters the Ocean" as part of Arts For Learning.
Rants told all her friends about the project and the need for bottles, and students and instructors collected as well. She constructed the piece on armature of chicken wire in her garage with help from friend June Garrett-Groshon.
Rants was inspired by a chandelier she saw six years earlier at Manchester Elementary School, made by fourth graders in Mark Hoynes' class. Hoynes died from cancer in January 2019 and Rants dedicated the sculpture to him.
The chandelier was on display for several months at Colby Methodist Church before moving to its new, permanent home.