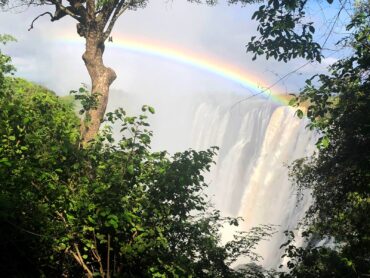 The photos don't do it justice. The immense size of Victoria Falls and the tremendous amount of water flowing is hard to describe — or capture with a camera. You really must experience it; hear the roar, feel the vibration, taste the mist, witness the majesty.
Victoria Falls straddles the countries of Zambia and Zimbabwe in Central/East Africa and is the second- most-visited sight in all of Africa (Pyramids of Giza are No. 1). It's worth the effort it takes to arrive here from the United States.
Many combine a visit to the falls with stops in other African nations such as nearby South Africa, Kenya and Tanzania. But even if you are only coming to see Victoria Falls, it's worth the trip.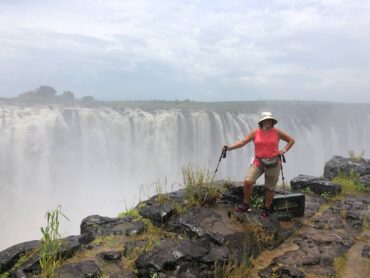 If you prefer a tour service where everything is done for you, there are dozens to choose from. But the area around Victoria Falls is very manageable on your own, and for budget travelers, a self-guided tour of five days is perfect. You can enjoy both the Zambia and Zimbabwe sides, as well as pick and choose from a wide variety of activities geared toward tourists.
Interesting Facts
The locals call it Mosi-oa-Tunya, meaning smoke and thunder, but David Livingstone gave it a European name in honor of Queen Victoria in 1855. The Zambezi River flows some 1,700 miles before plummeting over the 360-foot drop and then continuing on eventually to the Indian Ocean.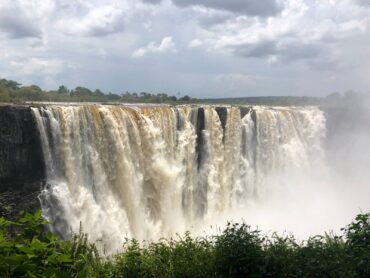 The falls are spectacular due to their width — 5,604 feet, about a mile and a quarter. When the water is high, the cascade sheet is a phenomenal sight to see.
Arrival
On arrival or ahead of time online, be sure to get a KAZA visa. It allows you to enter Zambia, Zimbabwe and Botswana with only one visa. The KAZA visa will save you a little money and a lot of time as you bounce around the borders.
Choosing to fly either to Livingstone in Zambia or to Victoria Falls City in Zimbabwe is your biggest decision. Both areas offer multiple accommodations, restaurants, transportation and access to the falls. You can easily cross the border on foot or via a taxi or tour.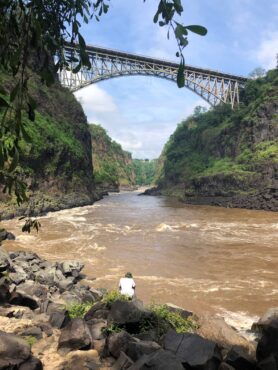 Where to Stay
On both sides of the falls, multiple riverfront resorts cater to high-end travelers (such as the historic Victoria Falls Hotel in Zambia) starting at about $500 a night. Budget-friendly accommodations abound, however, for those looking for quality without the big price tag.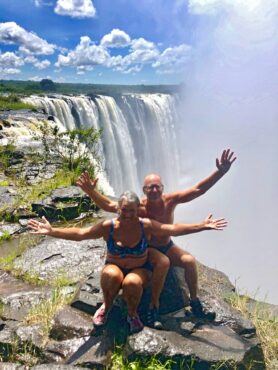 In Livingstone, the Ngoma Zanga Lodge is a beautiful oasis with a pool, hidden off the main road and about a 10-minute taxi ride to the falls. With breakfast, it runs about $95 a night.
When to Visit
The region has two seasons: wet or dry. Wet season means the water will be flowing heavy due to rains. Dry season will be hot and sunny, but the falls will not be thundering. From February to May is the wet season, and usually considered the best time to visit.
Day One
Arriving in the late afternoon, you can either relax from your long travels or take a taxi for your first glimpse of the falls. Be sure and check the phase of the moon. If you are lucky enough to visit the falls on a full-moon, clear night, you don't want to miss what is known here as a "moonbow" after dark at the falls.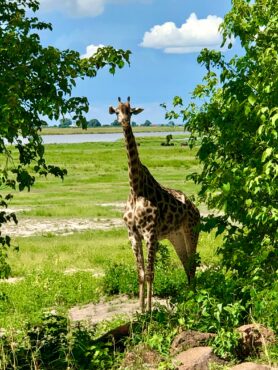 Day Two
This is your main falls day. Wear good walking shoes and be sure to have a good poncho, not the cheap, throw-away plastic kind. Those aren't allowed in the park. If you don't have a poncho, there are plenty of vendors willing to "rent" you one.
Start your day at either the Victoria Falls National Park in Zimbabwe ($30 entrance fee) or the Mosi-oa-Tunya National Park in Zambia ($20 entrance fee). The Zimbabwe park is a bit larger and offers some spectacular views. It also has some interpretive information.
The Zambia side also offers great views, including a bridge that gets you very close to the falls as well as a hike down to the river to what's known as "Boiling Pot."
You can easily do both sides in one day. Walk or take a bicycle taxi from one park entrance to the other (under a mile and a half) over the Victoria Falls Bridge. Both border crossings are relatively simple with your KAZA visa.
Most importantly, take your time and don't worry about getting wet — it's part of the fun. The falls are breathtaking from every angle and viewpoint. Look for the ever-present and undulating rainbows, and keep your eye out for the many birds, lizards, butterflies and baboons.
Day Three
Today is dedicated to observing the area's abundant wildlife on a full-day tour to Chobe National Park in Botswana. Well worth the $170 per person and includes all transportation, lunch and guides.
Departing around 7 a.m., the drive to the border crossing is in itself an adventure. Cross the river in a small boat (a new bridge is scheduled to open in late 2020) and meet your safari guide on the other side of the river.
Spend the rest of the morning on a small boat cruising the Chobe River that wanders between Botswana and Namibia. Wildlife is abundant; expect close-up encounters with hippopotamus, crocodile, elephant, water buffalo, antelope and hundreds of birds.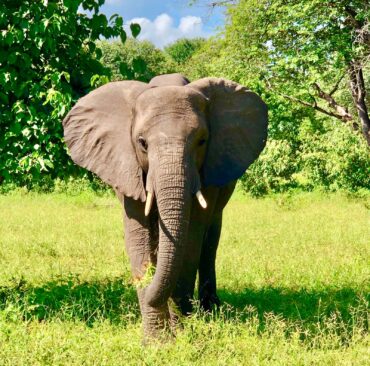 After a delicious buffet lunch, continue your land safari journey through Chobe National Park, home to more than 600 elephants. You might not see any large cats (they keep a low profile) but you will see so many elephants, it's astounding — as well as giraffe, antelope and beautiful birds.
Day Four
Start your day with a morning tour and swim in either Angel's or Devil's Pool. Warning: This activity is not for the faint of heart. These pools (Devil's pool accessible only during dry season and Angel's Pool only during early wet season) are literally at the edge of the falls and it is a bit of an insane adventure.
Cost per person with breakfast and boat ride to the pools is $80. It's not for everyone, but if you are game, you will certainly never forget it.
Day Five
Enjoy a quiet day by your hotel pool or walk around Livingstone or Victoria Falls City and pick up some souvenirs. Then on your final evening, take a sunset boat cruise on the Zambezi upstream of the falls. A two-hour cruise will run $75 and includes open bar and appetizers.
On the tour, a naturalist on board will point out hippos and crocs in the river and giraffes and elephants along the shore, as well as dozens of birds. After enjoying the beautiful African sunset, return to your hotel and prepare for your flight home.
Much of Africa is difficult to access without a guide, but not the Victoria Falls region. It's friendly, easy and stunningly beautiful for a self-guided, budget-friendly visit. Add it to your travel plans soon.