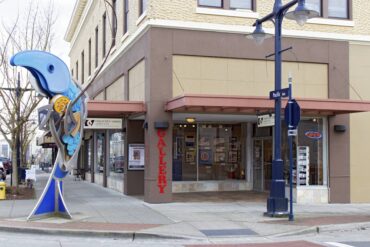 Historically, co-operative art galleries have served two functions: as a small-town network for local artists and as an alternative to the established, more conservative artworld.
The still-active Carmel Art Association in the California village of Carmel was founded in 1927 to provide support for far-flung artists living on the Monterey Peninsula. It claims to be the oldest artist co-operative in the country.
In New York City, where local artists grew frustrated by an artworld dominated by wealthy dealers and gallery owners who decided what qualified as acceptable art, co-ops were founded to redefine the retail art business. In the 1950s, they opened a group of modest, artist-run galleries known collectively as the 10th Street Galleries to showcase American and experimental forms of art.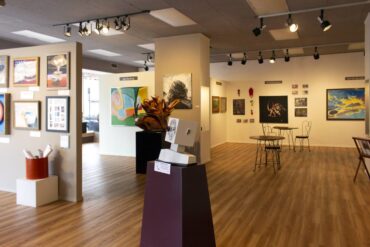 In the early '70s, co-operatively run galleries redefined retail art again, this time as an answer to gender discrimination. With only 2 percent of traditional galleries in the country representing women artists, New York artists founded Artist In Residence Gallery (A.I.R.), the country's first all-women art cooperative; an organization that is still redefining gender and art.
The art-appreciating West Sound region is fortunate to have five co-operative art galleries — two of them the state's oldest. Poulsbo has Verksted Gallery and Front Street Gallery, Bremerton has Collective Visions Gallery and Gig Harbor has Gallery Row Art Gallery and Ebb Tide Art Gallery. Though their origins vary, they have a symbiotic relationship, supporting each other with advice and serving as mutual tourist and event draws for their communities.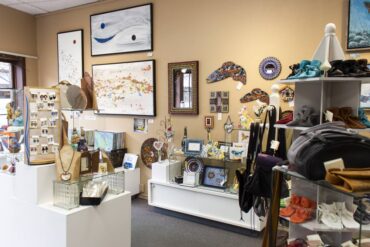 What makes a co-operative art gallery different from the commercial art galleries that also flourish in the area? Typically, a traditional gallery is a private business representing a limited set of artists and their work. The gallery owner is responsible for pricing, marketing and selling the art and, in return, takes a commission of the final sale.
A co-op is a democratically run collective of artists who make all the decisions about the gallery operation, merchandising and promotion. They produce the art, staff the exhibition space and do the myriad of tasks it takes to run a retail business in order to reduce overhead costs and maximize the artists' net income on sales of their work.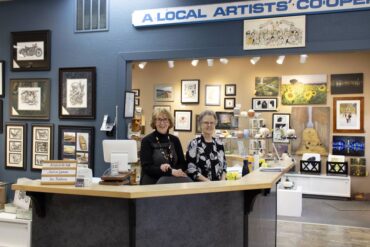 As Poulsbo co-op members Karen and Jerry Lyman describe it, all co-ops are similar in function by giving members the benefit of an open gallery without the total responsibility. They recommend for individuals interested in joining a co-op to decide which venue fits their personality, expectations and type of art and craft they wish to present to the community.
Verksted Art Gallery, Poulsbo
Founded by Mary Heffner and Elizabeth Haney in 1987, Verksted is the third-oldest co-op gallery in the state. The two painters wanted to give other local artists a chance to share their work and get feedback so they could not only sell their work to the public, but also improve, according to member Dinah Satterwhite.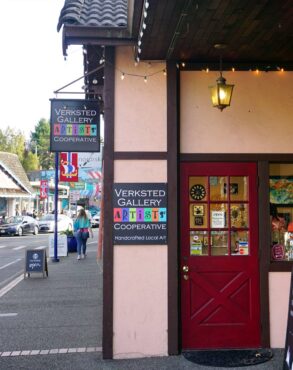 After visiting other co-ops for ideas, including Ebb Tide Gallery in Gig Harbor, they found a vacant space in downtown Poulsbo and named it Verksted, the Norwegian word for workspace. Today, the gallery represents 31 artists who work in a variety of mediums. True to the gallery's Norwegian heritage, some of them produce Scandinavian-themed art such as bentwood boxes and decorative woven wheat.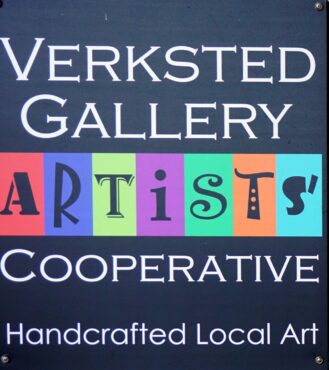 A board composed of the artists and governed by a set of bylaws runs the gallery. Artists wishing to become members must submit five samples of work in one art medium and supporting materials. A committee screens the artists and their work, and then the general membership evaluates for quality and variety. Once accepted, each artist is expected to work a minimum of 16 hours a month, including managing the gallery during open hours.
Front Street Gallery, Poulsbo
A few doors down is Poulsbo's second co-op, Front Street Gallery, the youngest member of the West Sound co-op family. According to member Anita Albala, the gallery originated in Kingston as the Kingston Co-Op after its founding artists sought advice from Verksted about how to get started. When the gallery eventually moved to downtown Poulsbo in 2011 under a new name, it received an enthusiastic reception from its Verksted neighbors.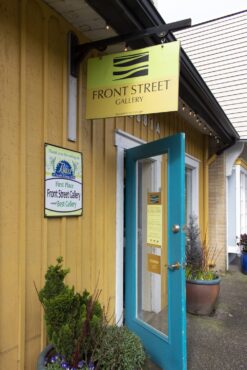 "Every artist works shifts each month to keep the gallery open. In addition, each member is part of a committee. Groups are responsible for displays, facilities, special events, membership, calendar and publicity," explains gallery manager and member Pamela Dick.
The tasks of running a co-op can be as creative as the art its members produce. Albala likes to work on Front Street's window displays. Verksted member Satterwhite enjoys creating its marketing programs and the Lymans enjoy meeting visitors from other countries when they're working behind the counter.
When you ask the artists at both galleries what distinguishes the two art venues, they'll tell you that Front Street has more flexibility — artists can be part-time members with half the responsibilities — and Verksted has more gallery wall space. But as Albala makes clear, "both galleries offer a unique and dynamic experience for an artist."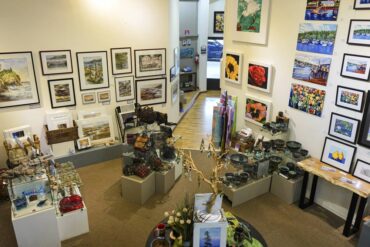 Ebb Tide Art Gallery, Gig Harbor
Ebb Tide was founded as an exhibition space for artists whose work was not accepted by commercial galleries, according to member and photographer Bryan Peterson.
"We got our humble beginnings in 1984, making us one of the oldest co-operative galleries in the state," he said.
Fourteen artists aged early 30s to 80- plus make up the membership roster. Prospective artists bring in four to six art pieces and go through an interview, with existing members serving as juries.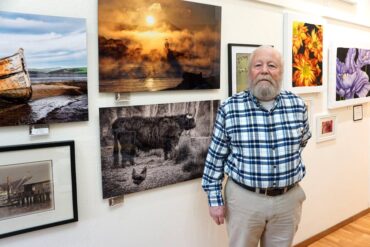 Two-thirds of the gallery's artists have a day job. Others, like Peterson, a retired fire marshal and forensic photographer, now have the time to pursue art. As with other co-ops, the artists are expected to work at the gallery in shifts that depend on the number of members.
Ebb Tide distinguishes itself from Gallery Row around the corner by the diversity of the art it displays and sells in its two-story location.
"We're an art and gift gallery," Peterson says. "Our membership includes both artists and makers."
Gallery Row, Gig Harbor
Founded three years after Ebb Tide, Gallery Row started small, with 16 artists. Eventually, it increased membership, outgrowing the space and moving. Today, the gallery features a combination of fine art and gifts created by co-op members.
Once a year, Gallery Row sponsors a juried show for outside artists called the Itty-Bitty Show, an event that features small-sized, two- and three-dimensional art. There's enough space in the venue for its artists to teach classes including a popular sumi painting class.
Members, some who have been with the co-op since its beginning, are expected to work two to three days a month and attend a monthly meeting that also includes time to rearrange the gallery's artwork.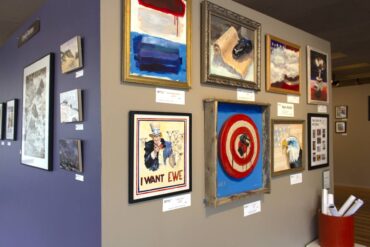 Collective Visions Gallery, Bremerton
Bremerton's Collective Visions Gallery, known locally as CVG, has seen a few changes since opening in 1994. Originally called the Washington Avenue Gallery, it changed names in 1996 after being forced to relocate.
Now situated in downtown Bremerton's Arts District, it occupies the ground floor and basement of a former bank, making it the largest of the area's co-op galleries. The additional space provides CVG room to sponsor other arts events, including popular concerts and lectures.
The 20-plus artists who make up the CVG collective take their role as an arts center seriously. The gallery annually sponsors a juried art competition and show that is open to Washington state artists and often includes members from the other area co-ops. The basement exhibition space, called the Underground Gallery, is a venue for other artists and arts organizations to exhibit. In 2020, the West Sound Printmakers, the Bremerton Weavers Society and the Bremerton High School Annual Spring Art Show will have shows in the Underground Gallery.
When you walk into a co-op gallery, you know the staff behind the counter are its working artists responsible for explaining and selling the work of their fellow artists in the collective.
Satterwhite explains the attraction for an artist this way: "By listening both to customers and fellow artists, we're able to grow as artists."
It's a unique feature that encourages longevity. All the area co-ops have among their current membership artists who were the venue's early founders. If you're lucky when there, you may find one of them working the gallery floor. It's an opportunity to learn local art history as you appreciate the talent of the area's artists.