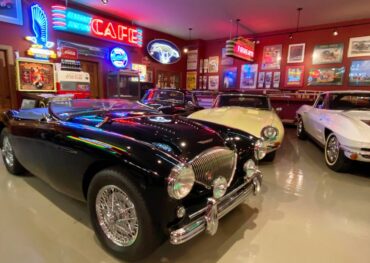 Walk into Ron Perkerewicz's rather nondescript-looking garage — located on a 25-acre farm in Central Kitsap — and you might find yourself being transported to an earlier era.
Parked in the shop is a tricked-out 1933 Ford two-door sedan with streamlined running boards and updated interior, a black 1963 Studebaker Avanti with built-in roll bars and disc brakes, and, among many other vehicles — one in the process of improvement — a 1929 Model A that has been in the family for five generations and is the only known vehicle to have driven on all three of the Tacoma Narrows Bridges.
Strategically placed in this very masculine-feeling space are engines, transmissions, paint cans, tools, pumps, neon signs, paintings and car memorabilia, like the wooden sculpture of a ma"tre holding a can of oil on a tray. Very cool.
All over the Kitsap Peninsula, there are guys, and increasingly these days, gals, with a classic car or two stashed away in a favorite space or hidden under cover on their property, waiting to display them at weekly car shows that are popular around the region from roughly April to October, weather permitting.
While many of these folks certainly enjoy their hobby, talking up cars and oohing and awing over someone's fancy new tires or slick paint job, others, like Perkerewicz, take it to the next level of auto geekdom, owning multiple cars and displaying them at shows all over the West.
Ron Muhleman, retired Sr Director of Operation with E W Scripps, his obsession with cars has been a family affair. He often caravans with 25 or more cars to shows in far-off places like Yellowstone National Park in Montana and Penticton, British Columbia, with his girlfriend and fellow car enthusiast, Carol Bailey, along for the ride, as well as sons and daughters-in-laws. His identical twin brother Bob, younger brother David, and his kids and grandkids all have and enjoy old cars.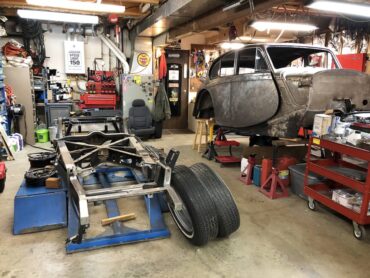 Perkerewicz is no different. He's done cross-country trips with dozens of cars, caravanning to big swap meets like the one in Carlisle, Pennsylvania, or to the Jay Leno Show in Los Angeles.
"We've had some good times and great adventures," says the 75-year-old Perkerewicz, referring to his wife, DeAnne; adult son, Adam; and many friends.
Both Muhleman and Perkerewicz began their hobbies not long after they learned to walk, let alone being old enough to acquire a driver's license.
"In my case, it goes back to our dad and grandfather," Muhleman says. "We're gearheads. When we were kids growing up, we did go-cart racing, drag racing, motorcycle racing." So obsessed with cars and motor sports are the Muhlemans that Ron cautioned the prospective wives of his three sons — who are also car junkies — so that they would know what they were getting into once they tied the knot." It's an illness," he jokingly says.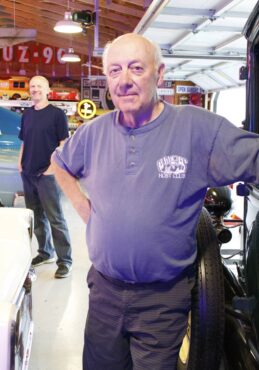 Perkerewicz has a similar tale to tell.
"My dad built me my first car when I was 4 years old," he recalls of his youth growing up in Grand Forks, North Dakota. "He was a Ford mechanic forever. I guess it (owning and working on cars) came naturally to me."
Over in the Gig Harbor area, Jim Smalley is similarly obsessed with automobiles and car culture. He has a 3,500-square-foot garage on his property that is chock full of some the region's toniest classic cars, from a 1929 Ford Roadster to a 1955 Austin Healey 100. The latter being one of his most prized possessions and favorite cars, as it is one of only 50 hand-built at the British brand's manufacturing plant.
Nowadays, Smalley has about nine or 10 classics parked in his garage, including Porsches, a 1963 Chevrolet Corvette split-window coupe and an exceedingly rare 1967 Buick Riviera GS with 50,000 original miles.
Like fellow car addicts Perkerewicz and Muhleman, Smalley can recite intricate features of his cars ad nauseam and provide interesting background, history and details. He estimates he has somewhere in the neighborhood of 15 cars under wing at any one time.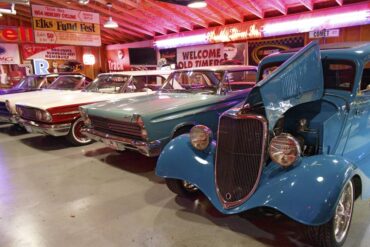 "A few are elsewhere being restored," one as far away as Melbourne, Australia, he says. "I should sell some, (but) I (truly) enjoy the hunt and the restoration process and the judging more than anything else."
The 64-year-old Smalley is a senior portfolio manger with the Gig Harbor and Silverdale offices of Morgan Stanley, where he's practiced his investment trade for more than three decades.
He grew up in Bremerton and his family once operated Smalley's Drugstore on Callow Avenue in the Charleston district, as well as a drugstore near Kitsap Lake that is now the Big Apple Diner. He thought he would become a fourth-generation pharmacist and run the family business, when in the early 1970s, his father saw the writing on the wall and sold one of his stores, then another in the mid-1990s.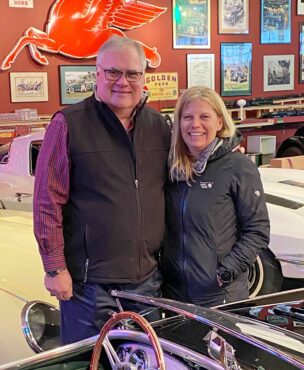 Instead of filling prescriptions, Smalley graduated from the former Brooks Institute of Photography in Santa Barbara, California, and learned just about everything there is to know about taking and processing photos. He taught night classes on the subject at Olympic College for nearly 20 years and still enjoys photography today.
Walk into the Smalleys' living room, and you'll see evidence of this "other" passion hanging from the walls: iconic black-and-white shots of Muhammad Ali and Joe Frazier in their later years, a solitary James Dean walking down a lonely road and the start of the famous Lemans 24-hour road race in France.
Just like Perkerewicz and Muhleman, Smalley got the car bug at an early young age, constantly buying and then trading up cars. When he was in college, he owned a Morris Minor, a vintage British economy car "that kind of looks like a Volkswagen Beetle." He owned a BMW in the early 1970s when few Americans possessed foreign automobiles.
"A girl I was dating (back then) said, 'How come you always show up with a car no one has ever heard of,'" he recalls with a chuckle.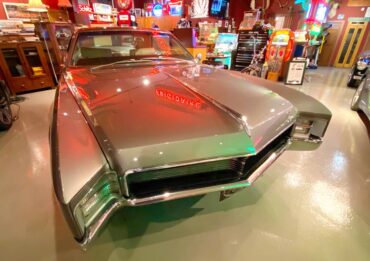 Smalley, who later studied economics before launching into his stock-brokerage career, figures he has worked on or owned more than 80 cars over the past 48 years. Muhleman is no different, estimating he's tinkered with at least that many or more since he was a kid. Perkerewicz, who spent much of his working life as director of community development with Kitsap County and now helps his son in a home-inspection business, says he's tackled at least 150 cars over a 45- to 50-year span.
While Smalley has done some hands-on work on his cars over the years, he tends to turn over most of the skilled work of restoring his classics to the professionals he's worked with for many years. By contrast, Perkerewicz and Muhleman are both bonafide grease monkeys, getting under the hood, changing out engines and transmissions, rebuilding interiors and reassembling parts.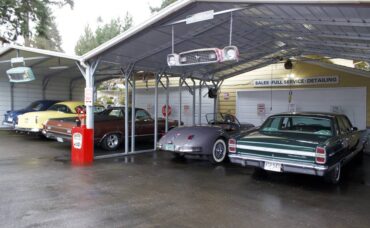 "For me, it's always something different," says the 72-year-old Muhleman. "You get to work with your hands, take something apart and put it back together again… That's the only way I could afford to do it."
Adds Perkerewicz, who is one of only 18 members of the prestigious Oldtimers Northwest classic car fraternity, "When you work on them, it's like the old days. It's simpler, you get to be creative. It's a good outlet."
Smalley might not work on cars to the level of Perkerewicz and Muhleman, but his car-culture legend goes well beyond the Kitsap Peninsula. He has attended the world-renowned Concours d'Elegance in Pebble Beach, California, for more than 30 years, as well as the Quail in Carmel and the Forest Grove Concours in Oregon.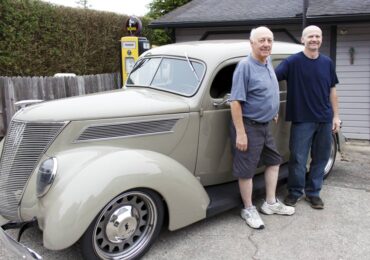 What's more, he's been the head judge for the Healey Club of America in Austin for more than a decade, flying around the United States and Canada to lend his expertise.
The Pebble Beach Concours, featuring some of the world's classiest classic cars, takes place every August on the California coast and features a weeklong line-up of events capped off by a juried car show. Among recent winners were some amazing machines: a 1937 Cadillac Series 90 Hartmann Cabriolet, a 1937 Alfa Romeo 8C 2900B Touring Berlinetta and a 1929 Rolls-Royce Phantom Brewster York Roadster.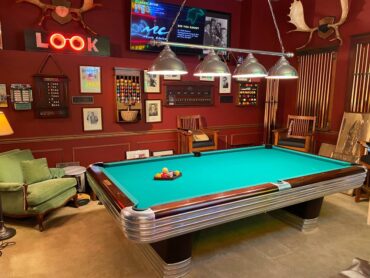 "It's invitation-only to show a car… It's probably the most prestigious show in the world," says Smalley, whose 1932 Lincoln Lebaron V12 convertible coupe was first in its class at the Concours in 2006.
What also sets Smalley apart is his impressive-looking garage. While most car aficionados have shops, stalls and carports to park their rigs, Smalley's haunt is like a museum, including bits of local history.
You could almost eat off the gray-epoxied floor, and each car is separately displayed, many with their own descriptors. If that weren't enough, the place is festooned with loads of interesting car and bygone eras' memorabilia — gas pumps; a collection of vintage neon signs; Coke machines from yesteryear; juke boxes; a Mobile Oil Pegasus display; a movie theater ticket-taker from Bremerton's Roxy Theatre; and scores of signs, posters and photographs.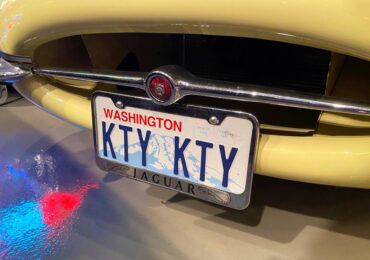 Running along one wall in the building is a beautifully restored electric model railroad. In another corner is a 1940s-era, 9-foot-long tournament billiards table. Tucked away in the bathroom is still more car memorabilia and calendar pinups from the 1950s.
"It's a sickness," Smalley jokes of his ongoing collecting habit.
So why does the West Sound have such a crush on old classic cars, car shows and car culture? Bremerton's 84-year-old Jim Fox might have the answer.
Fox still owns and displays five classics of his own and is renown in these parts for starting the "Cool Car Cruise" that attracts 300 cars once a month to the Kitsap Mall (on the first Tuesday of each month) and more than 1,200 vehicles on every New Year's Day.
He's also a member of the Washington State Hot Rod Hall of Fame (along with Muhleman and Perkerewicz) and Kitsap Sports Hall of Fame, and was once part of a pit crew that won the 1990 Daytona 500.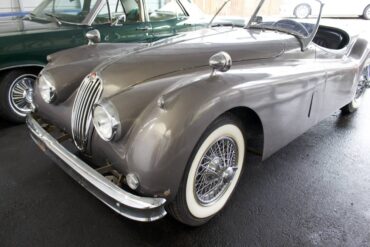 "It was strong back in the '50s, and it's still strong," he says of buying, selling and maintaining classic cars on the Kitsap Peninsula, "A lot of people have kept it going."
Indeed, just ask Perkerewicz, Muhleman and Smalley, who plan to keep on buying, selling and tinkering with classic automobiles.
As Perkerewicz puts it, "When you get behind the wheel of an old car, you go through a metamorphosis… The older you get, the younger you feel."