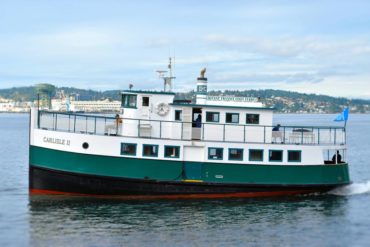 The Carlisle II is the last remnant of the once-famous Mosquito Fleet and is the oldest continually operating ferry boat in the Pacific Northwest. The wonderful old ferry is currently in dry dock but will resume its hourly service between downtown Bremerton and downtown Port Orchard some time in 2020.
John Clauson, the executive director of Kitsap Transit, which operates the ferry, says, "We are currently developing the scope of work for the boat with the idea that she will be back in service for the next 20 years."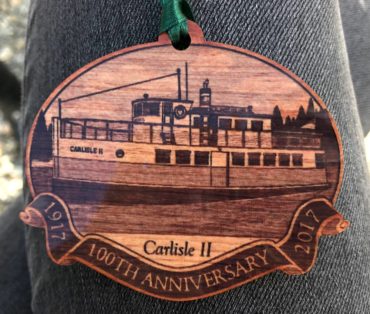 The Carlisle II was built in 1917 to operate as a passenger service between Lummi Island and Bellingham. The boat was christened and launched on April 9 of the same year. In 1923, the Carlisle II was rebuilt as a car ferry, but as cars got larger, the 60-foot boat couldn't carry much of a load. So in 1936, the Carlisle II became a passenger ferry again and began operating throughout Puget Sound as part the Mosquito Fleet.
From the mid-1850s to almost 1940, a fleet of smaller ships connected nearly every community on Puget Sound to downtown Seattle. This transportation system became known as the Mosquito Fleet and involved more than 100 steam ships, each carrying from 50 to 250 people. The most popular of the runs was between Tacoma and Seattle.

Today, only two ships remain in regular operation from that fleet of boats — the Virginia V, which operates as a charter boat out of Seattle; and the Carlisle II, which continues to operate as a passenger-only ferry boat between Port Orchard and Bremerton.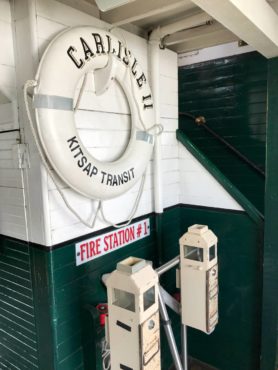 There is some thought that Puget Sound might again be experiencing the return of a Mosquito Fleet with the addition of the new passenger-only ferry service now operating between Kitsap County and Seattle. Many other communities on Puget Sound, including Tacoma, are looking at adding passenger-only ferry service to their transportation system.
The Carlisle II has been operating on Sinclair Inlet for more than 70 years, including the Depression, World War II, and now during the revitalization of downtown Bremerton and downtown Port Orchard.
Back in 2004, the Carlisle II underwent a five-month refurbishment and was restored to its original condition. Many tourists who come to the area love to hitch a ride on the boat and get the feeling of going back to a grander time in ship transportation.
Today, the old ship is again in dry dock, preparing itself for another decade or more of service for its daily run between Bremerton and Port Orchard.