The fastest-growing sport in America was developed one rainy day on Bainbridge Island when some bored teens were sent outside to play on a badminton court with some paddles and a perforated ball.
It was the genesis of pickleball. And since its simple birth as a backyard game, pickleball has evolved into an organized sport with a governing body, a player rating system, year-round competition and championship tournament coverage by ESPN.
Sponsors and purses have raised the level of tournament competition, with several former college and professional athletes entering the field. Among them:
Former No. 1-ranked NCAA tennis player Kaitlyn Christian.
Platform Tennis Hall of Famer Yvonne Hackenberg.
Golf coach Hank Haney (Mark O'Meara, Tiger Woods).
Former professional volleyball player Kim Jagd.
Former Armed Forces and national racquetball champion Jimmy Lowe.
Platform Tennis Hall of Famer Hillary Marold.
Former Olympic gymnast Roxanne Pierce.
Davis Cup tennis player Marcin Rozpedski.
Three-time LPGA British Open winner Sherri Steinhauer.
PGA golfer Daniel Summerhays.
Former No. 13-ranked tennis player Alice Tym.
Before we go on, pickleball co-founder Barney McCallum of Bainbridge Island wants to set the record straight.
One, the game's birth: McCallum, now 93, said the game was born one rainy day in 1965 in Pleasant Beach when a guest of Joel and Joan Pritchard — he a future congressman and lieutenant governor serving at the time in the state House of Representatives — gave bored kids in the house some paddles and a whiffle ball and sent them outside to play on the badminton court.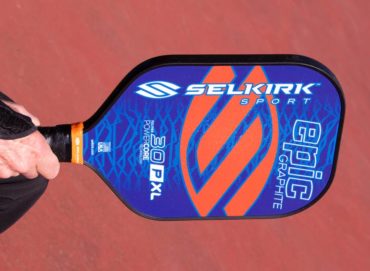 The kids were having fun hitting the ball back and forth, McCallum said, and soon the adults joined in. A new game started taking shape.
"We tried different scoring rules based on badminton and tennis," McCallum said. "We sieved that out very quickly."
The game continued to develop over the next couple of weeks. The most significant early rules: The ball must bounce before you can hit it. And you can enter an area near the net, called the "kitchen," only to return a ball that bounces there. This keeps players from approaching the net to slam the ball.
What emerged was a fun game that was easy to learn and play. "(From the start), I knew the game was right," McCallum said.
Two, the name: This is disputed ground. Joan Pritchard, who rowed in college, claimed the name came from "pickle boat," the term for a weaker crew in rowing. McCallum swears the game was named after the Pritchards' dog, Pickles, and he said he has a letter in his safety deposit box from Dick Brown, the guest, attesting to that fact. (Brown's dog, incidentally, was Pickles' littermate, McCallum said.)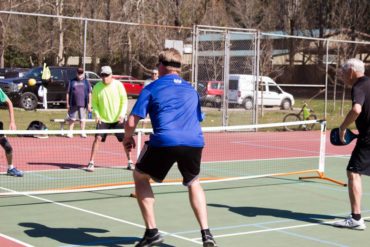 McCallum also disputes Joan Pritchard's statement that the dog joined her family two years after the game's birth and was named after the game, not vice versa.
"The game was named after the dog," McCallum said in March.
Three, the terminology: Like any sport, pickleball has its own language. If you want to play the game, you need to learn about "dink," "erne," "half-volley," "poach" and other terms. The USA Pickleball Association website, www.usapa.org, is a valuable resource.
Now, back to the sport.
A big part of pickleball's appeal is that it's easy to learn and anyone can play. It's played on a badminton-size court with a paddle and a harder version of a whiffle ball. The ball is served with a waist-level underhand stroke. The first single or doubles to score 11 points — leading by at least two points — wins the game.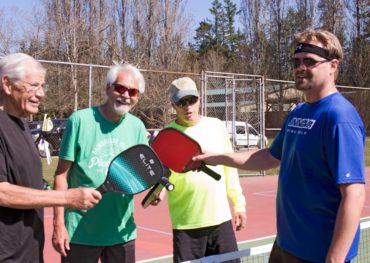 "The game is not about how hard you can hit the ball. It's about finesse, about placing that ball," said Phyllis Robillard of Anacortes, who helped introduce the game in Skagit County.
The speed in pickleball is more controllable with a paddle and perforated ball than in tennis with its string racquet and rubber-compound ball. At the blink of an eye, a pickleball player can quicken or slow the pace with a drop shot or a hard or soft return — all in an attempt to throw an opponent off, Robillard said.
"If you can drop the ball over the net, your opponent can't slam you," she said.
Lob the ball and you'll have to return a slam. Let your opponent get too close to the kitchen and you'll be returning a ball hit at your feet.
George Raft is a fifth-year player who built an indoor court at his Purdy home (among the visitors who've stopped by for a pickup game: Helle Sparre of California, the 1978 U.S. Clay Court doubles champion who was in the area for the pickleball regional tournament in Centralia).
"You want to serve deep and keep your opponent away from the net," Raft said. "The closer to the net, the more they can hurt you. You want to return deep and try to get up front as quick as you can. Rush them a bit so they make a mistake; break the rhythm with something sudden."
An Accessible Sport
Most pickleball players talk about how addictive the game is. The reasons?
One, according to Raft, is the simplicity and affordability of the sport make it easy for people to get into. Balls are inexpensive and a quality paddle can be purchased for $50.
"A lot of us grew up liking tennis," he said. "It's kind of cool, but to get proficient at it, you have to play it a lot. For many of us, it's 'serve the ball, return the ball, chase it.' In pickleball, it's very easy to get to a point where you're making some nice shots."
Third-year player Bill Walker of the Pickleball Club of Bainbridge Island agrees.
"I love competition and I've always been a person who competed," he said. "Pickleball was very easy to learn and I became a competitive player fairly quickly."
Pickleball is a social sport, which is another reason why it's addictive. Players customarily bring an extra paddle so a newcomer can join in.
"I've played many places around the country and players have always been very welcoming and friendly," Walker said. "We have regular sessions where people can just show up. We rotate players, so you get to play with everybody — men and women, people of different ages."
That's not to say players aren't competitive.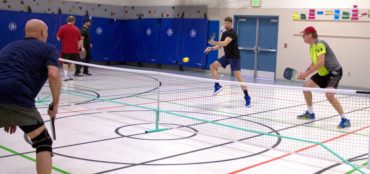 "There's some 'trash talk', especially among the better players, but it's all in jest," Walker said.
The good workout is another appeal. You move around a lot, you reach and stretch, you get low, you move laterally, you change speed with the game.
"I get an adrenaline rush," Raft said. "It's great exercise. After a game, I'm drenched in sweat."
'Founders Courts'
The original court on Bainbridge Island is as important to pickleball players as Fenway Park, Major League Baseball's oldest stadium, is to baseball fans.
The court is still there at the former Pritchard home. If plans pan out, pickleball players may get a chance to play there.
The inaugural Bainbridge Pickleball Tournament is being planned for August at Battle Point Park.
"We're working with the historical society to provide tours of the original court and allow players to play on it," Walker said. "We're also working with the parks department to have the courts at Battle Point Park renamed 'Founders Courts,' and put up a welcome area with an information board that tells about the history of the sport."
Walker believes the game with the unusual name, once associated with high school PE classes and senior activity centers, is gaining acceptance as a true competitive sport.
"I think it's starting to be," he says. "The average Joe on the street hasn't heard of it or doesn't have a clue, so it still has a ways to go."
Walker had this final word about the sport: "Don't try it unless you want to be addicted."