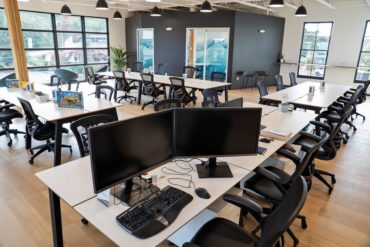 Charlie King may be the quintessential co-working space participant. An admitted extrovert who operates his own coaching consultancy in Kitsap County, King joined OfficeXpats on Bainbridge Island four years ago and has never looked back.
"Working at home was somewhat isolating, especially in a rural or suburban community like this," King says. "Co-working is a great way to stay connected and get your work done. It's fantastic!"
OfficeXpats, located in about 2,000 square feet of space in The Pavilion on Bainbridge Island, is one of at least five co-working and conference centers operating on the Kitsap Peninsula, and is the oldest of the bunch.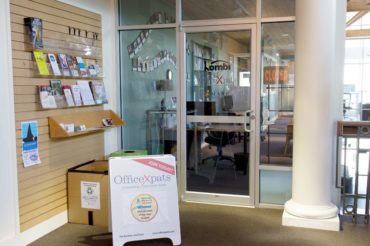 The others include Vibe Coworks in Poulsbo, Have-A-Space in Silverdale, Spark Commons in Bremerton and the recently opened Bremerton Work Space. Each of these centers offers similar amenities: 24/7 access, high-speed internet, dedicated desks, conference services, event space and professional development workshops and events.
Typically, the clientele ranges from serious entrepreneurs like King, to employees of companies working remotely, to independent business people or fledgling nonprofits looking to grow and expand their networks.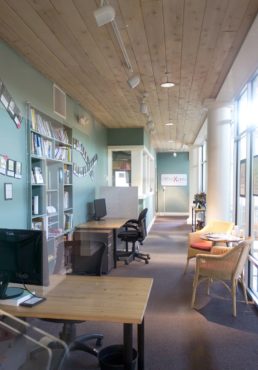 "A lot of people want to be part of something," says Jason Omens, co-founder with his wife, Leslie Schneider, of OfficeXpats. "I love hearing about members doing work for each other and seeing the happy accidents (with other members) that help their businesses."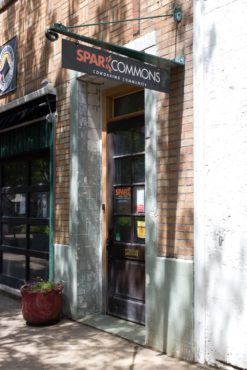 Omens and Schneider, who each work separate part-time IT and software consulting gigs from their desks at OfficeXpats, started their co-working place in 2011 with a desire to help entrepreneurs and small-business people like themselves launch their businesses and have a collegial atmosphere in which to do so.
"It's a physical place to share resources," says Schneider, who was appointed to the Bainbridge Island City Council last year. "By sharing space (and talking with each other), you get these accidental relationships that form."
King agrees. "I learn from other co-working people," he says. "I learn about their businesses and their lives. I get inspired by these people … and the programs that I get to attend are educational and also motivating."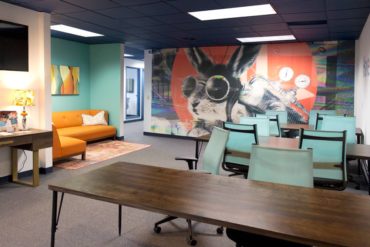 Each of the Peninsula's co-working outfits offer several levels of memberships that vary from one-time drop-in rates of $15 to $25 a day to unlimited usage of a dedicated desk or private office from $345 to $495 a month.
Most, too, provide small meeting spaces for free to full-time members as well as access to large conference rooms that can be used for workshops or meetings by members or community groups. Most offer members basic services such as free printing, snack and beverages and access to a kitchenette.
Some, though, have gone the extra mile to serve their clientele.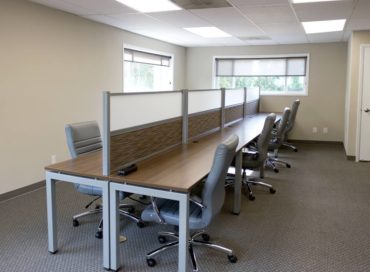 Vibe Coworks, located in the new Centennial Building in Poulsbo since October 2018, has more than 5,800 square feet and includes three large conference rooms; seven private offices; a mother's lounge, where new moms can nurse their babies in private; an outdoor deck and six so-called phone booths. The latter space is a small room that allows users privacy to make phone calls or use video conferencing.
In Bremerton, Spark Commons offers concierge services to members in addition to its other benefits. These include services such as lunch delivery, appointment making, data entry, social media updates, research and travel arrangements.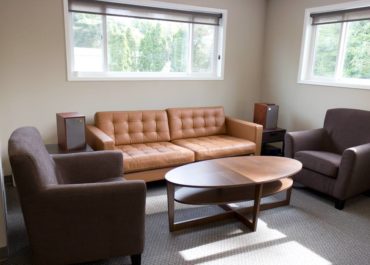 "We try and be extra helpful," says Maureen Jann, who took over Spark with two other partners last November from a previous owner.
The 2,000-square-foot space is located in downtown Bremerton and has about 30 members, with a goal to double that within the next year or so. The goal is to be a hub for helping to create business in Bremerton and is partnering with the local chamber of commerce to provide classes and workshops.
Not far away in Silverdale, Sheila Perreault started Have-A-Space on the third floor of the Clear Creek Office Plaza last fall for much the same reasons other entrepreneurs are seeking out co-working environments. She was running out of space at home.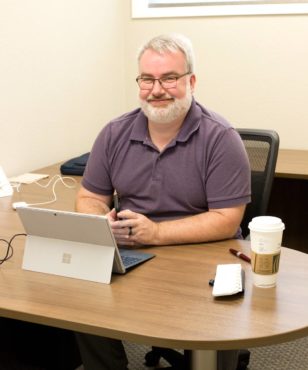 Perreault owns and operates Blue Nest Home, a housekeeping and cleaning business.
"She was working out of her home and needed space," says her office manager, Kenette Donaldson. "That was the motivating factor."
Have-A-Space offers daily, weekly and monthly memberships and has 10 members so far, including Perreault. It, too, has open work areas, private office, conference room and designated desks.
"We're kind of a mix," Donaldson says.
Available real estate was one of the motivating factors behind the July 2019 opening of the Bremerton Work Space. Founder David Tougas, a certified public accountant and principal of Four Seasons Business Services, bought a dilapidated office building at 1310 Bertha Avenue. earlier this year.
The original intent of the $375,000 purchase was to find a place to expand his business. But Tougas, who closely follows business trends, saw an opportunity to transform about two-thirds of his space, or about 4,200 square feet, into a co-working center.
Like the Peninsula's other facilities, he offers premium amenities such as a conference room, secure access and Wi-Fi, and spaces he calls "work lounges."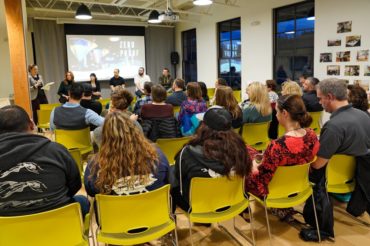 "My accounting practice is about growing small businesses into bigger businesses," says the 58-year-old Tougas. "That's the same concept of co-working."
To date, Bremerton Work Space only has a few clients as Tougas continues to put the finishing touches on his building, but he expects that to change once word gets out. "It's been a lot of work" remodeling the building and gearing up the business, he says, "but it's an idea whose time is coming."
Indeed, co-working is a growing trend both nationally and internationally, according to Alanna Imbach, who started Vibe, along with her husband, Marcel, in 2016. Imbach grew up in Kitsap County and graduated from North Kitsap High School before embarking on a career in international development, and living and working in New York City.
"Both my husband and I had the opportunity to work remotely, so we decided to find our dream space," Imbach says. "We got to know (co-working spaces) in New York and brought (the idea) here… There's a ton of them in Seattle, (but) they're now catching on in the suburbs. There's just so many people working from home or commuting. It's a good solution."
She says there were at least 4,000 co-working spaces in the United States in 2017, with that number likely to jump to 6,200 by 2022. She adds that some 1.1 million people nationally are working this way.
"Right now we call it co-working," Imbach says, "but I see it as the future of work."
By sheer numbers alone, Vibe appears to be the most successful of Peninsula's five co-working outfits. It has 260 members compared with OfficeXpats' 75 to 80 regulars.
"We have very intentionally welcomed a broader spectrum of workers who want to commute less and connect more," says the 36-year-old Imbach.
Her clientele, as in some of the other centers, includes graphic designers, lawyers, financiers (Kitsap Bank's Edge Fund has a private office there), technologists, insurance brokers and real estate agents.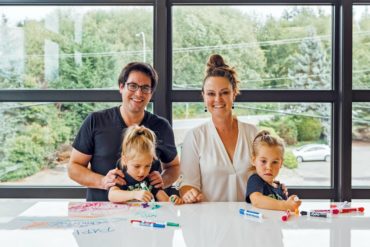 These are "people looking for more flexibility, control over their jobs and a sense of community," Imbach says.
One of Vibe's biggest fans is Nancy Bos, who runs two businesses out of the Poulsbo co-working space. She serves as director of operations for a national nonprofit focused on providing speech improvement and presentation skills for corporate executives, and owns and operates StudioBos Media.
The latter business provides books and podcasts for people who want to learn to sing better. Two of her four books are Amazon.com bestsellers.
"Both of those jobs I can do anywhere," she says, "and I choose to do them from Poulsbo."
Bos and her husband, a Seattle-area technology exec, moved to Suquamish last year from Bellevue. She started working from her home, but like other co-working converts, she found the experience to be "a little lonely."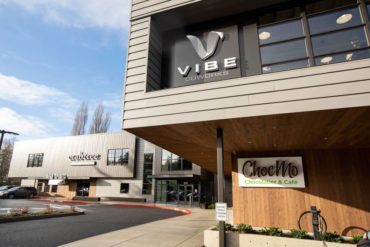 That's when she discovered Vibe Coworks. She's a part-timer who spends about 12 days a month at the facility, clocking anywhere from five to eight hours each day. She also participates in some of its unique programs: a Mastermind group for entrepreneurs; Startup Kitsap, an incubator for growing businesses; and a fitness and health challenge aimed at motivating sometimes sedentary business people to become more focused on nutrition and exercise.
"The networks and friendships are fantastic," Bos says of Vibe. "I couldn't ask for anything better."
Co-working spaces not only satisfy people like Bos and King of OfficeXpats, but they sometimes move others to seek even more fulfilling opportunities.
The positive environment around OfficeXpats led co-founder Leslie Schneider to throw her hat into the ring for an open Bainbridge Island City Council seat in 2018. Schneider won out over nine other candidates for the position.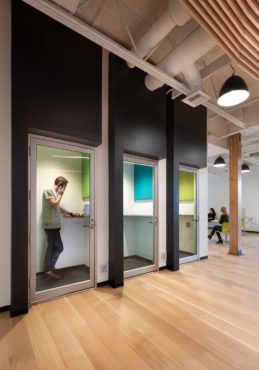 "I had full confidence in applying because of the connections I made with the business community right here," she says. "I've been surprised and delighted by the relationships I've developed. Trust is a huge thing (in business and in life)."
OfficeXpats has set itself apart from other co-working centers by creating an ambassadors program in which selected members essentially work in the office for a certain number of hours a month in exchange for membership.
The trade for service allows Schneider and Omens to work their consulting jobs — and for Schneider to handle city council business — and to take time off once in a while.
Besides hosting the front desk, answering questions, making coffee and connecting people, OfficeXpats' eight to 10 ambassadors serve as the center's quasi board of advisers.
"We would not exist without them," Schneider says.
At the end of the day, co-working is not so much about dedicated desks or high-speed internet, as is about the other people members meet along the way and the ideas that might spring from those relationships.
"We're cozy, intimate and comfortable," says Jann of Spark Commons. "We know everyone's name and talk to them about their business. There's a very human element to all this."