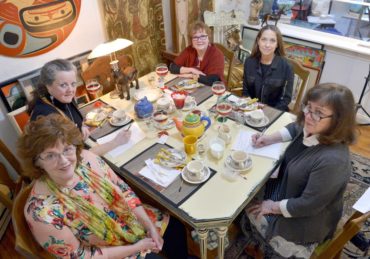 It started out at my ArtHouse in Bremerton with a casual afternoon tea party with a few friends, each having had an art business in Bremerton around the turn of the new century. We wanted to talk about the changes in Bremerton and suggestions for those wanting to open an art gallery in the downtown area.
We got diverted. Like a fireball explosion, like a whirlwind, the word Quincy Jones grabbed everyone's attention. It is said his official approval for the upper 4th Street Quincy Square would change Bremerton beyond expectation, producing an arts cultural area.
My invited guests, with a combined total of over 40 years of owning storefront businesses, were ecstatic with the news, and art-biz talk took many new directions.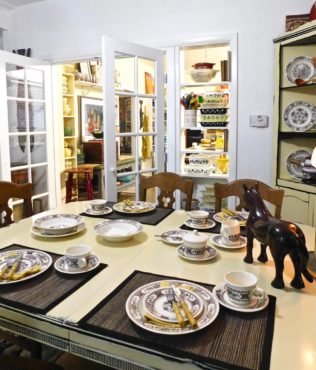 In 2003, Angela Perryman opened Claywerks, a ceramic gallery on Callow Avenue, then years later moving to a larger space downtown on Pacific Avenue. Perryman started the successful Bremerton Foodline Empty Bowl fundraising project and for a time was on the Bremerton Arts Council.
Tami Sioux left Albuquerque, moving to Bremerton in 2002, already well-known for her jewelry made from silver flatware. She joined Bremerton co-op groups while traveling to shows. Later she opened her own gallery on lower 4th Street, and currently operates out of her studio while still traveling to shows.
Shelly Wilkerson, already nationally recognized for her paintings of cats, old people and wine, joined a cooperative gallery in Bremerton around 2007, and a couple of years later opened Crazy Lady Gallery on 4th Street next to the Chamber of Commerce. Wilkerson donates much of her time to animal rescue, sponsoring several fundraisers and donating related art. Later moving her gallery to Port Orchard, she is still active in the art business.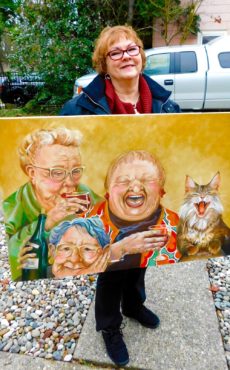 Tammie Zech is an interior designer recently featured in WestSound Magazine magazine. In the late '90s, she opened a large, successful gallery and showroom on Pacific Avenue. Later she opened a full-service design center in Belfair, working with her husband, Don, who is a contractor.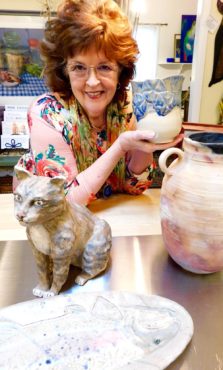 Other business folks joined the tea party and wine tasting — Kris Day of London Maid Crumpets served crumpets, Cynthia Jeffries of CJs Evergreen General Store brought over cookies right out of the oven, photographer Glen Wilkerson set up and took pictures and Rick Foxworth of Broad Sword Video got DVD players set up so we could play my BKAT shows concerning Bremerton.
Foxworth's wife, Cora, who also attended the tea party, had a gift/thrift store on Pacific in the late '90s, later moving to lower 4th and adding Cora's Diner until 2012. She said she loved Bremerton and her customers, and with the shipyard, businesses and tourism, lunchtime was always packed.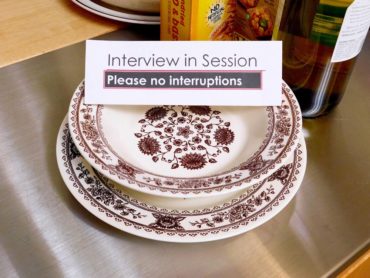 It started out as a casual afternoon tea party with a few friends who had an art-related business in Bremerton, and a discussion to help those wanting to open an art biz in the Downtown Arts District. The topic was generally agreed on — have appropriate funds, get a good lease in a good location, keep good books and be flexible and spontaneous when you own a business.
But we're talking about Bremerton, with a history and future that reads like a Spielberg movie or as exciting as Disneyland. Wilkerson stressed marketing and using this unusual rich history. Again, the Quincy Jones Square was brought up as a lifeline, an economic advantage. I talked to well-known Bremerton activist Dede Beckley, who was a good friend with Jones. They went to Coontz Junior High School. She was in choir and he in band.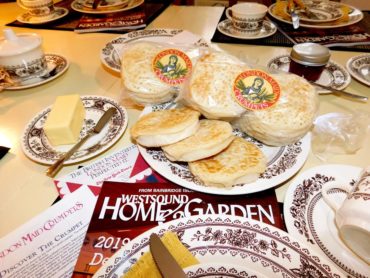 "My concern is that the project will not express what a great man he is," Beckley said. "It needs to be done right."
Quincy Jones is not our only famous Bremerton name. Actress Debbie Reynolds' husband owned a shoe store at the corner of 4th and Pacific Avenue; Bill Gates' grandfather had a furniture store on Pacific; Gregory Peck was in town for a movie; the world-renowned textile artist Jack Lenor Larsen grew up here; and several U.S. presidents walked our streets, including President Truman, who got the famous yell from the crowd, "Give em' hell, Harry."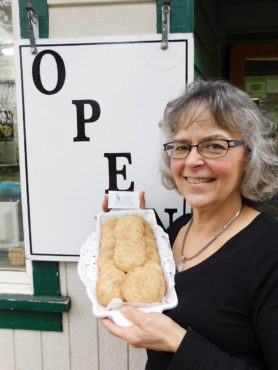 I still think it was Jeff Bezos I met on 4th Street in the early '90s, a man telling me about the online book biz he was starting in Seattle. It was at the same time I opened my art gallery.
Stories are endless. The city is old, culturally rich, historically captivating, centrally located and minutes from Seattle by ferry.
How does an art business capture that tourist market? Wilkerson said that almost every tourist bought something, items small enough to carry out or fit in a travel bag.
That brings up another factor in a tourist town, shipping. In-house shipping and supplies can take up a lot of space one doesn't have but shipping businesses are usually nearby. Many times, shipping clinches the deal for large purchases: "Let me ship this to you, and it will be there when you get home."
Sally Glivar, who for decades owned Great American Furniture, joined the conversation and stressed marketing, agreeing with Perryman that Bremerton needs extra targeted marketing. It isn't easy having an art-related business in this day of smaller living, technology spending, easy-to-produce computer art and party art.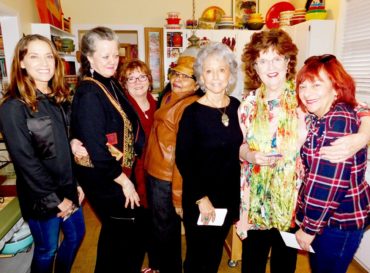 All agreed that to be successful, they needed to extend operation beyond the store location, either selling their art through other sources or actually traveling to participate in various venues — with Sioux traveling the most to capture other market opportunities.
Another agreement was that downtown Bremerton has a parking problem, which historically has always been an issue. Surprisingly, all agreed they thought the best solution would be parking meters.
Speaking of history, the "then and now," Bremerton is going through enormous changes, and every change equals a marketing analysis. When we had our storefront businesses, there was little new housing and the town was under redevelopment. Now condos and apartments are going up by the thousands.
"A living downtown community with major arts and cultural features" is what I am hearing from city leaders. Would we like to open a Bremerton art biz again? With Quincy Jones Square, who wouldn't think about how to capture that energy?