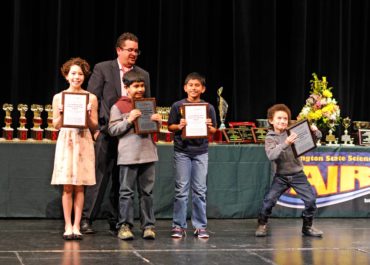 Science project.
For some students, those words conjure up nightmares.
For others, it's an opportunity for revving up their creativity and designing a project that might win them an award in the Washington State Science & Engineering Fair — and beyond.
WSSEF ("Wussef," as its 600-plus volunteers call it) has drawn students from across the state to Bremerton for more than 60 years. According to Caroline Stein, WSSEF treasurer and longtime volunteer, the fair gives students the tools and opportunities to conduct scientific and engineering research and a forum to showcase their work.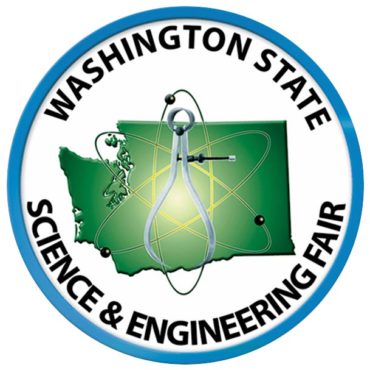 "Our mission is promoting future scientists and engineers," Stein said. "We want to get kids excited about science and engineering and give them a place where they can show off their work and share their ideas. We also want to encourage and support the teaching of science and engineering in Washington schools."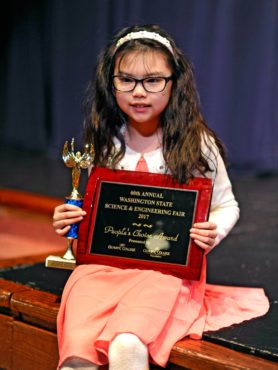 WSSEF began as a small, PTA-sponsored science fair at Bremerton Elementary School in 1957, then expanded to a regional event that included Mason and Jefferson counties. Later, engineering was added to the mix.
In the 1980s, the fair became the Western Washington Science & Engineering Fair and the decision was made to affiliate with the International Science & Engineering Fair (ISEF — now sponsored by Intel). The event was expanded to include students from all parts of the state.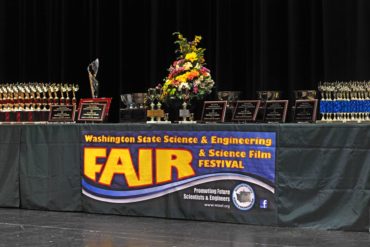 In 2018, more than 700 students — from elementary through high school — participated in the fair, and more than $1 million in scholarships and prizes were awarded. According to WSSEF Executive Director Lois Jane Lugg, a variety of individuals, organizations and businesses contribute the prizes — from awards given in memory of a loved one to prizes from garden clubs, dental associations, corporations like Boeing and even NASA.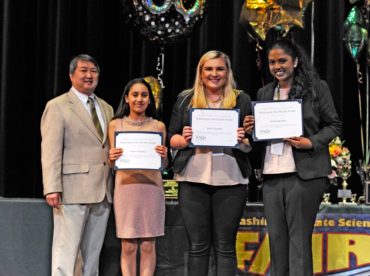 "For our high school winners, the prizes are scholarships to help defray their college tuition costs," Lugg said. "For the younger kids, it's usually cash awards."
Every year, the top students from WSSEF go on to represent Washington at ISEF. They often bring home some of the top international awards. In fact, in 2018, one of the WSSEF winners placed second in the worldwide contest.
Students select from 22 categories for their projects: animal sciences, behavioral and social sciences, biochemistry, biomedical and health sciences, biomedical engineering, cellular and molecular biology, chemistry, computational biology and bioinformatics, Earth and environmental sciences, embedded systems, chemical and physical energy, engineering mechanics, environmental engineering, materials science, mathematics, microbiology, physics and astronomy, plant sciences, robotics and intelligent machines, systems software and translational medical science.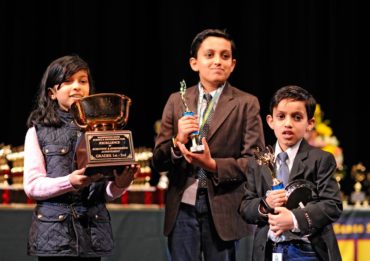 Each category has a number of subcategories. For example, the plant sciences includes such possibilities as agriculture and agronomy; ecology, plant genetics and breeding; growth and development; pathology and plant physiology; and systematics and evolution. That last one — systematics and evolution — is the study of classification of organisms and their evolutionary relationships, including morphological, biochemical, genetic and modeled systems.
In other words — in every category, the possibilities are just about endless.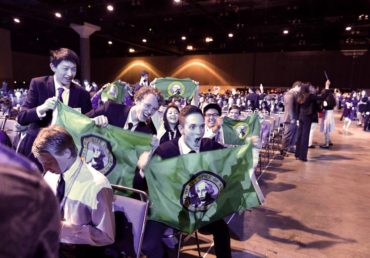 "The hardest thing for kids to do with any science or engineering project is just getting started," Lugg said. "We just tell them to think about what they're interested in. Maybe it's volcanoes, or the ocean, or animals, or robots, or whatever. And then we encourage them to start reading about what they like. Or just ask yourself, 'I wonder why such-and-such happens.'"
Lugg, an engineer whose day job is the Olympic Peninsula district coordinator for Bonneville Power Administration, has been part of WSSEF since the 1980s.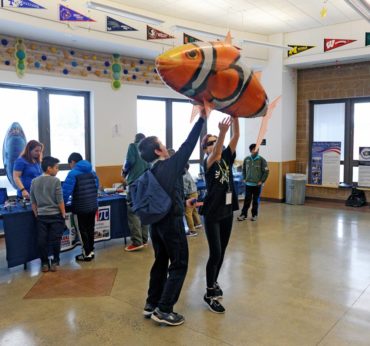 "I really care about the kids and I love to see the little ones who come in their dresses and suits and ties. Then in junior high, they're all dressed very casually, and then in high school, they're thinking about college so they're back in suits and ties again," she said with a smile.
"Being in the fair is a great way for the kids to learn all kinds of valuable things — doing research, writing, speaking and presenting your work. It's a great experience for them," she said.
Many of the students come back year after year, some to serve as judges while others as parents whose kids are now participating, she added.
WSSEF Vice President and Educational Outreach Director Gary Foss participated in science fairs as a kid in Eastern Washington. His first project was building a Tesla coil; his second was building a computer.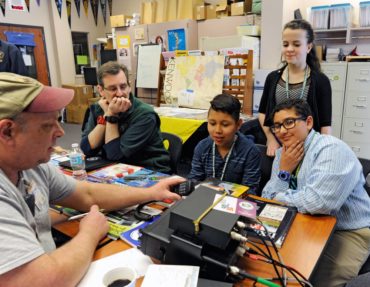 "That was back in the 1960s, way before computers were everyday things," he said.
His science fair projects led him to Washington State University and subsequently to a career as a structural dynamics engineer for Boeing. He got involved with WSSEF when his son had to do a junior-high science project.
"He didn't do especially well with that first project, but the judges gave him lots of encouragement, and so did I. So next year when he was a freshman at Kentwood High School in Covington, he decided to try again," Foss said. "He hooked up a Geiger counter to his laptop computer and we drove all across Washington so he could measure radiation levels."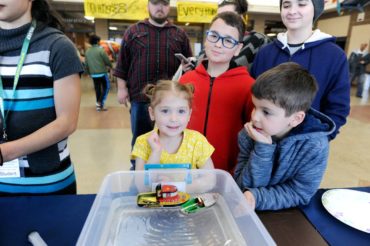 His son won one of the top awards at WSSEF and went on to the international fair. That was in 2009. He's since graduated from WSU and now works for an engineering firm in Pullman building switching gear for power-production projects.
"I was so impressed with WSSEF and then with ISEF that I decided I just had to be part of that," Foss said. "All those really smart kids gathered together — it was really amazing."
Now, he says, every year when he sees the young people at WSSEF, the international fair and even the regional fairs, it restores his faith in the future.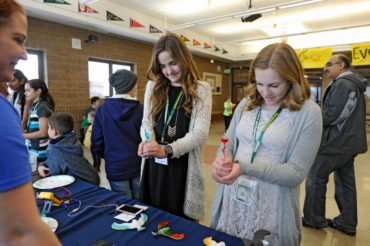 Bremerton dentist Mike Huey hopped aboard the WSSEF train in 1996 when a friend "dragged" him to the event to be a judge. Now he's WSSEF president and head judge.
His work with the fair earned Huey and his fellow members of the Kitsap County Dental Society the Golden Apple Award, the American Dental Association's highest honor, for their ongoing promotion of the fair.
"We want to make every child in Washington excited about science and engineering," Huey said.
All grade levels are eligible, including homeschooled students.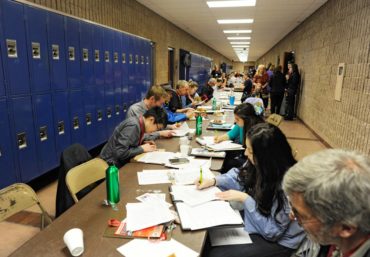 "For the early grades, we just want them to know about the scientific method or the engineering method," Huey said. "Then the older kids — the junior high and high school students — we want them to know how to apply the process and then connect and communicate with their peers."
Every few years, there are some "out-of-the box, cutting-edge projects," he added. "Some of the kids are doing research that's just like graduate students in college," he said.
Foss, Huey and Lugg agreed that interest in science and engineering — and, hence, participation in fairs — depends greatly on teachers.
"Some teachers really get into the whole idea of science and engineering," Huey said. "For others, the idea of a science project makes them cringe."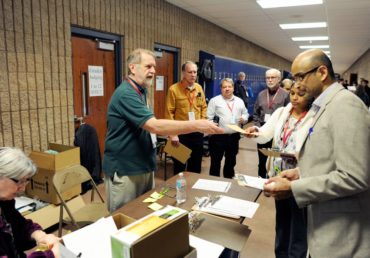 Parents also play a big role in kids' curiosity about science and engineering.
These days, it seems that there's more interest and participation among students from Eastern Washington than the Puget Sound area. That might be because local agriculture and organizations like the Army Corps of Engineers are very active in that region.
"I wish that places like Microsoft and other big companies in this area would give us better support," Huey said.
Still, the Puget Sound region has had its share of winners and amazing projects.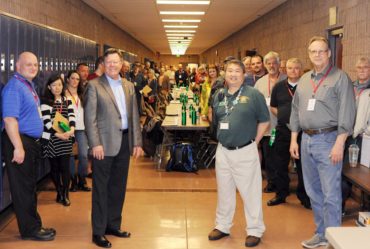 Huey recalled a student from Gig Harbor who made an old Palm Pilot into a spider-type robotic search vehicle. And Sequim has been especially well represented through the years.
"Sequim middle school and high school have an after-school science club that was founded by retired educators, engineers and scientists who wanted to mentor students and share the joys of 'tinkering,'" Stein said.
The club has really motivated local students. Katherine Landoni, from Sequim Middle School, was the very first Broadcom MASTERS winner (Math, Applied Science, Technology and Engineering for Rising Stars). The award honors students in the sixth, seventh and eighth grades. Landoni is now in college, working toward a doctorate degree. She wants to become a STEM (science, technology, engineering and math) professor at a university.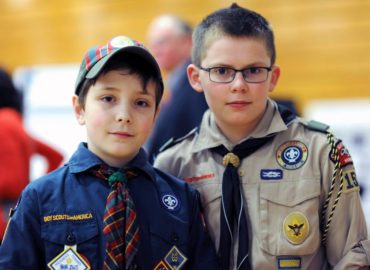 In 2013, Sequim sixth-grader Sean Weber was one of 30 local students chosen to take his project to the next level, the national Broadcom competition in Washington, D.C., where he won the Rising Star Award — naming rights to a newly discovered asteroid (now called Seanweber asteroid) orbiting between Jupiter and Saturn. He met President Barack Obama and chatted with him about his science project. His school received $1,000.
Other West Sound kids have done projects that involved programming drones to distribute fertilizer to specific locations in a field, recycling diapers for use as fertilizer and recharging cell phones with their own movement.
"I remember one young girl in the fifth or sixth grade who filled a big cone with marbles to demonstrate black matter and black holes," Lugg said. "And one of my favorites was a little third grader who did an experiment about olfactory overload. When her family drove past a dead skunk, she wondered why it smelled bad at first, and then didn't smell bad after a few minutes and you sort of got used to it. That sparked her interest enough that her parents encouraged her to learn more."
Lugg emphasized that there's always a need for volunteers at the fair.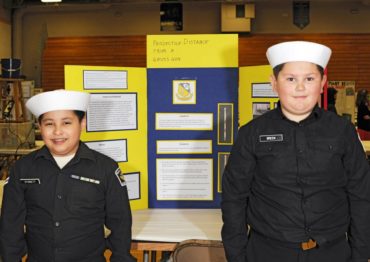 "We have lots and lots of opportunities to help," she said. "Just because you don't have a science or engineering background doesn't matter. You can help pass out registration sheets or help with reports or data entry — all sorts of things."
There's also a need for qualified judges, Huey added. "My goal is to have a judge for every kid in the fair," he said.
"WSSEF truly makes a difference in the lives of our kids," Stein said. "And helping at the fair is a great way to contribute to our community."