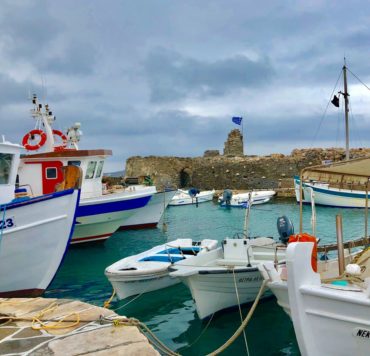 We always hear about the well-known and touristy Greek islands such as Crete, Corfu, Santorini, Mykonos and Rhodes. All of these islands have an abundance of beauty but also an abundance of tourists. Some, an overabundance.
And then there is Antiparos. Where, you say? Antiparos, the little sister island to Paros, one of the Cyclades Islands in the south Aegean. A perfect little getaway if you are looking to really get away.
Tom Hanks knows. He has a holiday home on this little rock.
Antiparos is only 36 square kilometers (about 14 square miles). It has only one village. From April to September, it actually has a healthy tourism industry. Both day-trippers and overnight visitors come across from Paros on the tiny ferry to enjoy this unknown getaway.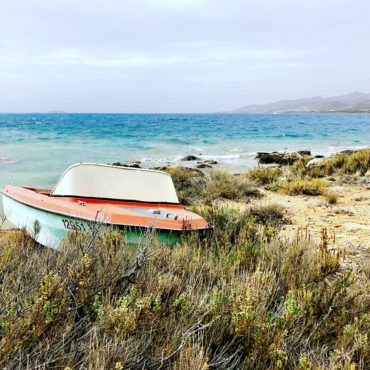 But even in the height of the season, this beautiful island destination is uniquely peaceful. There are only 800 year-round residents on the island. So, if you really want to find peace and quiet, come between October and March and you will nearly have the island to yourself.
Antiparos offers a variety of accommodations, even some very upscale, villa-style hotels. No big brand hotels though.
In summer, dozens of restaurants, shops and nightclubs cater to the crowds. In the off-season, only a handful of restaurants, one lovely bakery, a couple of shops, two nice grocery stores and a pharmacy are available for locals and the few visitors who know the secret — come to Antiparos in the off-season.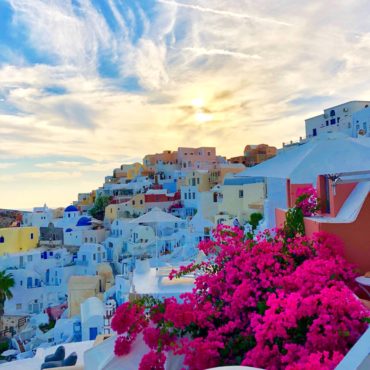 Relaxing is the name of the game here. You can choose to lounge around the pool at your villa or rent a scooter or quad to run around the island and visit any of the dozen public beaches.
Antiparos boasts 22 miles of coastline. Favorite beaches include the beautiful south-facing Agios Georgios, east-facing Glyfa, Apantima and Soros. South-facing and remote is the island's most beautiful beach, Sostis. To the west, the remote nature-lover's beach of Livadia, or more accessible to the village is Sifneiko (Sunset Beach).
In the tiny town of Antiparos (usually just referred to as the village, or chora in Greek), you can find the remains of the historic 15th century castle and fortress wall, built to protect the early inhabitants from pirates. Today a few residents (and a few Airbnbs) still function in the centuries-old homes within the castle walls. Wander the quiet and ancient streets and imagine life here 600 years ago.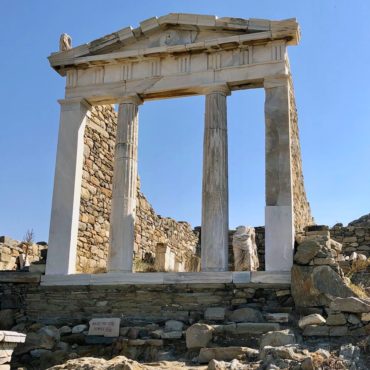 Take time to also visit the stalagmite caves — one of the sites Antiparos residents are most proud of. You can descend more than 20 floors down into the Earth and view the ancient stalagmites.
Unfortunately, the local government only recently protected this cave, and years of vandalism have taken a toll. Many of the magnificent, thousand-year-old stalactites are broken and damaged. But at only 6 euros, it is still worth a visit. And it's a great workout.
Choose to use less-expensive Antiparos as your home base and go island hopping on day trips. Numerous nearby islands, ranging from uninhabited to super-touristy, are an easy boat ride (or two) away: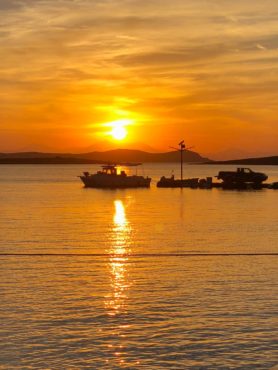 Despotiko — just a 10-minute boat ride across from Agios Georgios, Despotiko is an uninhabited island with rich and ancient history from the Presepinthos period. Excavations have been underway since 1959, when components of a Doric temple dating back to 500 BC were discovered.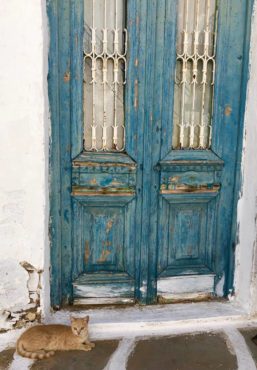 The archeological site continues to reveal incredibly well-preserved building facades, temples, figurines, glass, bead, bronze and more. Despotiko is an easy visit form Antiparos and well worth a day. Spend half a day at the archeology dig and then picnic on the deserted beaches.
Paros — a ferry runs almost 24 hours a day for the 10-minute ride between the main island of Paros and its next-door neighbor, Antiparos. A visit to Paros while staying on Antiparos is a must. Paros offers a wide variety of restaurants as well as many historic sights and shopping.
The main ferry port of Parikia has a small, quaint old town, while Naoussa sits pretty as a picture with its blue-and-white buildings above its historic harbor. If you have the time, a visit to the mountain village of Lefkes will provide you a glimpse of the closest thing left to a real Greek agricultural village.
Naxos — ferries run several times a day (seasonally) from Paros to Naxos, and a visit to this charming historic island, the biggest and greenest in the Cyclades, is a must. There is plenty to do in the charming village with its historic sites and castle and the impressive, marble gate "Temple of Apollo," which towers above the harbor. Rent a car and get out to the many beaches and villages around the island.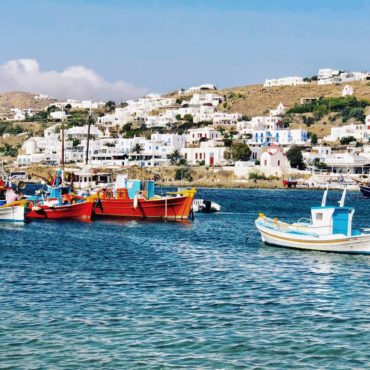 Delos and Mykonos — tour boats take visitors to the spectacular island of Delos and then on to Mykonos on a full day tour from Paros. Spend three hours wandering the impressive Delos, one of the most important mythological, historical and archeological sites in all of Greece (it is the mythical birthplace of the god Apollo).
Re-board the boat and continue 10 minutes on to the island of Mykonos. Famous for its blue-and-white charm, Mykonos is also known for its nightlife and restaurants. Shop and enjoy before your boat returns to Paros and then hop the ferry back to Antiparos.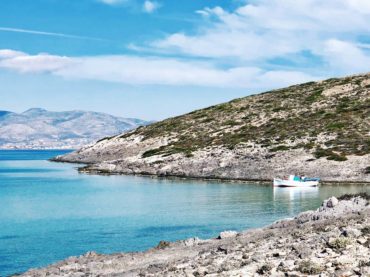 Santorini — it's possible to take a day trip to Santorini from Antiparos as well. However, it only gives you a few hours in the spectacular island of Santorini. Do it if you have no other options, but a few days in Santorini, though much more expensive than Antiparos, is worth it on your Greek holiday.
Greece, like most of the rest of the world's popular destinations, is dealing with lack of water, climate change, too many tourists and pollution. As a visitor, you can choose to spend your time and money where fewer tourists go, leaving a smaller footprint while still enjoying all that is special about the Greek islands.
Choosing Antiparos is a perfect example: inexpensive, friendly, uncrowded, convenient and gorgeous. The Greek island you never knew you needed to visit.